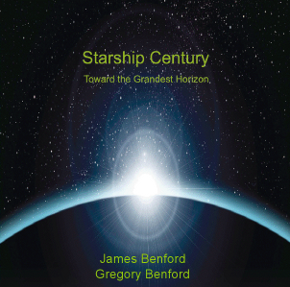 The Arthur C. Clarke Center for Human Imagination is launching in May with what it describes as a 'series of perspectives' on what we can expect in the coming century. Its inaugural symposium begins on May 14 at the University of California at San Diego with discussions on design, artificial intelligence, synthetic life and science studies and thoughts from writers Jonathan Lethem and Kim Stanley Robinson on the literary imagination. But those with interstellar interests will want to put days 2 and 3 (May 21, 22) on their calendar, when the Starship Century Symposium convenes on the same site.
Gregory and James Benford have coordinated the latter event with the Clarke Center and will use it to present ideas on our possibilities among the stars as presented in their upcoming book Starship Century. Speakers will include prominent science fiction writers as well as many of the scientists most actively engaged in thinking about starflight. Thus we have Pete Worden (NASA Ames) as well as Neal Stephenson (The Diamond Age, Cryptonomicon, etc.) on the first morning, along with Robert Zubrin, of Mars Society fame, discussing what he calls the 'economics of interstellar breakout.' Futurist and business strategist Peter Schwartz will present "Starships and the Fates of Humankind."
A section on the near-future including Geoffrey Landis on nuclear rocket options in the Solar System gives way the next morning to Adam Crowl's talk on the development of starship concepts over the past century, Paul Davies on alien biospheres, Ian Crawford on interstellar destinations and John Cramer on exotic physics and the interstellar distance conundrum. Freeman Dyson offers a remarkable look (I've already seen this one) at what we might find as we move into the Kuiper Belt and the Oort Cloud beyond, especially in terms of how life might appear there or be created by human scientists working wonders with genetic engineering.
I'm told that available space is filling up fast. You can find the complete list of speakers and panelists, including Larry Niven, Jon Lomberg, Joe Haldeman, David Brin, Jill Tarter, Vernor Vinge and more, on the agenda page. Lodging is at the La Jolla Shores Hotel, with full details on the site. The Clarke Center frames the overall three-day event this way: Day 1 covers one-third of a century, the time between the creation of 2001: A Space Odyssey and the year it portrayed. Days 2 and 3 address what the Center calls "…a century long project: to create a starship."
Addendum: Jim Benford has written to say that some of the material on the Starship Century site, from which I drew this article, is out of date. I'll update with any schedule changes next week.