The timing of the announcement that Voyager 1 has, for some time now, been an interstellar spacecraft came just before the 100 Year Starship Symposium and was certainly in everyone's thoughts during the event. Jeffrey Nosanov (Jet Propulsion Laboratory) reminded a Saturday morning session led by Jill Tarter that when the Voyager program was conceived, the notion of going interstellar was the furthest thing from the planners' minds. Voyager's adventures beyond the heliopause are what Nosanov now calls 'almost a completely accidental mission.'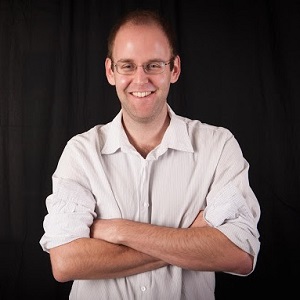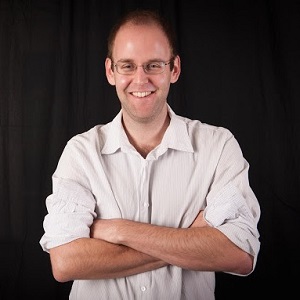 How to follow up the Voyager success? For one thing, we already have New Horizons on its way to Pluto/Charon, with flyby in 2015, and I've already discussed the New Horizons Message Initiative, which would upload the sights and perhaps sounds of Earth to a small portion of the spacecraft's memory after its encounters are done (see New Horizons: Surprise in Houston for more). But Nosanov asked Voyager project scientist Ed Stone, himself all but legendary in his association with the spacecraft, what he would like to see happen next. Stone said he'd like to see ten or a dozen spacecraft sent out in different directions to the same distance.
Image: JPL's Jeffrey Nosanov, whose work now includes a study of next-step missions beyond Voyager.
Nosanov's recently accepted proposal to NASA's Innovative Advanced Concepts (NIAC) Program will examine just that scenario. What he plans to do is to design a spacecraft architecture that will probe what the project description calls ' the unique regions of the Heliopause, known as the nose, sides, tail, north and south.' Flybys of the outer planets and Kuiper Belt objects as well as studies of the heliopause itself are what Nosanov has in mind, but he goes still further, looking toward reaching the Sun's gravitational lens at 550 AU and beyond to study imaging of the center of the galaxy and other targets at various wavelengths.
State of the Universe
Speaking of working at various wavelengths, the morning "State of the Universe" session began with project scientist Adrian Tiplady discussing South Africa's role in the Square Kilometer Array, itself a multi-national collaborative project whose 3000 small dishes will carry ten to one hundred times the traffic of the global Internet at any one time. The MeerKAT installation is a precursor for the full array, one whose 64 dishes will make it the largest radio telescope in the southern hemisphere until the Square Kilometer Array is completed some time in 2024. Extending across a number of African nations and into Australia, SKA will be fifty times more sensitive than any other radio instrument, a huge challenge in engineering as well as collaboration.
The State of the Universe panel was a lively session, held in the Hyatt's ballroom and sparked by an enthusiastic Hakeem Oluseyi (Florida Institute of Technology), who offered an overview on our attempt to find dark matter and a whirlwind tour of the early universe following the Big Bang. Oluseyi sees the universe as a place that selects for life-forms that populate the cosmos because planetary existence is sharply limited by extinction events and resource depletion. "Intelligence is needed to move into space," he added, "but the window of opportunity is finite. Single cell life-forms survive out of robustness, but complex beings need to exploit resources to move into space. Every life form on every planet is in a space race."
Image: Florida Institute of Technology's Hakeem Oluseyi, whose rapid-fire tour of the early universe challenged the skills of even this very fast typist attempting to take notes.
I'm skipping a lot of good material to compress this, but I do want to mention that the discussion of exoplanets by David Black (Lunar and Planetary Institute) and Ariel Anbar (Arizona State) brought the crowd up to speed on Kepler — now without fully functioning gyros but sporting a huge list of exoplanet candidates — and methods for studying biosignatures in the atmospheres of distant worlds. Jeff Kuhn's discussion of the Colossus telescope was a fitting cap to the panel. Kuhn (Institute for Astronomy Maui) described an Earth-based instrument that could perform a census of nearby planets looking for unusual thermodynamic signals. Explaining earlier searches for Dyson spheres, Kuhn went on to discuss how civilizations use power, noting that we use half of one-tenth of one percent of the total energy our planet absorbs from the Sun. Power consumption increases, of course, as civilizations become more advanced.
The inevitable result: The thermal signals Colossus is being designed to look for. The Colossus Consortium, a private organization funded by a wealthy individual, is looking for warm exoplanets that display the heat signature of a functioning civilization. Kuhn's slide showing Paris in the infrared, a nighttime shot taken by a satellite, drove home the point that the thermal signal we produce is significant, measurable and much larger than what we produce in light. The intention of the Colossus builders is to examine stars within 60 light years for such markers, which would be usefully free of our sociological speculations about what such a civilization might do.
Breakthrough Telescope Technologies

It's a fascinating concept, and to see more about it, read SETI's Colossus in these pages, or visit the Colossus site. What I like about it is that it makes no assumptions about why or how an extraterrestrial society might choose to communicate, but depends solely upon its activities on its own world. Joe Ritter, a colleague of Kuhn on Maui, went on to lead a track called "Destinations: Hidden Objects" later that day that delved into the difficulties in exoplanet detection and viewing. Ritter ran through Kepler's woes and discussed Hubble, the James Webb Space Telescope, and the lamented Space Interferometry Mission that may live on in missions like Darwin.
And with a gorgeous slide of the famous "Pillars of Creation" region in the Eagle Nebula, he also made the point that instrument effects limit our ability to see. Check the image below to confirm Ritter's point: The bright star at center left does not actually have a cross-like shape, reminding us that diffraction spikes can swamp signals of faint objects in even the best of telescopes. Off-axis telescope designs, which he illustrated, can help in reducing diffraction — the Solar-C experimental coronagraphic telescope on Haleakala is an example of how this can be done.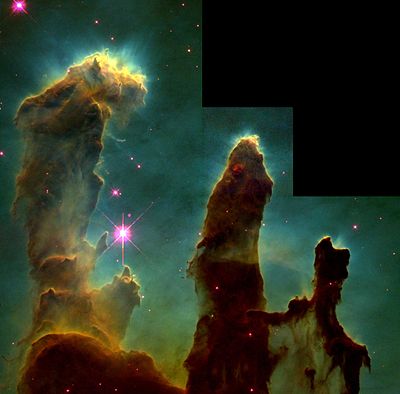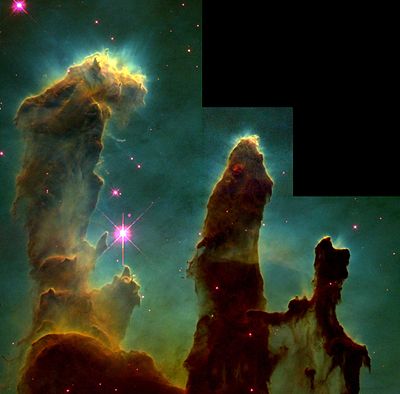 Ritter went on to discuss the uses of polarization, describing forms of spectroscopy that can use polarization to scale away randomly polarized light and leave a more workable signal. With such methods we can hope to separate the light from an exoplanet from the light of its star. The PLANETS telescope (Polarized Light from Atmospheres of Nearby Extraterrestrial Systems) has as its goal to define the atmospheric composition of exoplanets. This one is a 2-meter off-axis telescope now under development at the Institute for Astronomy of the University of Hawaii.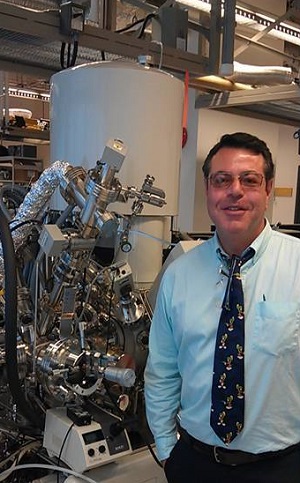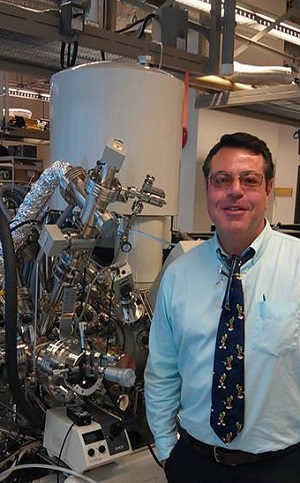 Joe Ritter is a great conversationalist and we enjoyed kicking these and other ideas around after hours at the hotel bar. He's fascinated with producing thinner apertures and how thin membranes as mirrors can be manipulated by tiny actuators to retain their shape. Polarized light at particular wavelengths can be used on the right materials to create adaptive optics in which the mirror doesn't actually have to be touched to be re-shaped. Imagine a Hubble-sized mirror (2.4 meters) weighing in at no more than one pound, or a JWST aperture weighing twelve pounds. If we can make such giant apertures, we can use them not only for telescopes but for communications or, dare I say it, as solar sails. This work is so revolutionary in its potential that I've asked Joe to write an article about it for Centauri Dreams to explain it in more detail. "Brute force isn't an elegant way to produce the mirrors we need," Joe told me. And from what I can see, the work in his lab is both elegant and paradigm-shifting.
Image: Joe Ritter, a name you'll be seeing much more of on Centauri Dreams in relation to his work on extremely light and thin telescope apertures.
Uses of Science Fiction
Saturday was the symposium's last full day, so it was perhaps understandable that sessions ran over in the attempt to cram everything in. All of this led to one of the most entertaining episodes of the event, Marc Millis' talk "From Sci-Fi to Scientific Method: A Case Study with Space Drives." Marc frequently draws on his work as head of NASA's Breakthrough Propulsion Physics Project, but this talk is light on equations and long on imagery from science fiction films and how scenarios from such films can inspire creative thought.
An example: We constantly see spaceships in movies where the crew is walking around under what seems to be normal Earth gravity, and as far as we can tell, there is no problem with inertia even when the craft suddenly accelerates. Now if you could actually do that, Millis asks, why wouldn't your plots take advantage of the fact? An intruder on board wouldn't need to be handled by security forces. Instead, why not just manipulate the gravity in his location to bounce him off the walls, rendering him unconscious? And drawing on films ranging across the gamut of recent science fiction, Millis extracted scenarios and the questions they raised.
The more serious point is that even a bad science fiction movie can become a spur for thought that encourages new angles into old problems. The key is to promote creativity. Marc had to be amazingly creative himself during his presentation. When I arrived, the late-running panels in the ballroom meant that most people were still there. When Marc was almost at the end of his talk, the room suddenly filled with people, taking up the chairs and sitting on the floor. Without losing a beat, Millis simply went back to the beginning and presented the entire talk a second time. I do a lot of public speaking but I have to say this was something of a tour de force.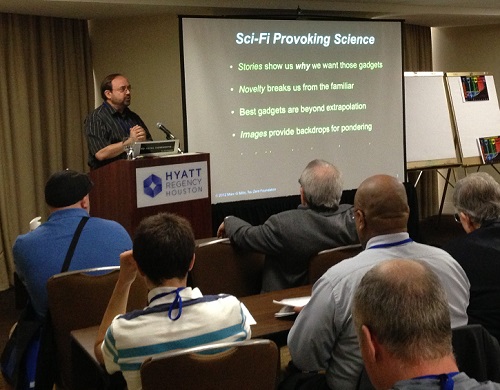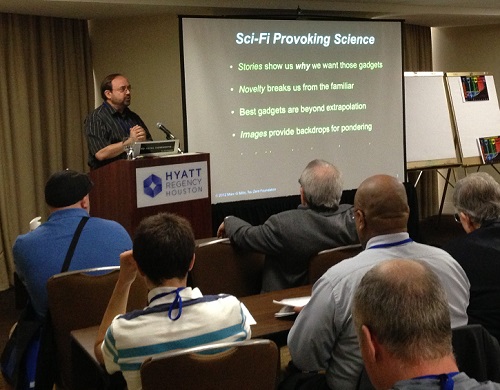 Image: Marc Millis amidst an impromptu reprise of his talk.
I wish I had been able to report on all the talks I attended in these pages but I didn't have time to run through each. What a year this has been in terms of interstellar conferences. And we still have one to go, a Starship Century event to be held Monday October 21 at the Royal Astronomical Society on Piccadilly in London, with Royal Astronomer Martin Rees as a featured speaker. As I get more information about speakers at this one, I'll pass it along, and will plan on covering the sessions via live streaming as my travel budget won't sustain another conference this year.
It used to be that people interested in interstellar flight met in off-schedule gatherings at meetings on other subjects. The explosion of conferences this year is probably unsustainable, but it will be interesting to see what kind of schedule eventually emerges. In any case, it has been a year to remember, one that has put an exclamation point on deep space dreams capped by Voyager, our first interstellar traveler.