I don't usually have much to say about Mars, for this site's focus is on deep space — the outer Solar System and beyond. But with both the Mangalyaan and MAVEN Mars missions in progress, I'll take this opportunity to mention new work out of MIT that deals with the effect of Mars on asteroids. The topic is 'space weathering,' the result of impacts from high energy particles and more. Richard Binzel and colleague Francesca DeMeo have been looking at disruption to asteroid surfaces, finding that close planetary encounters can explain an unusual fact: The surfaces of most asteroids appear redder than the remnants of asteroids that have crashed as meteorites to Earth.
Back in 2010, Binzel established what he sees as the basic mechanism. Main belt asteroids, orbiting between Mars and Jupiter, are exposed to cosmic radiation that changes the chemical nature of their surfaces. But take an asteroid out of the main belt and give it a close pass by the Earth and 'asteroid quakes' will occur, moving surface grains about and exposing fresh surfaces underneath because of the gravitational disruption. Binzel calls these 'refreshed' asteroids, and argues that when asteroids of this kind get too close to Earth, they break apart and fall to the surface as meteorites.
How Mars fits into this picture is a bit more of a stretch. At one-tenth the mass of Earth and only one-third its size, Mars seems unlikely to be considered a major gravitational disruptor. But placement is important, for Mars is closely situated to the main belt, which makes asteroid encounters that much more likely to happen. To study the effect, Binzel and DeMeo have tracked asteroids in the database maintained by the International Astronomical Union's Minor Planet Center, which currently holds data on 300,000 asteroids and their orbits. The researchers' new paper in Icarus maps orbital intersections between asteroids, Earth and Mars.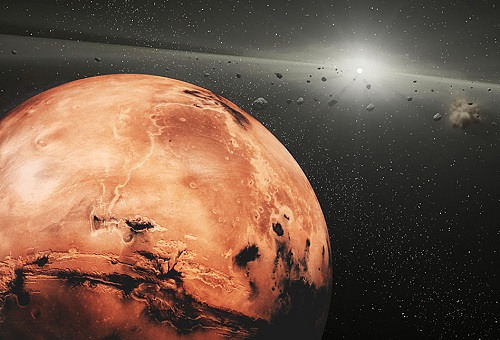 Image: Mighty Mars? It's a small world, but its effect on asteroids passing by it is only now being understood. Credit: NASA.
The duo chose 64 asteroids and calculated the probabilities over the past half million years of close encounters that could have stirred up the asteroid surfaces. The paper focuses on a class of asteroids called Q-type, found primarily among Near-Earth Objects and matching ordinary chondrites spectroscopically over visible to near-infrared wavelengths. Because they are so similar to meteorites, they are assumed to have gone through weathering of the surface regolith, meaning older reddish grains have been churned and replaced. From the preprint:
Ten percent of the Q-types in our sample have not experienced Earth encounter on recent timescales. Thus, the orbited distribution of Q-types suggests Earth encounter is not the only resurfacing mechanism that counteracts the effects of space weathering. These non-Earth encountering objects do cross the orbit of Mars and show low Mars-MOID [Minimum Orbit Intersection Distance] values. We conclude that Mars is likely to play an important role in refreshing NEO surfaces due to its large mass and frequent asteroid encounters.
Two other mechanisms for refreshing an asteroid surface are considered, one being collisions between asteroids in the main belt, the other growing out of the results of the YORP [Yarkovsky, O'Keefe, Radzievskii, Paddack] effect, by which asteroids can be 'spun up' by photons streaming outward from the Sun. Binzel and DeMeo's work found no conclusive evidence that either of these would play a significant role in refreshing asteroid surfaces, although the paper suggests further observations of small main belt asteroids to measure their effect.
So we're learning more about asteroids even as we discover oddities like P/2013 P5, the unusual object that sprouts six comet-like tails [see What a Strange Asteroid Can Tell Us]. How both their composition and history define their characteristics is going to be an essential study for future efforts to reach and mine asteroids. This MIT news release offers more, including this comment from Vishnu Reddy (Planetary Science Institute), who was not involved in the research:
"On each of the asteroids we have visited so far, every one of them has shown a different kind of space weathering. So it appears that not only is composition an important factor, but also the location of the asteroid with respect to the Sun."
The paper is DeMeo, "Mars Encounters cause fresh surfaces on some near-Earth asteroids," Icarus Vol. 227 (1 January 2014), pp. 112-122 (abstract). See also Binzel et al., "Earth encounters as the origin of fresh surfaces on near-Earth asteroids," Nature 463 (21 January 2010), pp. 331-334 (abstract).