Over the New Year transition I saw a number of tweets to the effect that as of January 1, the first flyby of Pluto was going to occur next year, a notable thought when I ponder how fast this long journey has seemed to move. Was it really way back in 2006 that New Horizons launched? We can only wonder what surprises the Pluto/Charon system has in store for us in 2015. The same can be said for Ceres, a body which, as of December 27, is now closer to the Dawn spacecraft than Vesta, the asteroid around which it orbited so many interesting times.
Christopher Russell (UCLA) is Dawn's principal investigator, a man whose thoughts on the mission naturally carry weight:
"This transition makes us eager to see what secrets Ceres will reveal to us when we get up close to this ancient, giant, icy body. While Ceres is a lot bigger than the candidate asteroids that NASA is working on sending humans to, many of these smaller bodies are produced by collisions with larger asteroids such as Ceres and Vesta. It is of much interest to determine the nature of small asteroids produced in collisions with Ceres. These might be quite different from the small rocky asteroids associated with Vesta collisions."
The departure from Vesta occurred in September of 2012 — Dawn spent almost fourteen months there. Both Vesta and Ceres are considered 'protoplanets,' bodies that came close to becoming planets of their own, and the lessons learned in the mission should be useful in firming up our ideas on planet formation in the earliest days of the system. We're also learning about a doughty spacecraft that will now attempt something that has never been done before, to orbit not just one but two destinations beyond the Earth.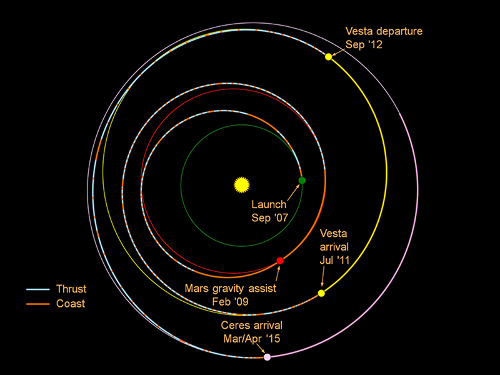 Image: This graphic shows the planned trek of NASA's Dawn spacecraft from its launch in 2007 through its arrival at the dwarf planet Ceres in early 2015. When it gets into orbit around Ceres, Dawn will be the first spacecraft to go into orbit around two destinations in our solar system beyond Earth. Its journey involved a gravity assist at Mars and a nearly 14-month-long visit to Vesta. Credit: NASA/JPL.
We have a year to go before the Dawn controllers begin approach operations, and not long after that we'll be getting imagery from Ceres that will be useful both for science and for navigation. Arrival at the diminutive world will occur some time in late March of 2015. The first full study of Ceres is slated for April at an altitude of 13,500 kilometers, after which the spacecraft will spiral down to an altitude of 4,430 kilometers for its survey science orbit. Continued lower spirals will culminate in a closest orbit approaching to within 375 kilometers in late November.
This NASA news release describes the 'hybrid' mode — a combination of reaction wheels and thrusters — that controllers will use to point the spacecraft during this close, low-altitude mapping orbit. Dawn has been using hydrazine thruster jets for orientation and pointing, but using two of the spacecraft's reaction wheels, which are gyroscope-like devices that can be spun up on demand, will help to conserve hydrazine. Bear in mind that two of the four reaction wheels aboard the spacecraft failed after Dawn left Vesta in 2012, but the hybrid mode using just two of the reaction wheels has now been thoroughly tested.
As we continue the long journey to Ceres, you'll want to keep an eye on Dawn chief engineer Marc Rayman's Dawn Journal, which offers regular updates on the mission's progress. Here's Rayman's take on Dawn's early imaging of Ceres, beginning just over a year from now:
Starting in early February 2015, Dawn will suspend thrusting occasionally to point its camera at Ceres. The first time will be on Feb. 2, when they are 260,000 miles (420,000 kilometers) apart. To the camera's eye, designed principally for mapping from a close orbit and not for long-range observations, Ceres will appear quite small, only about 24 pixels across. But these pictures of a fuzzy little patch will be invaluable for our celestial navigators. Such "optical navigation" images will show the location of Ceres with respect to background stars, thereby helping to pin down where it and the approaching robot are relative to each other. This provides a powerful enhancement to the navigation, which generally relies on radio signals exchanged between Dawn and Earth. Each of the 10 times Dawn observes Ceres during the approach phase will help navigators refine the probe's course, so they can update the ion thrust profile to pilot the ship smoothly to its intended orbit.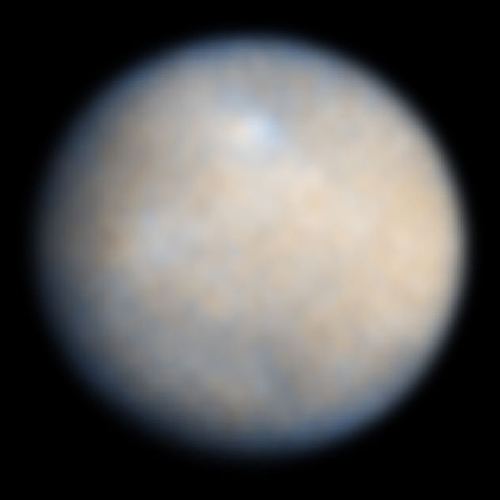 Image: NASA's Hubble Space Telescope color image of Ceres, the largest object in the asteroid belt. Astronomers optimized spatial resolution to about 18 km per pixel, enhancing the contrast in these images to bring out features on Ceres' surface, that are both brighter and darker than the average which absorbs 91% of sunlight falling on it. Credit: NASA, ESA, J. Parker (Southwest Research Institute), P. Thomas (Cornell University), and L. McFadden (University of Maryland, College Park).
Dawn's view of Ceres by February 11 should be marginally better, says Rayman, than the sharpest views we've captured from the Hubble instrument, as seen above. Soon after that we'll be seeing numerous features we've never known about before, including the possibility of small moons. Yet another indistinct sphere in the night sky will have been resolved into a sharply imaged object, while New Horizons continues its approach to Pluto/Charon. Even as we begin 2014 we can say with confidence that its successor will be an extremely interesting year.