Apropos of yesterday's post questioning what missions would follow up the current wave of planetary exploration, the Jet Propulsion Laboratory has released a new view of NASA's intriguing moon Europa. The image, shown below, looks familiar because it was published in 2001, though at lower-resolution and with considerable color enhancement. The new mosaic gives us the largest portion of the moon's surface at the highest resolution, and without the color enhancement, so that it approximates what the human eye would see.
The mosaic of images that go into this view was put together in the late 1990s using imagery from the Galileo spacecraft, which again makes me thankful for Galileo, a mission that succeeded despite all its high-gain antenna problems, and anxious for renewed data from this moon. The original data for the mosaic were acquired by the Galileo Solid-State Imaging experiment on two different orbits through the system of Jovian moons, the first in 1995, the second in 1998.
NASA is also offering a new video explaining why the interesting fracture features merit investigation, given the evidence for a salty subsurface ocean and the potential for at least simple forms of life within. It's a vivid reminder of why Europa is a priority target.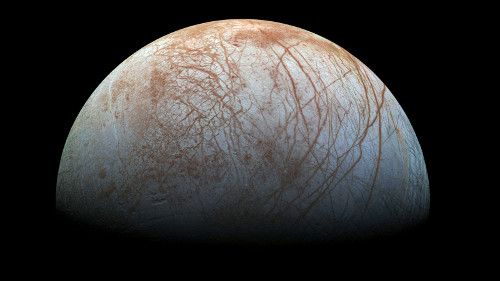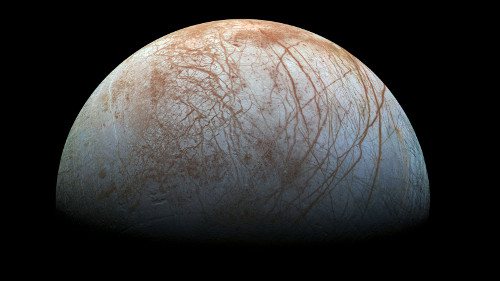 Image (click to enlarge): The puzzling, fascinating surface of Jupiter's icy moon Europa looms large in this newly-reprocessed color view, made from images taken by NASA's Galileo spacecraft in the late 1990s. This is the color view of Europa from Galileo that shows the largest portion of the moon's surface at the highest resolution. Credit: NASA/Jet Propulsion Laboratory.
Areas that appear blue or white are thought to be relatively pure water ice, with the polar regions (left and right in the image — north is to the right) bluer than the equatorial latitudes, which are more white. This JPL news release notes that the variation is thought to be due to differences in ice grain size in the two areas. The long cracks and ridges on the surface are interrupted by disrupted terrain that indicates broken crust that has re-frozen. Just what do the reddish-brown fractures and markings have to tell us about the chemistry of the Europan ocean, and the possibility of materials cycling between that ocean and the ice shell?