No spacecraft has ever traveled further to reach its primary target than New Horizons, now inbound to Pluto/Charon. From 4.6 billion kilometers from Earth (four hours, 26 minutes light travel time), the spacecraft has sent confirmation that its much anticipated wake-up call from ground controllers was a success. Since December 6, New Horizons has been in active mode, a state whose significance principal investigator Alan Stern explains:
"This is a watershed event that signals the end of New Horizons crossing of a vast ocean of space to the very frontier of our solar system, and the beginning of the mission's primary objective: the exploration of Pluto and its many moons in 2015."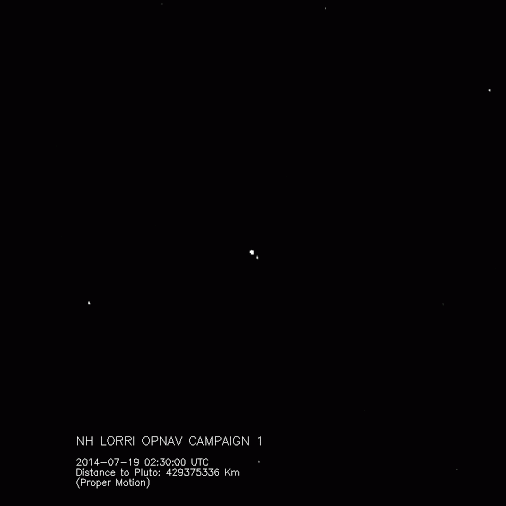 Image: Pluto and Charon, in imagery taken by New Horizons in July of 2014. Covering almost one full rotation of Charon around Pluto, the 12 images that make up the movie were taken with the spacecraft's best telescopic camera – the Long Range Reconnaissance Imager (LORRI) – at distances ranging from about 429 million to 422 million kilometers. Credit: NASA/Johns Hopkins University Applied Physics Laboratory/Southwest Research Institute.
Not that hibernation is an unusual event for the spacecraft. We've followed several cycles here on Centauri Dreams, but it's startling to realize that New Horizons has gone through eighteen hibernation periods, with two-thirds of its flight time in that state. A weekly beacon stayed alive during these periods, as did the onboard flight computer that broadcast its status tone, but much of the spacecraft was powered down to protect system components. For this special awakening, English tenor Russell Watson recorded a special version of 'Where My Heart Will Take Me,' which was played in New Horizons mission operations upon wake-up confirmation.
Pluto observations begin on January 15, with closest approach on July 14, and by mid-May, we will begin receiving views of Pluto and its moons that are higher in quality than anything the Hubble Space Telescope has yet given us. More on the awakening of New Horizons on this JHU/APL page. Meanwhile, the private effort to upload a message from Earth to New Horizons following the end of its science mission continues. If NASA gives the go-ahead, Jon Lomberg's team will crowdsource content for the One Earth New Horizons Message. A workshop discussing message methods and content just concluded last week at Stanford.
The View from the Asteroid Belt
Speaking of images better than Hubble, we've certainly managed that with the Dawn mission, which brought us spectacular vistas from Vesta during its fourteen months in orbit around the asteroid. Now we can look forward to topping Hubble's views of Ceres, the spacecraft's next target. Below is an image that, while not yet better than Hubble can manage, does give us an idea of the spherical shape of the asteroid (click to enlarge). Dawn is now 1.2 million kilometers out, about three times the Earth-Moon distance from its target.
Image credit: NASA/JPL-Caltech/UCLA/MPS/DLR/IDA.
Dawn will be captured into orbit around Ceres in March, but by early 2015, we'll be seeing images at higher resolution than Hubble has yet provided. The approach phase begins on December 26, with the nine-pixel-wide image just released serving as a final calibration of the spacecraft's science camera. With both missions, we are pushing into unknown territory, about to see things in greater detail than our best telescopes can offer. A bit of the old Voyager and Pioneer feeling has me in its grip, a confirmation of our human need to explore and a validation of all the hard work that got us here.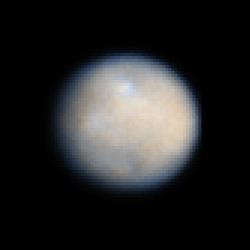 At left is Ceres in the best photo we currently have, a color Hubble image. These observations were made in both visible and ultraviolet light between December 2003 and January 2004, showing brighter and darker regions that may be impact features or simply different types of surface material. 950 kilometers across, Ceres may have an interior differentiated between an inner core, an ice mantle, and a relatively thin outer crust.
Every time I see this image I remember Alfred Bester's The Stars My Destination, a 1956 novel in which protagonist Gulliver Foyle takes the pseudonym Fourmyle of Ceres as part of the unfolding of his ingenious plan for revenge. The asteroid pops up in many science fiction tales (Larry Niven's 'Known Space' stories come particularly to mind), but perhaps none as compelling as the one Dawn is about to tell us.