I find few things more fascinating than remote fixes to distant spacecraft. We've used them surprisingly often, an outstanding case in point being the Galileo mission to Jupiter, launched in 1989. The failure of the craft's high-gain antenna demanded that controllers maximize what they had left, using the low-gain antenna along with data compression and receiver upgrades on Earth to perform outstanding science. Galileo's four-track tape recorder, critical for storing data for later playback, also caused problems that required study and intervention from the ground.
But as we saw yesterday, Galileo was hardly the first spacecraft to run into difficulties. The K2 mission, reviving Kepler by using sophisticated computer algorithms and photon pressure from the Sun, is a story in progress, with the discovery of super-Earth HIP 116454 b its first success. Or think all the way back to Mariner 10, launched in 1973 and afflicted with problems including flaking paint that caused its star-tracker to lose its lock on the guide star Canopus. The result: A long roll that burned hydrazine as thrusters tried to compensate for the motion. Controllers were able to use the pressure of solar photons on the spacecraft's solar panels to create the torque necessary to counter the roll and re-acquire the necessary control.
The Messenger spacecraft also used pressure from solar photons as part of needed course adjustment on the way to Mercury, and now comes news of yet another inspired fix involving the same craft. Messenger was on course to impact Mercury's surface by the end of March, 2015, having in the course of its four years in Mercury orbit (and six previous years enroute) used up most of its propellant. But controllers will now use pressurization gas in the spacecraft's propulsion system to raise Messenger's orbit enough to allow another month of operation.
The helium in question was used to pressurize the propellant tanks aboard the spacecraft. Let me quote Stewart Bushman (JHU/APL), lead propulsion engineer for the mission, on just what is going on here:
"The team continues to find inventive ways to keep MESSENGER going, all while providing an unprecedented vantage point for studying Mercury. To my knowledge this is the first time that helium pressurant has been intentionally used as a cold-gas propellant through hydrazine thrusters. These engines are not optimized to use pressurized gas as a propellant source. They have flow restrictors and orifices for hydrazine that reduce the feed pressure, hampering performance compared with actual cold-gas engines, which are little more than valves with a nozzle."
Bushman adds that stretching propellant use is not the norm:
"Propellant, though a consumable, is usually not the limiting life factor on a spacecraft, as generally something else goes wrong first. As such, we had to become creative with what we had available. Helium, with its low atomic weight, is preferred as a pressurant because it's light, but rarely as a cold gas propellant, because its low mass doesn't get you much bang for your buck."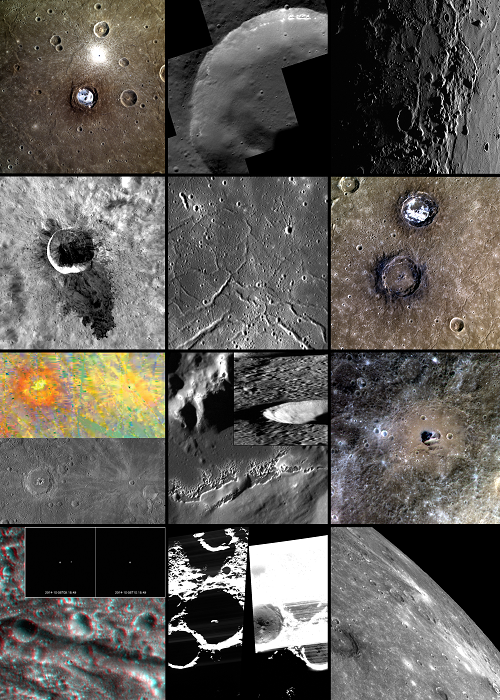 Image: A compilation of Messenger images from Mercury in 2014. Next April, Messenger's operational mission will come to an end, as the spacecraft depletes its fuel and impacts the surface. However, the last few months of operations should be rich, including science data obtained closer to the planet's surface than ever previously accomplished. Credit: JHU/APL.
So we gain an extra month to add to Messenger's already impressive data on the closest planet to the Sun. The spacecraft's most recent studies, begun this past summer, have involved a low altitude observation campaign looking for volcanic flow fronts, small scale tectonic effects, layering in crater walls and other features explained in this JHU/APL news release. Growing out of this effort will be the highest resolution images ever obtained of Mercury's surface.
The additional month of operations will allow a closer look at Mercury's magnetic field. "During the additional period of operations, up to four weeks, MESSENGER will measure variations in Mercury's internal magnetic field at shorter horizontal scales than ever before, scales comparable to the anticipated periapsis altitude between 7 km and 15 km above the planetary surface," says APL's Haje Korth, the instrument scientist for the Magnetometer. Korth also says that at these lower altitudes, Messenger's Neutron Spectrometer will be able to resolve water ice deposits inside individual impact craters at the high northern latitudes of the planet.
That's a useful outcome and it grows out of sheer ingenuity in using existing resources. What's fascinating in all these stories is that when we send a spacecraft out, we have frozen its technology level while our own continues to expand and accelerate. Think of the Voyagers, still operational after their 1977 launches, and imagine the kind of components we would use to build them today. The trick in resolving spacecraft problems and extending their missions is to keep the interface between our latest technology and their older tools as robust as possible. That involves, it's clear, not just hardware and software, but the power of the human imagination.