Roughly twice the radius and eight times as massive as Earth, 55 Cancri e is a 'super-Earth' in the interesting five-planet system some 41 light years away in the constellation Cancer. No habitable conditions here, at least not for anything remotely like the kind of life we understand: 55 Cancri e orbits its G-class primary every 18 hours (55 Cancri is actually a binary, accompanied by a small red dwarf at a separation of 1000 AU). The closest super-Earth we've yet found, this is a tidally locked world that, helpfully for our purposes, transits its host.
What we find in a just announced study of the planet's thermal emissions out of the University of Cambridge is an almost threefold change in temperature over a two year period. Although we've done it before with gas giant atmospheres, this is the first time any variability in atmosphere has been observed on a rocky planet outside our own Solar System. No other super-Earth has yet given us signs of possible surface activity, and Cambridge's Nikku Madhusudhan, a co-author of the study, calls the changes in detected light 'drastic.' They imply a huge temperature swing, from 1000 degrees to 2700 degrees Celsius (∼1300 – 3000 K) on the star-side of this tidally locked world. Brice-Olivier Demory is lead author of the paper on these observations:
"We saw a 300 percent change in the signal coming from this planet, which is the first time we've seen such a huge level of variability in an exoplanet. While we can't be entirely sure, we think a likely explanation for this variability is large-scale surface activity, possibly volcanism, on the surface is spewing out massive volumes of gas and dust, which sometimes blanket the thermal emission from the planet so it is not seen from Earth."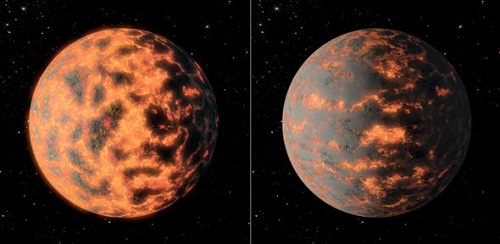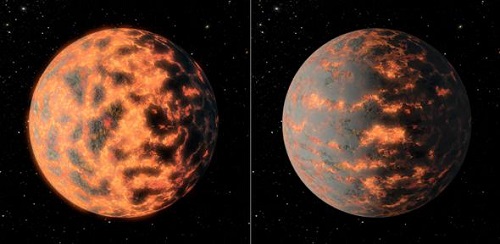 Image: Artist's impression of super-Earth 55 Cancri e, showing a hot partially-molten surface of the planet before and after possible volcanic activity on the day side. Credit: NASA/JPL-Caltech/R. Hurt.
The 55 Cancri e work was performed with data from the space-based Spitzer instrument. To understand the results, the authors look at the entire category of ultra-short period (USP) planet candidates found by Kepler, of which there are more than 100. Most of these have radii less than twice that of Earth, and some may be undergoing periods of intense erosion. The paper notes that the planet KIC12557548b shows changes in transit depth and shape that are consistent with what it calls a 'cometary-like environment.' The supposition here is that KIC12557548b is sub-Mercury in size but giving off an opaque cloud of dust, perhaps driven by surface volcanism.
From such scenarios the authors derive the idea that 55 Cancri e, one of the largest known USP planets, is likely subject to volcanism, with possible magma oceans on the day side. But in comparison to KIC12557548b, this world is large enough to contain its volcanic outgassing. From the paper:
…whereas extremely small planets (nearly mercury-size) subject to intense irradiation can undergo substantial mass loss through thermal winds, super-Earths are unlikely to undergo such mass-loss due to their significantly deeper potential wells… Thus, ejecta from volcanic eruptions on even the most irradiated super-Earths such as 55 Cnc e are unlikely to escape the planet and would instead display plume behaviour characteristic to the solar system. The extent and dynamics of the plumes if large enough can cause temporal variations in the planetary sizes and brightness temperatures and hence in the transit and occultation depths.
The larger picture is that we have begun to probe atmospheric conditions on worlds as small as two-Earth radii. Theories vary as to the composition of 55 Cancri e, with some observations suggesting a carbon-rich world while others point to a silicate-rich interior with a dense atmosphere. The variability found in this study calls the earlier models into question. But as we learn more about the material surrounding 55 Cancri e, we'll be conducting what the authors call 'a direct probe of the planet surface composition' that may help us understand other USP planets.
The paper is Demory et al., "Variability in the super-Earth 55 Cnc e," submitted to Monthly Notices of the Royal Astronomical Society (preprint). A University of Cambridge news release is available.