One of the joys of science fiction is the ability to enter into conjectured worlds at will, tweaking parameters here and there to see what happens. I remember talking a few years ago to Jay Lake, a fine writer especially of short stories who died far too young in 2014. Jay commented that while it was indeed wonderful to move between imagined worlds as a reader, it was even more wondrous to do so as a writer. I've mostly written non-fiction in my career, but the few times I've done short stories, I've experienced a bit of this 'world-building' sense of possibility.
Even so, it's always striking how science and technology keep moving in ways that defy our expectations. Take yesterday's launch of The Planetary Society's crowd-funded LightSail, which went aloft thanks to the efforts of a United Launch Alliance Atlas V from Cape Canaveral. LightSail violates expectations on a number of fronts. For one thing, the crowd-funding thing, which is a consequence of an Internet era that science fiction writers lustily engaged, but which enters homes on desktop computers that SF had trouble anticipating.
My old saying applies: It's the business of the future to surprise us, even those of us who keep thinking about the future every day. Another LightSail surprise is its size. Many science fiction tales have covered solar sails dating back to the wondrous "The Lady Who Sailed the Soul,' from Cordwainer Smith, and Arthur C. Clarke's "The Wind from the Sun." We've looked at a number of the early stories in these pages over the years. But imagined sails in those days were vast, just like Robert Forward's gigantic designs, and I can't think of anyone in those days who anticipated matching up sails with tiny satellites — CubeSats — which have brought space capabilities down from the level of government organizations to small university groups.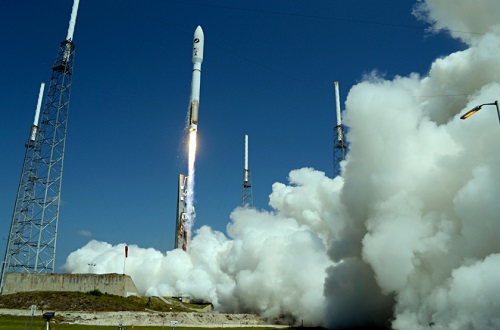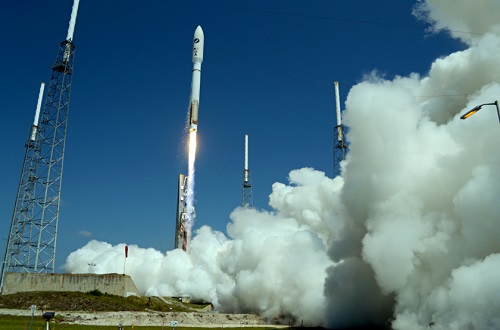 Image: The launch of LightSail aboard an Atlas V, as captured by remote camera on May 20. Credit: Navid Baraty / The Planetary Society.
So we have a CubeSat about the size of a loaf of bread that is about to deploy a sail measuring 32 square meters. CubeSats are cheap, and while they can't mount missions of the complexity of a Juno or a Cassini, I can see a robust future for them. The beauty of The Planetary Society's effort here is that while CubeSats can be readily orbited, they've had no real propulsion capabilities. Until now. So we're not testing just one sail. We're testing a broader concept.
Can we get a CubeSat to another planet? I can see no reason why not if it turns out that the solar sail strategy employed here does the job. And if we can get one CubeSat to another planet, we can surely get more. Thus the possibility of future missions designed around 'swarms' of CubeSat descendants, deployed on missions in which the components of a much larger spacecraft are effectively distributed among a host of carriers, all driven by solar photon momentum. Perhaps LightSail is the first step in making such a vision a reality.
Remember, too, that LightSail was launched as only one payload among many. Much media attention went into the launch of the X-37B, understandable because the small space plane has been operated with relative secrecy. But the Atlas V carrying LightSail also carried several other CubeSats into space. Contrast this with the early days of the space program, when each rocket lifted a single payload, and consider where miniaturization and improved design have begun to take us. With Mason Peck's 'sprites,' we're now exploring an even smaller realm some call 'satellites on a chip,' where the idea of swarm operations takes on a whole new luster.
We have about four weeks to wait before LightSail attempts deployment of its mylar sail. Even then the craft will quickly be pulled back into the Earth's atmosphere, returning along the way images and data on spacecraft performance that will flow to the ground stations at Cal Poly San Luis Obispo and Georgia Tech (LightSail was designed by San Luis Obispo firm Stellar Exploration, Inc.) Data return has already begun. You'll want to follow Jason Davis' updates on The Planetary Society's site as this story unfolds. LightSail's first telemetry file can be downloaded — according to Jason, the early values appear to be 'nominal or near predicted ranges.' Here's the one item that could be problematic:
The team's only major concern is a line of telemetry showing the indicator switches for solar panel deployment have been triggered. (Look for line 77 in the telemetry file—the "f" is a hexidecimal value indicating all switches were released.) Under normal circumstances, the solar panels do not open until the sail deployment sequence starts, because the sails have a tendency to start billowing out of their storage cavities.

This telemetry reading, however, does not necessarily mean the panels are open. The switches were once inadvertantly triggered during vibration testing, so it's possible they popped loose during the ride to orbit. We'll know for sure after flight day four, when we test out the camera system. This is one time we don't want to see a pretty picture of Earth—it would mean the panels are open.
I'll be checking in with Jason's blog frequently during the mission as we get closer to sail deployment. Meanwhile, be aware that the second iteration of LightSail is scheduled for a 2016 flight, this one a full demonstration of solar sailing in Earth orbit, with launch aboard a SpaceX Falcon Heavy to an orbit of about 720 kilometers. The KickStarter campaign supporting the LightSail project can be accessed here. The level of support that has emerged is encouraging indeed, as success with LightSail will energize the entire community of sail researchers.