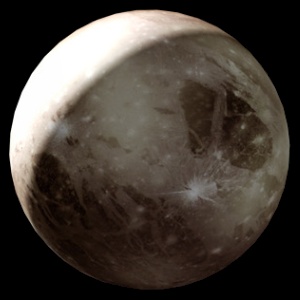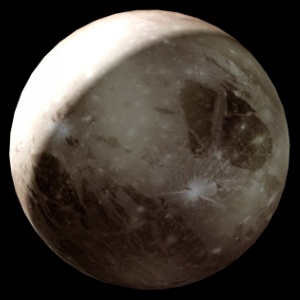 The image of Pluto on the right — an artist's impression, to be sure (credit: NASA, ESA and G. Bacon, STScI) — suggests Ganymede to me more than Pluto, but we'll have to wait and see what New Horizons turns up as it continues to close on its target. It's worth thinking about how our views of this place have changed over time. The world found by Clyde Tombaugh seemed small enough when he found it, but a fraction of its light was actually coming from its yet smaller moon, which wouldn't be discovered until USNO astronomer James Christy nailed it in 1978.
Gregory Benford depicted Pluto with a nitrogen sea in a 2006 novel called The Sunborn, one in which he explored the possibility of life at -185 degrees Celsius, the lifeforms themselves the result of an experiment by heliopause beings who drew energy from magnetic interactions far from the Sun. Even more speculative is Stephen Baxter's story "Goose Summer" (from the Vacuum Diagrams collection of 2001), in which Plutonian life physically interacts with Charon, the latter 'seeding' the Plutonian surface.
But the real thing beckons. We now have images taken between May 8 and 12, downlinked last week. Here we're looking at Pluto from a distance of 77 million kilometers using the now familiar Long-Range Reconnaissance Imager (LORRI) aboard New Horizons. The differences between this view and what we saw in April are striking. We're now 35 million kilometers closer and have twice the pixels to work with, aided by image deconvolution techniques to tease out detail.
Here's the May 12 imagery as contrasted with April 16 — a click on the New Horizons link will show you two other photo sets contrasting the earlier and later views.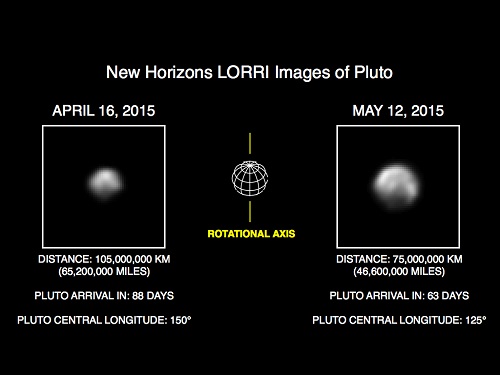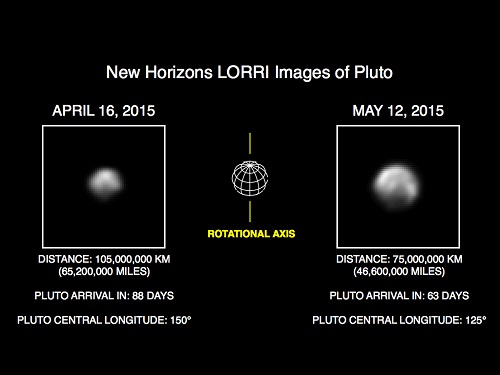 Image: These images show Pluto in the latest series of New Horizons Long Range Reconnaissance Imager (LORRI) photos, taken May 8-12, 2015, compared to LORRI images taken one month earlier. All images have been rotated to align Pluto's rotational axis with the vertical direction (up-down), as depicted schematically in the center panel. Between April and May, Pluto appears to get larger as the spacecraft gets closer, with Pluto's apparent size increasing by approximately 50 percent. Pluto rotates around its axis every 6.4 Earth days, and these images show the variations in Pluto's surface features during its rotation. All of the images are displayed using the same linear brightness scale.
The deconvolution method used to sharpen the images can, the New Horizons team reminds us, sometimes create artifacts, meaning that we'll need to have the smaller details of these images confirmed as New Horizons gets closer. According to mission project scientist Hal Weaver (JHU/APL), as quoted in the New Horizons update linked to above, we'll be seeing images with 5000 times better resolution when we reach closest approach during the July 14 flyby.
Are we looking at a polar cap in this imagery? Mission principal investigator Alan Stern comments:
"These new images show us that Pluto's differing faces are each distinct; likely hinting at what may be very complex surface geology or variations in surface composition from place to place. These images also continue to support the hypothesis that Pluto has a polar cap whose extent varies with longitude; we'll be able to make a definitive determination of the polar bright region's iciness when we get compositional spectroscopy of that region in July."
We're just seven weeks away from the flyby, with Stern now moving to the east coast for the encounter operations through late July. As excitement builds, a Pluto Safari smartphone app has appeared, available for iOS as well as Android. Produced by Simulation Curriculum Corp., the free app offers interactive views of the locations of Pluto and New Horizons, along with a timeline of New Horizons mission milestones and the latest news about the spacecraft. Pluto Safari is available here in its iOS version and here for the Android iteration.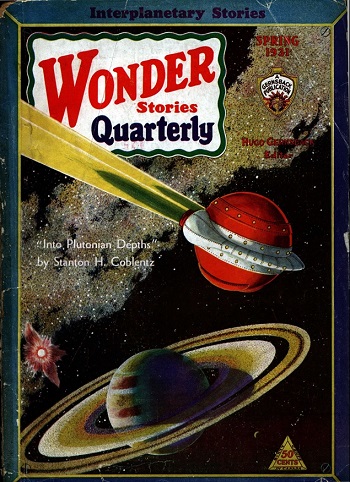 Meanwhile, looking over my collection of old science fiction magazines, I enjoyed tracking down Stanton A. Coblentz' story "Into Plutonian Depths," which ran in Wonder Stories Quarterly in the Spring 1931 issue. To my knowledge, this was the first story written with knowledge of Clyde Tombaugh's discovery. Using a 'gravity insulator,' our protagonist and Stark, his science mentor, set out for the most distant planet known. Coblentz refers to 'the trans-Neptunian planet' found by Tombaugh and conjures up mystery in the name Pluto. As Stark exclaims:
"Think of it a billion miles or so beyond Neptune, a globe perhaps no larger than the earth, lost in the blackness of the outer void, its years longer than our centuries, its seasons longer than our lives! What stories it would be able to tell! Are there any living creatures there? Were any living beings ever able to endure the terror of its sunless, frozen plains? Would we find the imprint of lost races upon its shores? — races that flourished while the planet was heated from within, but that have long ago fallen in the struggle with the cold?"
And so on. It's a lively tale, a bit mesmerizing in its day (though it goes on far too long), and it mimics the approach of New Horizons as it describes the travelers' view of "silvery white plains and its broken and enormous mountain ranges, whose snowy summits were offset by sheer black escarpments and ravines as hideous to contemplate as the craters of the moon…" The inhabitants of the ninth planet turn out to be nothing like Benford or Baxter's creations, and the tale turns into something closer to Rider Haggard than modern SF as it winds its way to a conclusion.
But still, what fun to think about Pluto as it was first envisioned in fiction while we have a spacecraft moving in on the Pluto/Charon system at 1.2 million kilometers per day. Each new set of New Horizons images is going to sharpen our view of a world. If only Stanton Coblentz, and for that matter Clyde Tombaugh himself, were able to watch this encounter unfold.