Having written yesterday about the constellation of missions now returning data from deep space, I found Geoffrey Landis' essay "Spaceflight and Science Fiction" timely. The essay is freely available in the inaugural issue of The Journal of Astrosociology, the publication of the Astrosociology Research Institute (downloadable here). And while it covers some familiar ground — Jules Verne's moon cannon, Frau im Monde, etc. — it also highlights Landis' insights into the relationship between the space program and the genre that helped inspire it.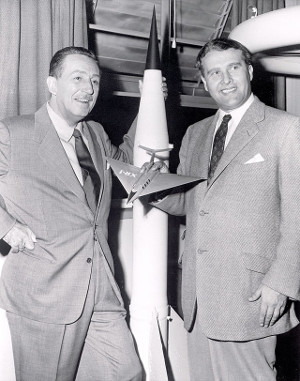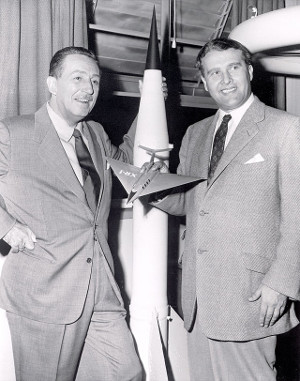 My friend Al Jackson has written in various comments here (and in a number of back-channel emails) about Wernher von Braun's ideas and their relation to science fiction. As Landis notes, von Braun was himself a science fiction reader who credited an 1897 novel called Auf Zwei Planeten (Two Planets) by Kurd Lasswitz with inspiring his interest in rocketry. So, by the way, did Walter Hohmann, the German engineer who helped develop the area of orbital dynamics and demonstrated fuel-efficient ways to move between two orbits.
Although there have been numerous editions of the Lasswitz book since its original publication, it would not be until 1971 that an English translation (badly abridged) was published. The story depicts the discovery of a Martian base at the Earth's north pole, with humans being taken back to Mars for a look at its canals. Lasswitz followed Schiaparelli and Percival Lowell in his fascination with a thriving, fertile Mars and the ancient race that lived there. The science fiction historian Everett F. Bleiler believes Lasswitz was a major influence on Hugo Gernsback and hence on the shape of science fiction in the 1920s and '30s.
Image: Wernher von Braun with Walt Disney, with whom he collaborated on a series of three films. Credit: Wikimedia Commons.
But back to von Braun, who lived in a Germany in which Fritz Lang made the 1929 film Frau im Mond ('Woman in the Moon') with the help of rocket scientists Hermann Oberth and Willy Ley, who were hired to build a real rocket to launch in synch with the film's opening. That stunt didn't happen, but Oberth, Ley and von Braun would have worked together in the early 1930s as part of the Verein für Raumschiffahrt, a rocket club created by amateurs that would go on to influence the development of the deadly V-2.
In his early years in the United States, von Braun wrote a short science fiction novel in German about a trip to Mars, one that describes intelligent Martians in the context of a carefully designed mission. This is where things get tricky for the bibliographer. The technical appendix for this novel was published as Das Marsproject in 1952, appearing as The Mars Project the following year. The novel that had included it was not published until a 2006 edition from a Canadian publisher, who offered it as something of a historical curiosity (available as Project Mars: A Technical Tale, from Collector's Guide Publishing).
Science fiction, meanwhile, had entered a robust post-war era in which spaceflight seized the public imagination. Landis comments:
The V-2 brought the reality of rockets public in a highly visible way; rockets were no longer comic-strip stuff, but real and highly-visible tools of warfare and, presumably, spaceflight. Following the end of the war, the rockets on science fiction magazine and covers now all looked remarkably like the V-2, and science fiction entered a golden age, with spaceflight stories written by a number of classic writers such as Robert Heinlein, Arthur C. Clarke (who was also noted for inventing the concept of a geosynchronous communications satellite), Isaac Asimov, and Andre Norton reaching new audiences.
It was in this same era that Collier's ran its highly popular series of articles on von Braun's ideas, with eight issues illustrated by Chesley Bonestell and other artists between 1952 and 1954. Soon von Braun was a household name thanks not only to Collier's but also Walt Disney's TV programs, on which he appeared three times. By 1956, von Braun had scaled down his Mars mission and published his later thinking in The Exploration of Mars, written with co-author Willy Ley.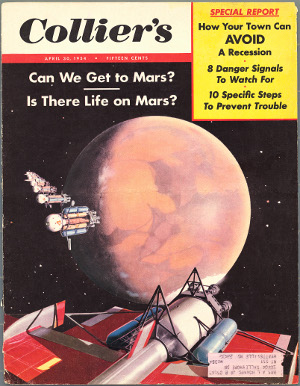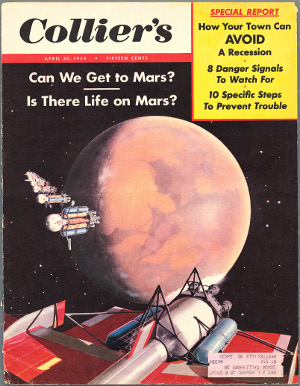 What effect did the space program von Braun did so much to launch have on the science fiction of its day? It's an interesting question, and one that Landis is ambivalent about, for as we began to probe the planets, we learned that they differed sharply from what writers had imagined:
In some respects the space program was a disappointment to science fiction. Spaceflight has not become as simple and ubiquitous (nor as cheap) as science fiction predicted. The cratered Mars revealed by the Mariner and Viking missions was not nearly as colorful a setting for science fiction as the Mars of Percival Lowell, with its canals and ancient, dying civilization; the furnace of the Venus surface revealed by Russian and American probes was not nearly as picturesque a setting for science fiction as the earlier swampy or even ocean-covered Venus hypothesized by astronomers when all that could be seen were clouds. Even the moon, dry and grey and mostly lacking in resources, was a disappointment.
Image: The April 30, 1954 issue of Collier's, part of a series that explored von Braun's ideas.
What grows out of this is a turn in the field's direction. If the Solar System was the great venue of exploration for the science fiction of the Gernsback and later Campbell eras, by the mid-1960s many of its destinations had been revealed as barren places (think Mariner 4 and its images of a cratered, evidently lifeless Mars). Interstellar destinations, Landis notes, became the new terra incognita, but so did an entirely different kind of exploration into social and psychological realms (Bradbury becomes an interesting bridge between these two worlds). Landis doesn't say it but I assume he's thinking that trends like science fiction's 'New Wave' grew directly out of this impulse.
Think back, then, to some of science fiction's precursors. Johannes Kepler could write in his Somnium (1609) about space travel by non-technological means in a book that used the Moon as a place where basic ideas of astronomy could be discussed. Edgar Allen Poe would develop his 1835 story "The Unparalleled Adventure of One Hans Pfaall" with a lunar trip using actual technology, in his case a balloon, finding ways to make Earth's atmosphere extend high enough for a balloon filled with a new kind of gas to get there.
From Voltaire (Micromegas, 1752) to Verne, science fiction shaped spaceflight around technologies available at the time, like Verne's 274-meter cannon driven by 200 tons of gun cotton. What could be envisioned drove the narrative, but so did the desire for an exotic destination on which humans could walk. It's interesting that we're again seeing Solar System destinations as revealed by the space program as settings for modern SF — I think of tales like Gerald Nordley's "Into the Miranda Rift" as a classic in this vein — but the interstellar impulse has never been stronger as SF continues its quest for alien, habitable worlds.