The main post for today will be online around 1230 EDT (1630 UTC), but first I have to publish this image from LightSail, along with Jason Davis' description. Nice work!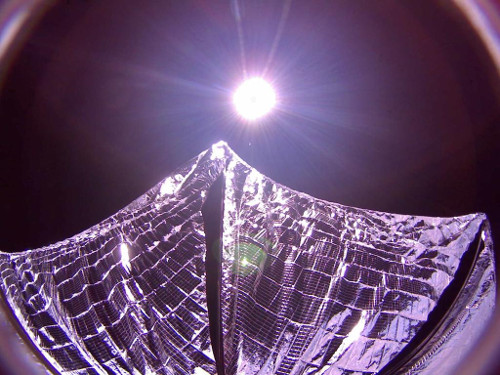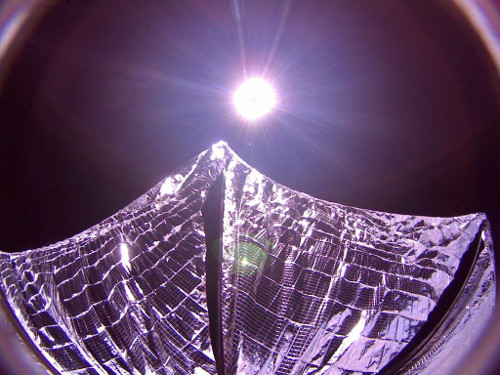 "The Planetary Society's LightSail test mission successfully completed its primary objective of deploying a solar sail in low-Earth orbit, mission managers said today [June 9]. During a ground station pass over Cal Poly San Luis Obispo that began at 1:26 p.m. EDT (17:26 UTC), the final pieces of an image showcasing LightSail's deployed solar sails were received on Earth. The image confirms the sails have unfurled, which was the final milestone of a shakedown mission designed to pave the way for a full-fledged solar sail flight in 2016."
A second image may include a view of the Earth, according to Davis. What may happen next is a further tensioning, or 'walking out,' of the sail booms, which should further flatten the sail. Davis notes, too, that the 'fish-eye' lens of the camera produces a bit of distortion in the image.
Addendum: Bill Nye's statement on LightSail's success.
"I'm very proud to say that our LightSail test mission was a success. We saw again that space is hard. It's a test flight, and sure enough our little spacecraft tested us. I've got to congratulate our remarkable team. They solved some unexpected big problems up there with nothing but short radio signals sent from down here. This LightSail test taught us a lot, just as we hoped it would, and so we're ready to do some real solar sailing with LightSail's 2016 mission. Let me finish by reminding everyone that this mission and next year's flight are funded entirely by our supporters and especially our members— people of Earth, who want to participate in space exploration. We're changing the way humankind explores space. Today is a big day for The Society and for space explorers everywhere."