New imagery from New Horizons continues to dazzle, with the images below taken by the spacecraft's Long Range Reconnaissance Imager (LORRI) instrument from May 29 to June 2. We're beginning to pick up bright areas mixed with dark terrain in what are clearly the best images ever obtained of the remote world. As before, mission scientists are using deconvolution to sharpen the raw images and are also teasing out further details with contrast adjustments. The processing can produce artifacts so that fine details will have to be checked at closer range.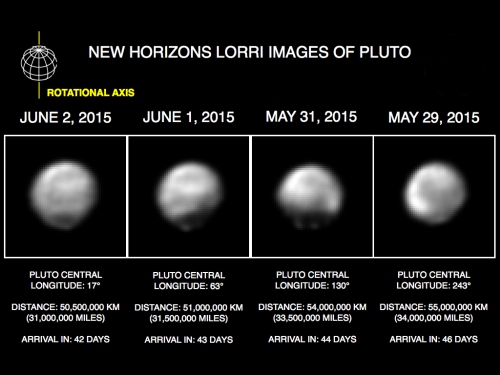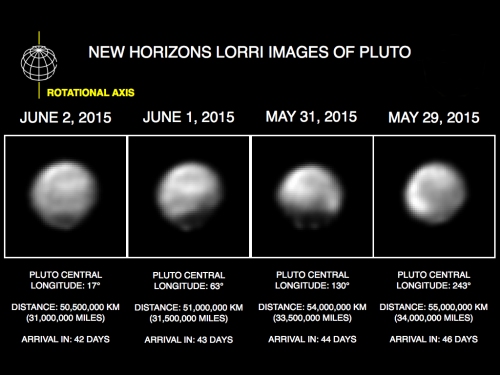 Image: These images, taken by New Horizons' Long Range Reconnaissance Imager (LORRI), show four different "faces" of Pluto as it rotates about its axis with a period of 6.4 days. All the images have been rotated to align Pluto's rotational axis with the vertical direction (up-down) on the figure, as depicted schematically in the upper left. From left to right, the images were taken when Pluto's central longitude was 17, 63, 130, and 243 degrees, respectively. The date of each image, the distance of the New Horizons spacecraft from Pluto, and the number of days until Pluto closest approach are all indicated in the figure. Credit: NASA/Johns Hopkins University Applied Physics Laboratory/Southwest Research Institute.
We're still 39 million kilometers from Pluto but the action is getting very interesting indeed. Here's New Horizons principal investigator Alan Stern (SwRI, Boulder) on what we see in the new views:
"Even though the latest images were made from more than 30 million miles away, they show an increasingly complex surface with clear evidence of discrete equatorial bright and dark regions—some that may also have variations in brightness. We can also see that every face of Pluto is different and that Pluto's northern hemisphere displays substantial dark terrains, though both Pluto's darkest and its brightest known terrain units are just south of, or on, its equator. Why this is so is an emerging puzzle."
Describing 'an increasingly complex and nuanced surface,' Stern points out that by early July we will have spectroscopic data to help work out just what these differences in terrain are. I also want to add that the discussion of New Horizons' latest imagery on the Unmanned Spaceflight site has been extremely helpful — just drill down to the New Horizons mission. Unmanned Spaceflight has long been a key resource for those tracking missions throughout the system.
Meanwhile, the pace of news is obviously accelerating. NASA is planning weekly updates on the New Horizons mission for June 16, 23 and 30, but when we get into July, things really heat up, with daily updates live on NASA TV starting on July 7 as we move toward final approach.
With excitement building, be aware of 'The Year of Pluto,' a new documentary on Pluto and the New Horizons mission that places the spacecraft in context. New Horizons can be said to be closing out our first scouting phase of the classical planets and beginning the exploration of the Kuiper Belt. NASA TV will have 'The Year of Pluto' available beginning Friday June 12th on the following schedule (all times EDT): Friday, June 12 @ 1000, 1300, 2000; Saturday, June 13 @ 0600, 1600, 2100; Sunday, June 14 @ 0800, 1300, 2000. Here's the trailer for a preview.
As we approach July, it's also heartening to see the rising degree of public interest in New Horizons. I've mentioned Pluto Safari, a free app that uses 3D simulations to follow the mission on both iOS and Android devices (available here for iOS and here for Android). Simulation Curriculum, creators of Starry Night, is behind Pluto Safari, and given its interactive mission information, the app is a real bonus for those following the mission as closely as I do.
From the New Horizons team itself comes Pluto Time, an online tool that tells you, once you've entered your location, when your site is experiencing about the same degree of illumination as Pluto itself. Walk outside at the designated time and, given variables of weather and terrain, your surroundings will be roughly as bright as Pluto at noon. NASA is encouraging people to take photos during their local Pluto time and share them with social media using the tag #PlutoTime. Pluto Time surprises me a bit in that my next time will be just past 2030, deep into the evening, to be sure, but a good bit brighter than I had imagined Pluto even at noon.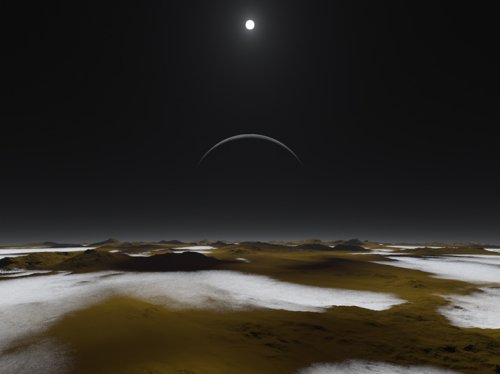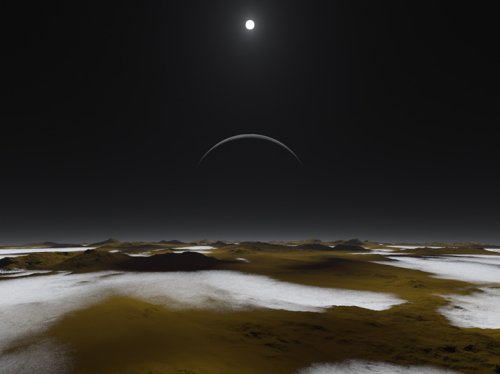 Image: An artist's impression of Pluto's surface. The Sun appears about 1,000 times fainter than it does on Earth. The moon Charon looms large in the sky. Image Credit: NASA / Southwest Research Institute / Alex Parker.