Given that the Philae lander has just come to life after seven months without communicating, it's no wonder that the mood among everyone involved with Rosetta's mission to comet 67P/Churyumov–Gerasimenko is exuberant. On the surface of the comet, conditions have been improving for Philae since March, meaning that with higher temperatures and better illumination, it was hoped that the lander might reactivate. That hope was realized on June 13 when Rosetta picked up 330 data packets from an earlier segment of the lander's mission.
Stephan Ulamec (DLR), Philae lander project manager, has positive things to say:
"We are still examining the housekeeping information at the Lander Control Centre in the DLR German Aerospace Center's establishment in Cologne, but we can already tell that all lander subsystems are working nominally, with no apparent degradation after more than half a year hiding out on the comet's frozen surface."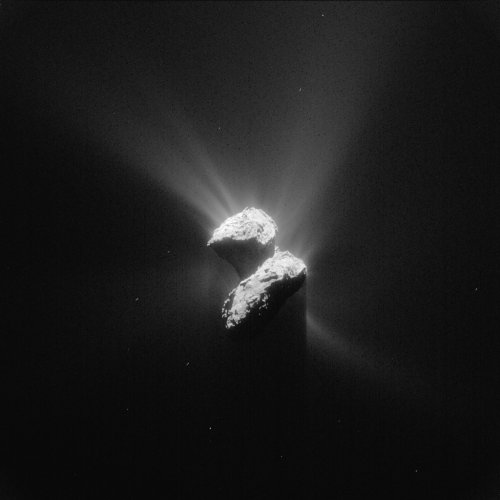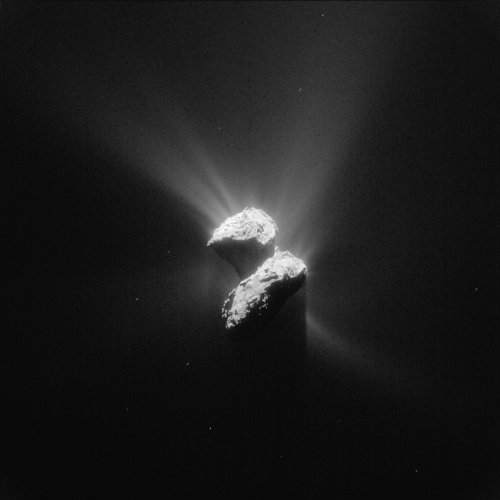 Image: Processed NAVCAM image of Comet 67P/C-G taken on 5 June 2015. Credit: ESA/Rosetta/NAVCAM – CC BY-SA IGO 3.0.
ESA also reports that a second burst of lander data was received on June 14. Apparently over 8000 packets of additional status data are available in Philae's memory, but controllers are not clear as to when the data were recorded. We do know that the internal temperature of the lander has risen to –5ºC, an indication that we're moving toward enough sunlight to reach the operating temperatures needed for normal operations and electricity generation.
67P/Churyumov–Gerasimenko rotates about every twelve hours. Philae needs at least 19 watts to switch on its transmitter, and ESA's Rosetta blog reports that power levels are at about the 13 W level at comet sunrise and reach 24 W later in the cometary day. We're learning that the lander's solar panels are apparently generating power for over 135 minutes in each period of illumination. The downloaded telemetry evidently extends over a full day-night cycle of the comet, which makes it possible to infer how and when the lander is receiving sunlight.
Remember that communications are being relayed through the Rosetta orbiter, which can contact the lander twice every 24 hours. Because Rosetta is currently in a 200 to 235 kilometer orbit that is not optimized for communications with the lander, a trajectory change will be needed. The new orbit, scheduled to begin at 2325 UTC today, would reduce the orbiter's distance to about 180 kilometers and should enable better contact with Philae. Establishing reliable contact and optimizing it will allow a new phase of science investigations to begin.
New Horizons: Trajectory Tune-Up
We're now inside the one month mark before arrival at Pluto/Charon, and the plucky New Horizons couldn't have been sent on a more interesting trajectory. The plan is to take the spacecraft inside the orbits of all five of Pluto's moons, an approach known to be feasible following multiple sets of observations dedicated to spotting potential hazards. New Horizons' Long-Range Reconnaissance Imager (LORRI) camera performed the work, returning the long exposure images needed to search for rings, even smaller moons and dust in the system.
The upshot: No new moons and no rings. This update from the New Horizons team notes that if any rings do exist, they would have to be less than 1600 kilometers wide or reflecting less than one five-millionth of the incoming sunlight. Another hazard search begins June 15 — this is an ongoing process — and we'll get the update on those results by June 25. The final far encounter phase — Approach Phase 3 — begins in the last week of June and ends a week before the spacecraft's close approach to Pluto. Additional images for final navigation uses are part of this phase, as are measurements of the solar wind and high-energy particles on the approach.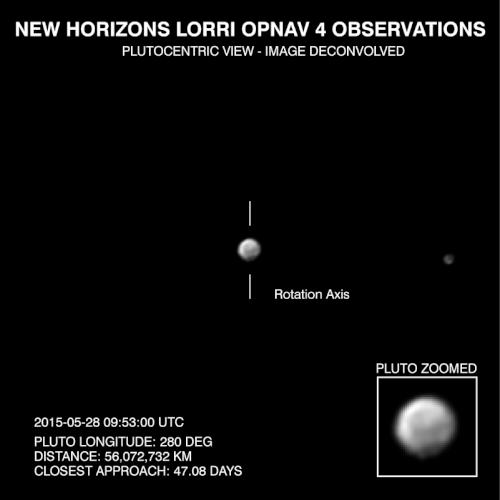 Image: This "movie," composed of images taken by New Horizons' Long Range Reconnaissance Imager (LORRI), shows Pluto as it rotates about its axis. The images were taken May 28-June 3, 2015, from distances ranging from approximately 56 million kilometers to 48.5 million kilometers. Visible are dramatic variations in Pluto's surface features as it rotates. When a very large, dark region near Pluto's equator appears near the limb, it gives Pluto a distinctly, but false, non-spherical appearance. Pluto is known to be almost perfectly spherical from previous data. Credit: NASA/Johns Hopkins University Applied Physics Laboratory/Southwest Research Institute.
New Horizons performed a 45-second thruster burn to optimize its trajectory on June 14, a change of a mere 52 centimeters per second based on previous imaging. It's mind-boggling for those of us who grew up with Pluto as little more than a seemingly unreachable speck at system's edge to realize that New Horizons is now less than 35 million kilometers out. We're headed for a close approach at a distance of roughly 12,500 kilometers above the surface.
The second installment of "New Horizons: Countdown to Pluto" airs today at 1130 EDT (1530 UTC) on NASA TV, with repeat showtimes at 1530 EDT (1930 UTC) and 1930 EDT (2330 UTC). In this installment, mission team members Alice Bowman, Cathy Olkin and Chris Hersman will be going through the latest news on mission operations and science.