You get to expect the unexpected when writing about space probes, but somehow what New Horizons did to my weekend completely blind-sided me. Running a routine check of email before (I thought) sliding into the rest of a relaxing work break, I found messages about the glitch on the Pluto-bound spacecraft. Sunday turned into an all-screens-on exercise in checking multiple feeds and waiting for news.
The problem with New Horizons brought to mind a short story I wrote many years ago about an unmanned probe sent to Epsilon Indi on a 90-year journey. The probe is within a month of encounter when all goes silent and Earth controllers can only wait to see what happens.
The point of the story (it was called "Merchant Dying," published in Charlie Ryan's Aboriginal Science Fiction in the July/August 1987 issue) was that spacecraft going to another star are going to need autonomous repair capabilities we can only dream of today. New Horizons is a long way out, but we can still work with it through the Deep Space Network, and a check this morning shows DSN's 70-meter Canberra dish working New Horizons as I write. But space is teaching us all about backup computers and autonomy one step at a time.
The 'anomaly' occurred on July 4 and led to a loss of communications with Earth. New Horizons' autonomous systems were able to switch to the critical backup computer while placing the spacecraft in 'safe mode' and re-starting communications. Emily Lakdawalla reports here that the New Horizons Anomaly Review Board met at 1600 EDT yesterday to analyze the situation. The subsequent NASA statement was reassuring, and I'll quote its latest update in its entirety:
NASA's New Horizons mission is returning to normal science operations after a July 4 anomaly and remains on track for its July 14 flyby of Pluto.

The investigation into the anomaly that caused New Horizons to enter "safe mode" on July 4 has concluded that no hardware or software fault occurred on the spacecraft. The underlying cause of the incident was a hard-to-detect timing flaw in the spacecraft command sequence that occurred during an operation to prepare for the close flyby. No similar operations are planned for the remainder of the Pluto encounter.

"I'm pleased that our mission team quickly identified the problem and assured the health of the spacecraft," said Jim Green, NASA's Director of Planetary Science. "Now – with Pluto in our sights – we're on the verge of returning to normal operations and going for the gold."

Preparations are ongoing to resume the originally planned science operations on July 7 and to conduct the entire close flyby sequence as planned. The mission science team and principal investigator have concluded that the science observations lost during the anomaly recovery do not affect any primary objectives of the mission, with a minimal effect on lesser objectives. "In terms of science, it won't change an A-plus even into an A," said New Horizons Principal Investigator Alan Stern of the Southwest Research Institute, Boulder.

Adding to the challenge of recovery is the spacecraft's extreme distance from Earth. New Horizons is almost 3 billion miles away, where radio signals, even traveling at light speed, need 4.5 hours to reach home. Two-way communication between the spacecraft and its operators requires a nine-hour round trip.

Status updates will be issued as new information is available.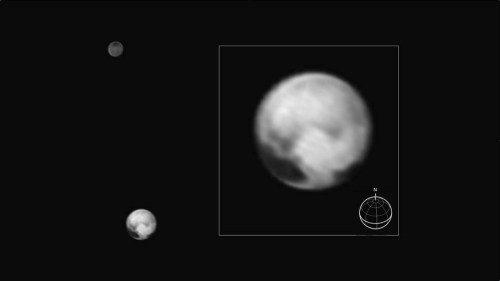 So we're less than ten days out from Pluto/Charon and a knuckle-whitening moment seems to have passed with little loss of data. With observations re-starting on Tuesday, here's imagery from July 1, with the inset showing an enlarged Pluto. Features as small as 160 kilometers are visible at this point (credit: NASA/JHUAPL/SWRI). Onward and outward…
Update: More news this afternoon, as per NASA:
NASA will host a media teleconference at 3 p.m. EDT (19:00 UTC) today to discuss the New Horizons spacecraft returning to normal science operations after a July 4 anomaly. The mission remains on track to conduct the entire close flyby sequence as planned, including the July 14 flyby of Pluto…

Audio of the teleconference will be streamed live at http://www.nasa.gov/newsaudio