We've already had the pleasure of naming features on Pluto, at least informally, highlighted by the moment when the heart-shaped area revealed by New Horizons was named Tombaugh Regio, after the world's discoverer. The fact that two of Clyde Tombaugh's children were in the audience during the news briefing where this occurred made it all the more powerful. Now we are turning to smaller features, as witness the mountain range near the southwest margin of Tombaugh Regio, viewed by New Horizons from a distance of 77,000 kilometers on July 20.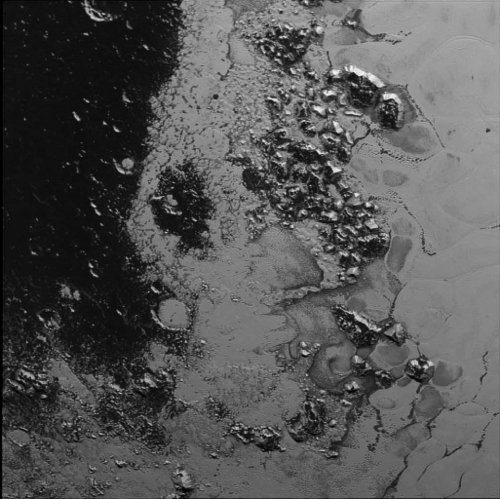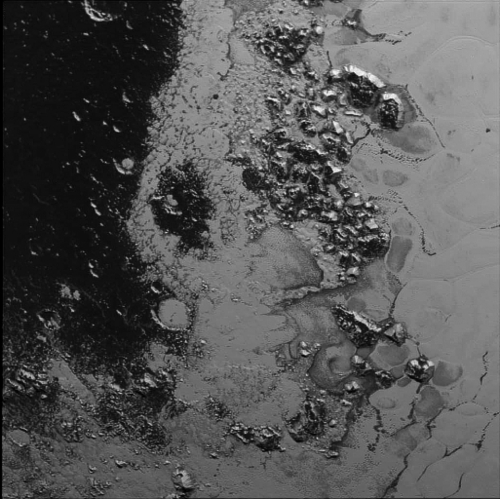 Image: What a glorious view on what had previously been nothing more than a barely resolved dot. This is the region of Tombaugh Regio containing a range of mountains evidently less elevated than those previously seen near Pluto's equator (see First Post-Flyby Imager). Features as small as one kilometers across are visible in this image. Credit: NASA/JHUAPL/SWRI.
The mountains in the equatorial region — now known as Norgay Montes, after sherpa Tenzing Norgay — rise as high as 3500 meters, and evidently formed no more than 100 million years ago, an indication that they may still be in a geologically active area (the debate on the matter should be lively). The new range is west of the region now called Sputnik Planum, some 110 kilometers northwest of Norgay Montes. These peaks reach between 1 and 1.5 kilometers in height. This NASA news release likens them to the Appalachian Mountains of the US, compared to the loftier Norgay Montes region with peaks similar to those in the Rockies.
We're also seeing interesting topography along the western edge of Tombaugh Regio, as Jeff Moore (NASA Ames), who leads the New Horizons Geology, Geophysics and Imaging Team (GGI), points out:
"There is a pronounced difference in texture between the younger, frozen plains to the east and the dark, heavily-cratered terrain to the west. There's a complex interaction going on between the bright and the dark materials that we're still trying to understand."
If Sputnik Planum is thought to be less than 100 million years old, the darker region probably goes back billions of years. Moore notes the bright, sediment-like material that seems to be filling in the older craters — see the circular feature to the lower left of center in the image.
Glimpses of Pluto's Moons
While Charon obviously took pride of place in the New Horizons flyby, the lesser satellites were not neglected, as we see in the just released imagery of Nix and Hydra. These were the second and third moons to be discovered respectively, and they are of roughly the same size. But just as both Pluto and Charon have already delivered their share of surprises, so has Nix, which sports a region with a reddish tint and patterning that suggests the area is a crater. Nix is, overall, gray, but the red tint is obvious in the first color image of Nix, with colors enhanced.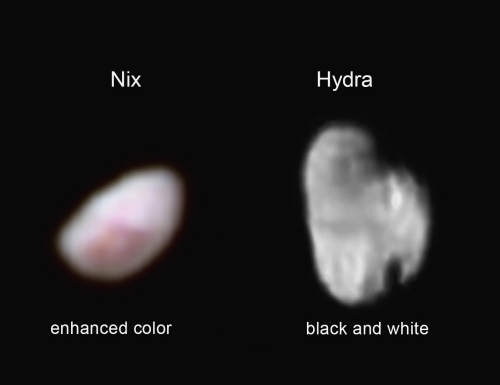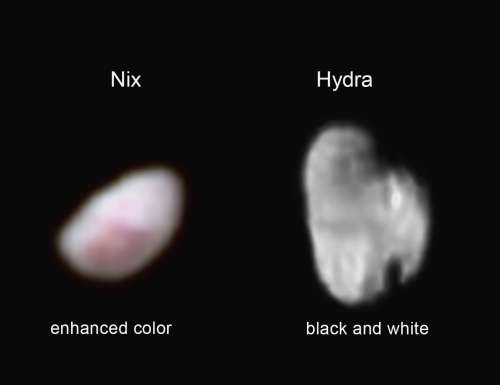 Image: Pluto's moon Nix (left), shown here in enhanced color as imaged by the New Horizons Ralph instrument, has a reddish spot that has attracted the interest of mission scientists. The data were obtained on the morning of July 14, 2015, and received on the ground on July 18. At the time the observations were taken New Horizons was about 165,000 km from Nix. The image shows features as small as approximately 3 kilometers across on Nix, which is estimated to be 42 kilometers long and 36 kilometers wide. Pluto's small, irregularly shaped moon Hydra (right) is revealed in this black and white image taken from New Horizons' LORRI instrument on July 14, 2015 from a distance of about 231,000 kilometers. Features as small as 1.2 kilometers are visible on Hydra, which measures 55 kilometers in length. Credit: NASA/JHUAPL/SWRI.
On Hydra (which NASA's news release likens to the US state of Michigan in terms of its shape), we can see two evident craters, one largely in shadow. Here again we seem to have differences in surface composition, to judge from the darker aspect of the upper portion of the moon.
"Before last week, Hydra was just a faint point of light, so it's a surreal experience to see it become an actual place, as we see its shape and spot recognizable features on its surface for the first time," said mission science collaborator Ted Stryk (Roane State Community College, Tennessee).
Indeed. But that's been the experience of this entire flyby, with puzzling terrain, striking mountains, and satellite features that will long keep us occupied. When I think about how much New Horizons has already brought us, I'm reminded to send you to Kenneth Chang's fine piece in the New York Times on the history of New Horizons. This is a mission that was threatened from the beginning by everything from budget problems to plutonium sourcing, and but for the tenacity of those who believed in it, we wouldn't be having this discussion. "If you wrote a novel about it, I don't think people would buy it," said mission PI Alan Stern, and rightly so. Don't miss Chang's The Long Strange Trip to Pluto, and How NASA Nearly Missed It.