Kelvin Long is chief editor of the Journal of the British Interplanetary Society and the author of Deep Space Propulsion (Springer, 2011). A founder and first project leader of Project Icarus, the ongoing re-design of the Project Daedalus starship, Kelvin is also a co-founder of the non-profit Icarus Interstellar. He now serves as executive director of the Institute for Interstellar Studies, an organization whose mission ('Scientia ad Sidera: Knowledge to the Stars') he describes in the following essay.
by Kelvin F. Long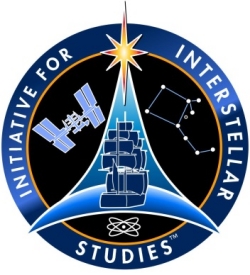 The Initiative for Interstellar Studies (i4is) is a not-for-profit foundational institute incorporated in the United Kingdom with the mandate to develop interstellar capabilities. We at the initiative just successfully passed our third anniversary since our founding. We began work in August 2012 and went live on the 12th September 2012. Shortly after, we ratified our purpose through our innovative logo, and our mission and vision statements. And today we are focused on the launch of our innovative new educational course titled 'Starship Engineer'. We are piloting the first version of this in London during November, and we hope some of you will join us: http://i4is.org/news/starship_engineer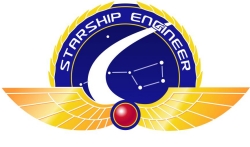 But first, it is worth just reminding the readers what we are really about. The mission of i4is is to foster and promote education, knowledge and technical capabilities which lead to designs, technologies or enterprise that will enable the construction and launch of interstellar spacecraft. The vision of i4is is to aspire towards an optimistic future for humans on Earth and in space. Our bold vision is to be an organisation that is central to catalysing the conditions in society over the next century to enable robotic and human exploration of the frontier beyond our Solar System and to other stars, as part of a long-term enduring strategy and towards a sustainable space-based economy. Our motto is "Scientia ad sidera" (knowledge to the stars) and our philosophy of approach is "Starships in our Lifetime". In addition to this, we also spent weeks writing our own bespoke articles of association, which forms our effective constitution as a company limited by guarantee but not having a share capital – which means we are a not-for-profit entity. In addition, our team produced a 'founding Declaration' which sets out what we believe and are working towards. The full text of this can be read here: http://i4is.org/the-starship-log/foundations
So how far have we got in the constitution of the world's first ever foundational institute dedicated to the goal of the stars? The Initiative for Interstellar Studies is led by a board of directors for which I serve as its Executive Director, supported by the Deputy Directors Rob Swinney and Andreas Hein. We are also supported by our international advisory committee which is chaired by Professor Gregory Matloff and deputy Professor Chris Welch. We have various committees, including a marketing committee and a finance committee, which ensures we are fiscally compliant and ethical? But our activity based committee's number a few, and I shall give a brief synopsis of each in turn along with their achievements to date?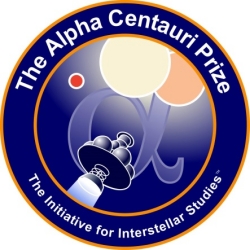 The Alpha Centauri Prize Committee has the purpose of rewarding success and incentivising progress in activities related to interstellar studies. So far the committee has given out several awards for University students associated with their thesis projects, or for internal members for work that they have done to assist our mission that goes above and beyond what is expected of them. We have received sponsorship from several external organisations to fund those awards. We seek to establish the Alpha Centauri Prize awards as the standard by which all of our progress is measured.
The Educational Academy Committee is chaired by Rob Swinney and has the purpose of fostering educational abilities to conduct research relating to a broad set of subjects pertaining to interstellar studies, associated sciences and the arts. The committee has undergone much public outreach work, working with schools and universities, particularly across the UK.
The largest activity of this committee is in working with the International Space University in Strasbourg, and in particular with its Master's Director Professor Chris Welch, who is a continued inspiration not just for the students but for all of us in his steadfast support of our ambitious efforts. Within this co-operative relationship, for which we have signed a Memorandum of Understanding, some of our projects have included "Autonomous Space Colony Construction" authored by Michio Hirai, which considered the manufacture of large structures in space; "Agriculture Design Trade-offs for Space Colony Feasibility", authored by Erik Franks, which discussed farming methods in spaceflight; "Review of the Deceleration Options for a Robotic Interstellar Spacecraft Entering the System of Another Star", authored by Wei Wang; "The Oculus Project: Solar Sailing to Discover Exoplanets at the Center of Our Galaxy", authored by Piotr Murzionak, which looked at a gravitational lensing mission based on the ideas of the pioneer Claudio Maccone; "Jude: Solar Sailing A Low Mass Payload to Alpha Centauri-B", authored by James Harpur, which considered an interstellar solar sail mission. The committee has also created a fun educational exam paper, which we call the 'interstellar minimum' – dare you have a go at it? http://i4is.org/the-starship-log/interstellar-minimum
Our biggest technical and educational accomplishment working with the International Space University has been the initiation and completion of a world ship project titled "Astra Planeta" and you can read a copy here: https://isulibrary.isunet.edu/opac/index.php?lvl=notice_display&id=9454].
This project was selected as one of the few team projects that the ISU runs each year and it involved over 20 Master's students. The team also looked at the issues of creating a strategic and technological roadmap for a world ship. But the nice thing about this project, is that it also got supported by representatives from the Tennessee Valley Interstellar Workshop and Icarus Interstellar – so it may be one of the first successful pan-interstellar community projects, and is perhaps a model for the future.
The Technical Research Committee is chaired by Andreas Hein and has the purpose of conducting innovative theoretical and experimental research and development across the broad spectrum of issues relating to interstellar studies, associated sciences and the arts.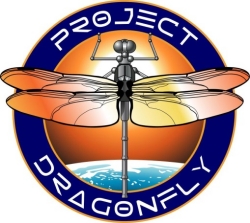 The committee's flagship initiative is Project Dragonfly, which seeks to develop laser-sail propulsion capabilities based on the original ideas of Robert Forward. In the summer, the team ran a Kickstarter award and successfully won over $10,000.
This helped to fund a university affiliated design competition, which included participating teams from Cairo University, Egypt; University of California Santa Barbara, USA; Technical University of Munich, Germany and CranSEDS which involved students from Cranfield University in the UK, Skoltech in Russia and UPS in France. The University of Munich team won the competition with their innovative sail design. The four reports submitted by these teams were highly comprehensive and had to adhere to detailed competition requirements. To celebrate the award, the space artist David A Hardy was commissioned to produce an inspirational piece of art work of the winning design. The Technical Committee is now working on a technology roadmap focussed around the laser-sail technologies and this includes the consideration of actual space missions for the near future.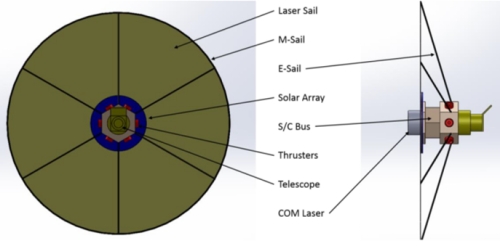 Image: Schematic of the winning Project Dragonfly design.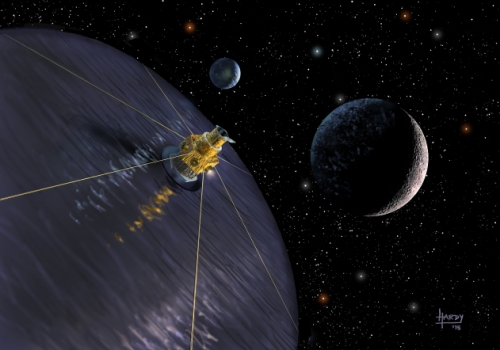 Image: David A Hardy commissioned art work of the winning laser-sail design for project Dragonfly.
The committee is also chairing several projects and this has already led to several reports. This includes "Project Sentinel" authored by Sissi Enestam, which described research into emission signals from different potential advanced space transportation systems as a contribution to SETI; "Space Eternal Memory" authored by Melissa Guzman which described methods of preserving and storing information on long duration deep space missions; "Project BAIR: the Black Hole Augmented Interstellar Rocket", authored by Andrew Alexander, which discussed a black hole engine that utilised the Hawking radiation effect; "Program to Characterise the Local Stellar Environment" authored by Shambo Bhattacharjee. The committee is also currently launching a project relating to von Neumann machines and the Universal Constructor Project. The vision is to enable small interstellar probes to have the capability to build space infrastructures autonomously.
The Sustainability & Research Committee is chaired by Professor Rachel Armstrong and has the purpose of seeking space-based technological solutions to solving problems on Earth and in space, human made or environmental, and improving the human condition and harmonising cultural relations. Through this committee we have begun a relationship with a team of architects and initiated discussions on innovative technologies for the future that we can bring to our metropolis. The committee has also instigated the exciting 'Starship Cities' programmes, which seeks to develop the technologies for our society that can truly prepare us for the world ship journeys of the future. This includes looking at living architecture technologies such as protocells, and the ability to utilise them as a form of programmable matter and as a mechanism to simulate biological computing. In the last year the committee also completed a project with the International Space University titled "Biological Life Support Systems for Future Spaceflight Missions" authored by Brian Ramos. The committee is also looking at an innovative experimental architectural platform, upon which many types of experiments could be conducted on an iterative learning basis.
The Business Enterprise Committee is chaired by myself and has the purpose of encouraging entrepreneurship and business innovation initiatives related to the objects. We are currently exploring models for nurturing start-ups and aiming to develop a facilitation scheme over the next year. In addition, the committee is also in discussions with various private inventors about bringing potential products to market to benefit the community. One new company for which we have helped to nurture to fruition is Nebula Sciences (www.nebulasciences.com). This is a company led by Sam Harrison, who also serves on our Enterprise Committee, and conducts high altitude balloon launches into the upper stratosphere. That company is now working with multiple aerospace and marketing ventures throughout the world. The same team earlier placed the i4is logo at 89,000 ft, which was a milestone achievement for us, and demonstrates we are not just talking about theoretical developments.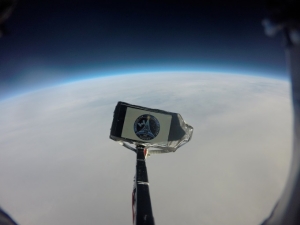 Image: The i4is Logo at 89,000 ft in the stratosphere
As of our three year anniversary, our team has published over 100 papers, reports, articles and essays, has given over 50 presentations, has produced nearly 100 external and internal blog articles, has held over 30 formal team meetings and around 100 informal team meetings, has been involved with over 50 other external organisations, has participated in over 40 different international events, and today has around 70 people directly involved in our activities in one form or another. We have had media articles in multiple international publications and have participated in online podcasts and radio shows. We have attended or presented at events across the globe, throughout the United Kingdom, Europe and the United States. As a part of our participating in the London World Science Fiction convention 2014, our team also built a 4 m tall monolith in what may be a world record (anyone?). Our packed out session at this exciting venue included talks from the world renowned science fiction authors Gregory Benford, Stephen Baxter and Alastair Reynolds.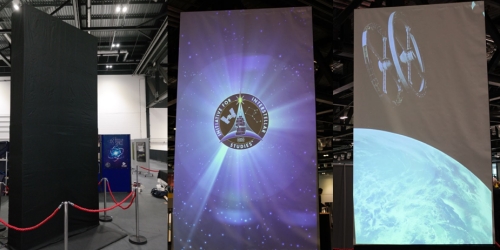 Image: Our Monolith displayed at Loncon3.
We have produced much of our own merchandise including t-shirts, post-cards and a calendar. One of our proudest and longest running achievement is the publication of our popular magazine Principium, and we are currently working on our twelfth issue. This is a popular publication for the community, and we always try to have an article on other organisations activities to help promote their work.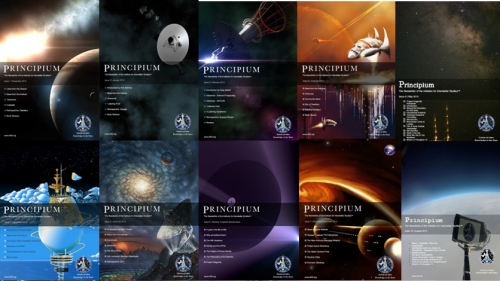 Image: Principium, the popular magazine of i4is.
We also have published our very own book "Beyond the Boundary" which had contributions from other 20 different authors associated with our subject [http://www.lulu.com/shop/http://www.lulu.com/shop/kelvin-long/beyond-the-boundary/hardcover/product-22028046.html]. And just to show that we are technologically minded, we have also developed our very own educational iPhone app. We have also been working with the inspirational artist and musician Alex Storer, and we are now on our fourth interstellar themed music album. This all proves we are engaging the both the arts and the sciences as we attempt to communicate the vision of interstellar travel. We have also recently just launched our own academic journal, Axiom, and we are now working on our second issue.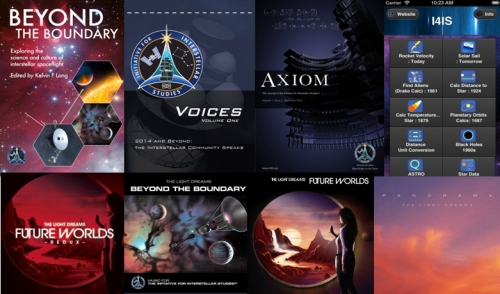 Image: Music albums, a journal and smartphone app of i4is.
So what about the future? Well, we are currently looking at facilities to host our Head Quarters and our team has visited many locations over the last couple of years and we are excited about the prospect of hosting interstellar events from such a facility. We are also working on another volume of the "Beyond the Boundary" book, as well as more issues of Principium and Axiom. We continue to attend events and this month we are attending Novacon, a science fiction convention held in Nottingham, UK, every year. Our team are busy working on papers for journals and various research projects from which we hope to see progress towards our goal made. We have also recently launched our supporting membership scheme (get in touch if you want to join) and we are planning to extend this in 2016. We are also keen to recruit more active volunteers to help out with our many activities.
One of the things I am personally keen to do in the future is to address how we can take this interstellar community onto the next level. That is, towards a path of constructive co-operation, resource sharing, and more focussed goal setting through inspirational leadership. One proposal I have made towards this, is the formation of an International Interstellar Committee, which would hold a bi-annual interstellar conference for which all of the community would help organise and participate in. Such a body would contain individual organisational membership, preserving their individual identifies and self-autonomy, whilst facilitating a global voice and finding synergies in strategies. It is my opinion, that such an entity may be needed if we are to find ways of harmonising relationships among different groups, but for all have their hearts set on the same goal.
Some still view our endeavours as premature, given the state of human space exploration to date. But I rather believe that now more than ever, there is the need for a visionary stretch goal to focus the energies of our fragmented civilisation. The vision of the stars gives us such promise, about the discovery of other worlds or new life forms. Its such an exciting journey to be a part of and it also has transformation potential for human civilisation, so that we can start to address the universe on its own terms, whether we live in a crowded galaxy, or if we are the only intelligent life out there. I for sure, would like to find out – so let's build those starships in our lifetime, and go forth with less of our weaknesses and more of our strengths, as a unified people, embracing discovery and adventure as a primary goal. Personally, I can't think of anything more fulfilling to dedicate one's life too. At the Initiative for Interstellar Studies, we are making some progress towards that goal.