If there's one thing Pluto turned out to have beyond all expectation, it's geological activity. New Horizons is now showing us what researchers are calling 'hills of water ice' floating in a sea of frozen nitrogen, much like icebergs moving through our own Arctic Ocean. The isolated hills are thought to be fragments of the water ice in the surrounding upland regions. Measuring several kilometers across, they are found in Sputnik Planum, a plain within Pluto's 'heart.'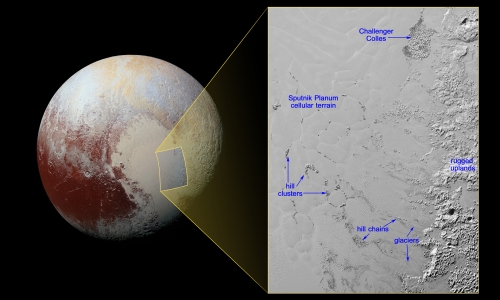 Image: The image shows the inset in context next to a larger view that covers most of Pluto's encounter hemisphere. The inset was obtained by New Horizons' Multispectral Visible Imaging Camera (MVIC) instrument. North is up; illumination is from the top-left of the image. The image resolution is about 320 meters per pixel. The image measures a little over 500 kilometers long and about 340 kilometers wide. It was obtained at a range of approximately 16,000 kilometers from Pluto, about 12 minutes before New Horizons' closest approach on July 14, 2015. Credit: NASA/Johns Hopkins University Applied Physics Laboratory/Southwest Research Institute.
The hills, according to this JHU/APL news release, are probably upland fragments that are being carried by nitrogen glaciers into the ice plain. When they reach the central cellular terrain of Sputnik Planum, convective motion of the nitrogen ice pushes them to the edges of the cells, where they can be found in groups. Look toward the top of the image for Challenger Colles, where a large number of hills are found in an area roughly 60 by 35 kilometers. Near the boundary with the uplands and away from Sputnik Planum's cellular terrain, this may be a region where the hills have run aground thanks to the shallowness of the nitrogen ice.
Learning about Pluto's terrain as New Horizons data continues to stream in, I'm remembering how we used to imagine it. Digging around recently in my collection of old magazines, I uncovered the June, 1935 issue of Astounding Stories, then in the hands of editor F. Orlin Tremaine (this was two years before John Campbell took over). A story by Raymond Z. Gallun caught my eye because of its title: "Blue Haze on Pluto." You'll recall that last Monday we took another look at the real blue haze on Pluto as seen by New Horizons.
In Gallun's story, a stranded astronaut has crashed into a deep crevasse and is forced to trek to a settlement on Pluto, learning as he does about a strange form of life that, in the Plutonian night, "…glimmered like serried hosts of huge gems in whose hearts icy fire of every hue throbbed and cascaded." All of this in a landscape of "steep crags, part ice, part frozen atmosphere" that could stand in pretty well for parts of Pluto we see today. It's not a bad tale for its day (our hero is, of course, rescued, with the 'blue haze' playing an inadvertent role), but for me its value is in that interesting interplay between the distant thing imagined and the distant thing observed, that generative place where our preconceptions are transformed by the incoming flow of data.