Keep your eye on a program called the Hubble Cloud Atlas. This is a collaboration between fourteen exoplanet researchers around the globe that is intent on creating images of exoplanets using the Hubble Space Telescope. But while we've been able to directly image a small number of planets before now, the Cloud Atlas project brings a new twist. The plan is to create time-resolved images that can tease out details about planetary atmospheres.
The test case is the planet 2M1207b, about 160 light years out in the constellation Centaurus. Infrared imaging made it possible to directly observe this planet in April of 2004, a task accomplished by researchers from the European Southern Observatory using data from the Very Large Telescope at Paranal (Chile). What we know about this planet makes it a formidable — and definitely uninhabitable — object, one with a surface temperature in the 1700 K range.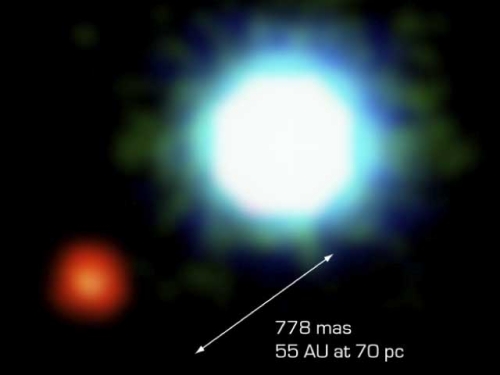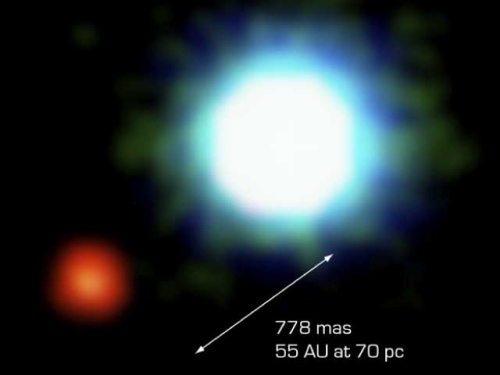 Image: The 2M1207 star system, showing the faint red object 2M1207b, a planet four times the mass of Jupiter whose atmospheric properties are now under investigation. This is an earlier image — not part of the Hubble work — taken with the high-resolution adaptive-optic NaCo camera attached to the 8-meter Very Large Telescope Yepun instrument in Chile. Credit: ESO.
At four times the mass of Jupiter, 2M1207b orbits a brown dwarf at a distance roughly comparable to Pluto's from the Sun. Its searing heat, then, isn't due to proximity to the brown dwarf but to gravitational contraction. This is a planet perhaps only ten million years old, and as it continues to contract, its rain likely falls in the form of liquid iron and glass. University of Arizona graduate student Yifan Zhou, lead author of the paper on this work, has been studying the distant world by taking 160 Hubble images over the course of a ten hour run.
Hubble's Wide Field Camera 3, with high-resolution and high-contrast imaging capabilities, makes the work possible, but this is the first time anyone has used the space telescope to create time-resolved images of an exoplanet. This becomes a way of mapping a planet's clouds even without being able to see them in sharp relief. Instead, the researchers measure the changes in brightness that occur over time as the planet completes its 11-hour rotation.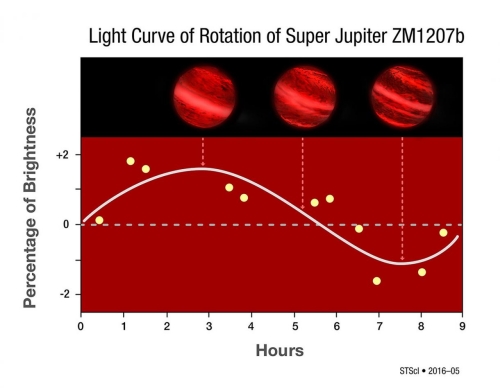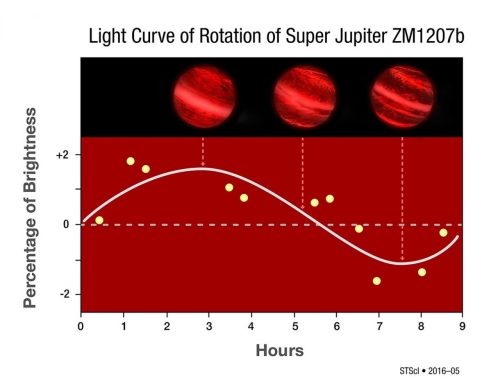 Image: This graph shows changes in the infrared brightness of 2M1207b as measured by the Hubble Space Telescope. Over the course of the 10-hour observation, the planet showed a change in brightness, suggesting the presence of patchy clouds that influence the amount of infrared radiation observed as the planet rotates. Credit: NASA, ESA, Y. Zhou (University of Arizona), and P. Jeffries (STScI).
Data collection for the Hubble Cloud Atlas program began in 2014. Daniel Apai (University of Arizona), who is lead investigator for the program, describes it this way on his website:
The program is using high-precision, time-resolved photometry and spectroscopy of these rotating objects to derive course maps of their cloud structures. By comparing the cloud maps between different objects we can determine how the cloud properties (covering fraction, cloud thickness, vertical structure) depend on the upper atmosphere's temperature and the surface gravity of the objects.
And from the paper:
… we note that the observations presented here open an exciting new window on directly imaged exoplanets and planetary-mass companions. Our study demonstrates a successful application of high contrast, high-cadence, high-precision photometry with planetary mass companion. We also show that these observations can be carried out simultaneously at multiple wavelengths, allowing us to probe multiple pressure levels. With observation of a larger sample and at multiple wavelengths, we will be able to explore the detailed structures of atmospheres of directly imaged exoplanets, and identify the key parameters that determine these.
Zhou's work with 2M1207b, which began in 2014, has bolstered the new Hubble Cloud Atlas program, and points to how we can further use Hubble as well as the upcoming James Webb Space Telescope to study planetary atmospheres and map cloud structures. Zhou was able to deduce the planet's rotational period and probe its atmospheric properties in ways that existing Earth-based telescopes cannot. As our catalog of directly imaged planets grows, we'll acquire new targets with which to hone these methods and eventually apply them to smaller worlds.
The paper is Zhou et al., "Discovery of Rotational Modulations in the Planetary-Mass Companion 2M1207b: Intermediate Rotation Period and Heterogeneous Clouds in a Low Gravity Atmosphere," The Astrophysical Journal Vol. 818, No. 2 (18 February 2016). Abstract / preprint available.