J. G. Ballard (1930-2009) emerged as one of the leading figures in 20th Century science fiction. His fascination with inner as opposed to 'outer' space infused his characters and landscapes with a touch of the surreal, taking the fiction of the space age into deeply psychological realms. Christopher Phoenix here looks at the question of centuries-long journeys to the stars, with reference to a Ballard story in which a crew copes with isolation on what appears to be an interstellar mission. What we learn about ship and crew informs the broader discussion: If it takes more than a single generation to make an interstellar crossing, what can we do to keep our crew functional? And is there such a thing as happiness under these constraints?
By Christopher Phoenix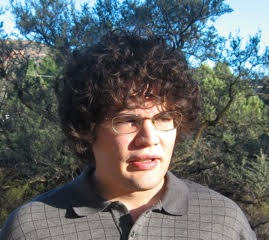 A few months back, Centauri Dreams ran Gregory Benford's review of Kim Stanley Robinson's novel Aurora. After reading that review and the discussion that followed, I began thinking about fiction that explores how starflight might fail. I hope that we will reach the stars someday, but it is always interesting to step back and explore the reasons why interstellar flight might not be an inevitable part of our future.
Perhaps due to science fiction's roots in the pulp magazines of the 20s and 30s, many SF stories show an unwavering faith in humanity's ability to overcome any obstacle. In most science fiction, it is a foregone conclusion that humanity will reach the stars. Space opera stories expect that the reader will accept the existence of a human interstellar civilization from the very first pages. Stories that dispute this assumption are much rarer.
One such story is James G. Ballard's "Thirteen to Centaurus". This short story takes place within a mysterious habitat known only as "The Station" by its thirteen-person crew. For generations, they have lived within the confines of the Station's three decks. At the beginning of the story, one of the teenage members of the crew, a boy named Abel, suffers recurring nightmares of a burning disk. The only person who can tell him the meaning of these visions is Dr. Francis, the Station's doctor, who lives alone on another deck.
Dr. Francis tells Abel that the Station is actually a starship traveling to Alpha Centauri and explains that the burning disk is a repressed genetic memory of the Sun he has never seen. When Abel asks Dr. Francis when they will arrive, he explains that the Station is a multi-generational spaceship. None of the current generation will live to see planetfall. Dr. Francis tells Abel that the rest of the crew cannot know this truth, as otherwise they will never be happy in their confined artificial world.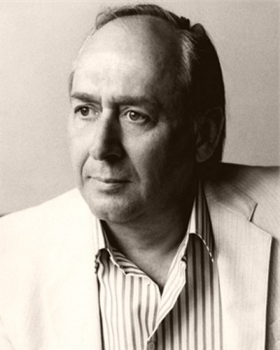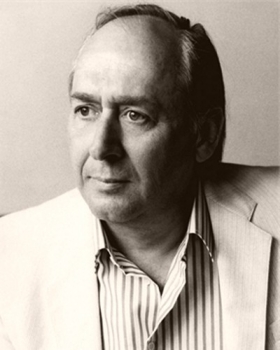 Soon, however, the story takes another twist. It turns out that Dr. Francis is lying, and the Station is in fact an Earth-bound experiment designed to test whether humans can survive a century-long flight to Alpha Centauri. In truth, Dr. Francis is one of the researchers posing as a member of the crew, sent to secretly observe them from among their midst. The Station's planners believed that humans could not survive such a trip knowing that they are condemned to live their whole lives in a confined spacecraft. Generations of crew will never see the Earth where they came from or live long enough to reach their destination. To solve this problem, the researchers use hypnotic suggestion to eradicate memories of Earth and make the crew accept the Station as the only world that exists.
Image: Science fiction writer J. G. Ballard.
As the story continues, we see Dr. Francis leave the habitat to meet with his colleagues. To his horror, his superiors tell him that the project must be shut down due to lack of public support. They ask Dr. Francis how to transition the crew from their isolated life in the station to the outside world. Hoping to convince them to continue the simulation, Dr. Francis insists that the crew cannot survive having their worldview shattered in this way. The only way to humanely end the project is to stop the crew from having children and wait for the current generation to die out. His superiors are so desperate to end the project that they agree to take this extreme course of action.
As the experiment is gradually shut down, Abel begins to ask Dr. Francis awkward questions about the Station. Dr. Francis's clumsy attempts to hide the true nature of the Station only seed Abel's mind with further doubts. In a more disturbing turn, Abel begins showing an unhealthy interest in performing psychological experiments of his own devising on the other members of the crew and even Dr. Francis himself.
Unwilling to accept the termination of the project, Dr. Francis finally decides to seal himself inside the dome to complete the imaginary trip to Centaurus with the crew, knowing that no one will dare enter the habitat to remove him. Once within the habitat, however, he realizes just how monotonous the crew's life really is. Unfortunately, he dares not leave, since entering the habitat without permission carries a mandatory 20 year prison sentence. At this point, Abel takes the opportunity to turn the tables on Dr. Francis, forcing him to participate in his psychological experiments as a subject. Abel has begun to run the Station like a minor tyrant.
In the end, Dr. Francis finds a hole in the outer dome through which the previous captain and Abel have observed supplies being brought into the habitat. He realizes that the captain knew the truth and choose to stay in the dome. Before he died, he told Abel, and Abel has chosen to feign ignorance and stay within the station so that he can be the de facto ruler of this tiny world.
Trapped in a Tin Can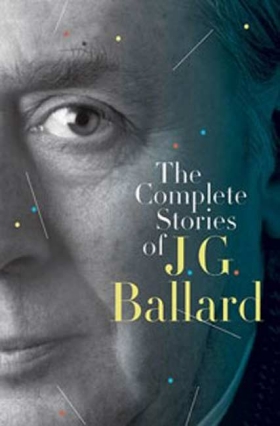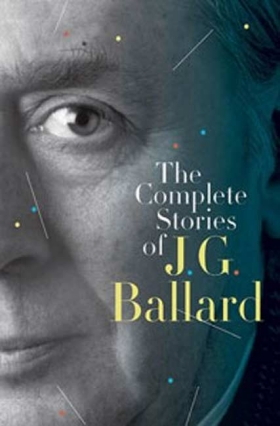 Ballard questions whether humans can adapt to life in a multi-generational starship. In his story, the designers of the Station believe that people would find their life in such a ship so limited compared to life on a planet that they could never be happy. Their solution is to eradicate the crew's awareness of any other possible existence. This one idea drives much of the design of the Station.
The Station's planners attempt to achieve this goal by using hypnosis and subliminal suggestion. The crew only believe themselves to be happy because they are conditioned to do so. Subliminal messages have been embedded in educational tapes that the crew are required to listen to at regular intervals. The message that there is no life beyond the Station is constantly reinforced by these tapes. In addition to this regular conditioning, every aspect of the crew's' life is scheduled and controlled. They have no freedom of thought or action. Since they are supposed to believe that there is no life beyond the Station, the crew has no access to the books, art, and culture of Earth. Even though this sort of highly effective "mind control" doesn't really exist outside of science fiction, Ballard presents a stark view of what life could be like in a multi-generational starship. Even if this scheme could work, it would only be at great psychological cost to generations of crew.
Image: "Thirteen to Centaurus" can be found in, among other places, The Complete Stories of J. G. Ballard (Norton, 2010).
Ballard is not alone in his opinion. If you mention multigenerational spaceflight, many people will tell you that it is incredibly unfair to condemn generations of people to life aboard a ship in interstellar space. The idea that it will be impossible to be truly happy in an artificial world that you cannot escape drives much of the criticism of multi-generational spaceflight. Ballard has clearly touched on a tender nerve.
In the story, however, Dr. Francis finds that not all is as it seems. After sealing himself in the simulator, he discovers that the late captain and the teenage Abel both knew that they were in a habitat on Earth, and yet they chose to remain. For Abel, staying in the habitat gives him the opportunity to dominate the other members of the crew and force them to participate in his psychological experiments.
Here, Ballard raises another disturbing question. In an enclosed habitat, might one ambitious individual or small elite group seek to control the rest of the crew? Aboard a starship in interstellar space, there would be no external checks on oppressive leadership, or any way to escape it. Because of this, choosing the right form of governance would be vital for a generation ship. Unfortunately for the inhabitants of the Station, the researchers put all their trust in their mind-control methods. They did not have any means to check someone, like Abel, who broke beyond their mental blocks.
This story reminds us that we must plan for the social and psychological factors of multi-generational trips as carefully as we do for the purely mechanical ones such as life support, radiation shielding, and propulsion systems.
Losing Enthusiasm
In Ballard's story, the people running the century-long simulation decide to shut the project down midway. When the project was started, humanity was attempting to colonize the Moon and Mars. The public was enthusiastic about space travel, and many people believed that they would eventually build interstellar ships. So, it was decided to test social conditions on such a trip even before the technology to build a starship or a self-sustaining habitat was available.
When the story takes place, the Lunar and Martian colonies have failed. The public is no longer interested in space travel. Furthermore, they have begun to question the ethics of sealing generations of people in the simulator and observing their every move. Almost everyone wants to end the project.
Ballard suggests that humans will have difficulty maintaining focus and enthusiasm long enough to complete a prolonged effort like developing interstellar travel, which could take centuries. A case can be made for this argument by just looking at our history. Even though we reached the Moon, politicians chose to cancel the Apollo program. In the years that have followed, the numerous plans to return to the Moon and/or go to Mars have been not been carried out. Astronauts have not even ventured beyond low-Earth orbit since the Apollo missions.
Currently we don't have a replacement for the space shuttle, or a coherent plan of what to do to follow up on our current space probe missions and the ISS. It often seems that ambitious plans to explore space are more likely to fail because of lack of political support than technological obstacles. Human civilization will need to develop a much longer planning horizon than we currently have to maintain the political will needed to develop interstellar travel.
Our lessons come from the journey, not the destination…
Ballard raises many interesting issues in this story. However, despite the melancholy ending of "Thirteen to Centaurus", I'm still quite optimistic about the future of multigenerational space travel. Personally, I believe that it's possible for humans to be happy aboard a generation ship in deep space, even knowing that they will not live to see their destination.
When a group of people set out on an interstellar journey that only their descendants will complete, the ship will become their home as well as the home of the generations between launch and planetfall. Therefore, I propose it is more important to plan for the interstellar journey than to fixate on the destination. We must plan the voyage so that the people who are born, live, and die on the spaceship have the opportunity to live full lives.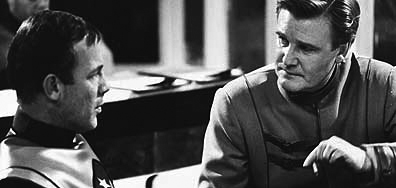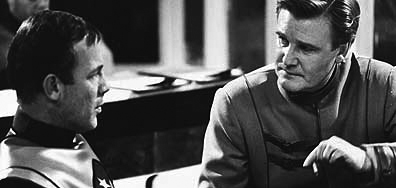 Image: Ballard's work occasionally made it to other media, most notably in the 1987 Spielberg film Empire of the Sun. This is a shot from a TV adaptation of "Thirteen to Centaurus," as presented on Out of the Unknown, a BBC science fiction anthology series broadcast between 1966 and 1971. Starring were Donald Houston, John Abineri, Robert James and Noel Johnston.
The common objection to multi-generational spaceflight is that the crew will not be happy with their lives aboard the ship, or that they will even "go mad" from the psychological strain. Why should the crew go mad on a generation ship? Ballard's story suggests two main reasons. One is lack of space and forced lifelong contact with only a few people, and no way to escape someone you do not wish to know. The other is a feeling of deprivation from being born on a starship, not on a planet of your own.
The first problem can be solved by simply sending a more reasonably sized crew. In Ballard's story, the Station's population is a scant thirteen, not nearly enough! So far, most population size studies for starships have focused on genetic factors or maintaining specialized skill sets, not on social or psychological needs. I'll make a stab and say that a crew size of at least a few hundred people, similar to a typical Medieval village, will provide ample choice in human contacts.
Earlier, I touched upon the issue of leadership. Since there will be no possible external checks on dictatorial behavior within an isolated starship, we must choose the right form of governance at the beginning of the trip and place what safeguards we can to avoid abuses of power. While a certain amount of centralized authority will be necessary to respond to emergencies, the people responsible for the day-to-day life of the crew should not be autocratic or oppressive. The leadership must be flexible enough to accept any changes that will become necessary during the course of the trip. This suggests the traditional military-style command structure used on all crewed spaceflights since the Cold War will not work for multigenerational spaceflight.
But what about lack of space? In "Thirteen to Centaurus", the crew was confined to only three decks. I don't think any crew could thrive, or even survive, in such cramped conditions. We must provide the crew with sufficient space. I am of the opinion that a sufficiently spacious ship-style interior could work for people who have adapted to life in space habitats. Garden spaces can be incorporated into the interior design, creating a more naturalistic environment, unlike the harsh mechanized interiors described in many science fiction stories. But it is also possible to create a starship large enough to contain an open Earth-like landscape.
The largest generation ship concepts are designed like traveling O'Niell colonies. Such "world-ships" can contain an Earth-like landscape on their interior, including an artificial sun, creating an environment almost like an inside-out planet in miniature. The main problem with such a scheme is constructing and launching such a gigantic structure, but such a craft can offer an Earth-like existence during a long flight.
But will the crew feel deprived living their entire lives away from any planet, as the researchers in Ballard's story believe? I think Ballard misses the mark here. We neither choose nor tend to question the environment we are born into. The crew of an interstellar ship would accept their environment as normal, just as countless people throughout history have accepted their unique environment on Earth as "normal".
To modern first-world people, the idea of living and dying within a relatively small area like a generation ship seems impossible, but the amount of mobility available to us is unusual compared to the lifestyles of earlier people. It is even possible that people who have lived their entire lives in space will think of living on a planet as something strange or even unpleasant. They may wonder how we put up with weather we don't control, or a constant gravitational acceleration we can't modify to our preference just by going to another deck. On the other hand, things we see as strange and maybe even frightening, like relying for our very survival on ship systems continuing to function, will be accepted as normal by them.
Only time will tell if human civilization can muster the energy and will to send starships to the potentially habitable exoplanets we discover around nearby stars. But if we do, I firmly believe that people will be able to live happily aboard those ships. Even though these voyages will realistically take centuries to complete, humans possess the flexibility and resilience to adapt to life in almost any environment. Certainly, the culture aboard such a ship would not be anything like modern life on Earth, but that does not mean that such a culture could not be as complex and fulfilling as any throughout human history.