Rama is a name that resonates with science fiction fans who remember Arthur C. Clarke's wonderful Rendezvous with Rama (1973). The novel depicts a 50-kilometer starship that enters the Solar System and is intercepted by a human crew, finding remarkable and enigmatic things that I will leave undescribed for the pleasure of those who haven't yet read the book. Suffice it to say that among Clarke's many fine novels, Rendezvous with Rama is, along with The City and the Stars, a personal favorite.
What a company called Made in Space Inc. has in mind is something different than Clarke's vision, though it too evokes names from the past, as we'll shortly see. Based in Mountain View, CA the company is embarking on an attempt to turn asteroids into small spacecraft that can move themselves to new trajectories. RAMA in this case stands for Reconstituting Asteroids into Mechanical Automata, and it proceeds by putting 'Seed Craft' on asteroids that will use materials found on the surface. This is the kind of in situ resource utilization (ISRU) that Ian Crawford discussed in his essay in these pages last Friday.
A suitably modified asteroid could take itself to the nearest extraction point for human mining, while the seed craft could be sent on to another asteroid. Build the system right, Made in Space believes, and you can do away with at least some of the human control needed for space operations. 3-D printing plays a big role here, no surprise given the company's background in providing the first such printer (to the ISS in 2014) that can function in zero-g. Our friend Jon Lomberg worked with Made in Space to create a 'Golden Plate' commemorating the first space manufacturing operation, now attached internally to the functioning space printer.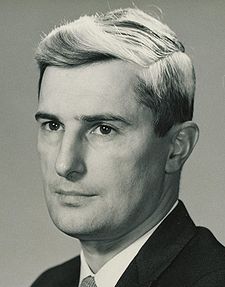 That name from the past I mentioned above is Dandridge Cole, an aerospace engineer, former paratrooper and futurist whose death in 1965 at the young age of 44 cost the space community one of its true visionaries. Cole had plenty of ideas of his own on moving asteroids, but in his case, the idea involved more than robotic transfer into a new orbit. Much more. Why not, thought Cole, actually hollow out an asteroid to create an internal habitat? Here's how Alex Michael Bonnici described Cole's idea in a tribute written in 2007:
In 1963, Cole wrote Exploring the Secrets of Space: Astronautics for the Layman with I. M. Levitt. In this book they suggested hollowing out an ellipsoidal asteroid about 30 km long, and rotating it about its major axis to simulate gravity. By reflecting sunlight inside with mirrors, and creating, on its inner surface, a pastoral setting an asteroid could be transformed into a permanent space colony. Cole and Cox also envisioned that asteroids would provide the raw materials to form the basis of a spacefaring civilization. And, that asteroidal materials would also serve terrestrial needs. In their view these materials could be transported using mass drivers or linear motors. Cole's work largely presages that of Gerard K. O'Neill by more than a decade.
Image: Aerospace engineer and futurist Dandridge Cole, who coined the term 'macro-life' to refer to human colonies in space and their evolution. Credit: Wikimedia Commons.
Hollow asteroids are an idea familiar to science fiction fans, who will have encountered the trope in various short stories and perhaps in George Zebrowski's 1979 novel Macrolife. The name is carefully chosen because Cole used 'macro-life' to describe future human evolution within space habitats like these, a development he thought would involve a life-form incorporating technology and intimately synchronized with its environment. Putting large colonies of hollow asteroids into play would ensure our species' survival while allowing us to progress, he believed, beyond dangers like nuclear proliferation and population pressure.
Here's Cole in 1961, from an essay called "The Ultimate Human Society":
This concept of a new life form which I call Macro Life and Isaac Asimov calls 'multiorganismic life' serves as a convenient shorthand whereby the whole collection of social, political, and biological problems facing the future space colonist may be represented with two-word symbols. It also communicates quickly an appreciation for the similar problems which are rapidly descending on the whole human race. Macro Life can be defined as 'life squared per cell.' Taking man as representative of multicelled life we can say that man is the mean proportional between Macro Life and the cell, or Macro Life is to man as man is to the cell. Macro Life is a new life form of gigantic size which has for its cells individual human beings, plants, animals and machines."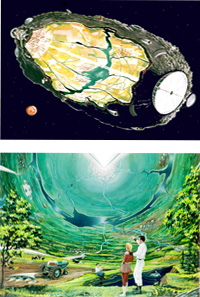 Arthur Clarke liked the notion enough to call Zebrowski's novel 'a worthy successor to Olaf Stapledon's Star Maker,' which had been a major influence on Clarke and most of his contemporaries. As to the notion of moving asteroids about, an early treatment was Robert Heinlein's 'Misfit,' in which an asteroid is moved out of the main belt to an orbit between Mars and the Earth. This one made its appearance in the November 1939 issue of Astounding Science Fiction, and would hardly be the last asteroid-themed tale. A more modern take shows up in Larry Niven's Known Space stories and the memorable 'Belters.'
Image: An engineered asteroid from without and within. Illustrator Roy Scarfo worked with Cole on the 1965 book Beyond Tomorrow. Credit: Roy Scarfo.
We've come a long way from Made in Space and their plans to move asteroids through 'seed craft' and in situ resource utilization, but what I find exciting here is the synergy between some of these ideas from the past and the conceptual studies Made in Space is performing, with help from NASA's Innovative Advanced Concepts Program. Asteroid mining gives us a route forward as we contemplate infrastructures within the Solar System, building, we can hope, toward a society comfortable working in deep space and continuing to explore.