Have a look at an image Cassini acquired on July 25 of this year during its T-121 flyby of Titan. Here we're dealing with a synthetic-aperture radar image, but one that has been cleaned up with a 'denoising' algorithm that produces clearer views. Because of its proximity to the Xanadu region, the mountainous terrain shown here has been named the 'Xanadu annex' by Cassini controllers. Both features block the formation of sand dunes, which are elsewhere ubiquitous around Titan's equator. As on Earth, Titan's dunes flow around the obstacles they meet.
These are the first Cassini images of the Xanadu annex, which is now revealed to be made up of the same mountainous terrain seen in Xanadu itself. Referring to the first detection of Xanadu, which occurred in 1994 through Hubble Space Telescope observations, JPL's Mike Janssen, a member of the Cassini radar team, calls the annex 'an interesting puzzle,' adding:
"This 'annex' looks quite similar to Xanadu using our radar, but there seems to be something different about the surface there that masks this similarity when observing at other wavelengths, as with Hubble."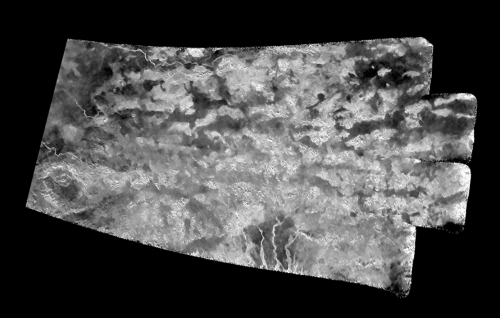 Image: The area nicknamed the "Xanadu annex" by members of the Cassini radar team, earlier in the mission. This area had not been imaged by Cassini's radar until now, but measurements of its brightness temperature from Cassini's microwave radiometer were quite similar to that of the large region on Titan named Xanadu. Cassini's radiometer is essentially a very sensitive thermometer, and brightness temperature is a measure of the intensity of microwave radiation received from a feature by the instrument. Credit: NASA/JPL-Caltech/ASI/Universite Paris-Diderot.
While mountainous terrain is found elsewhere on Titan, the Xanadu region is large and somewhat reminiscent of a famous area in the north-central US, according to Rosaly Lopes (JPL), a member of the Cassini radar team. Says Lopes:
"These mountainous areas appear to be the oldest terrains on Titan, probably remnants of the icy crust before it was covered by organic sediments from the atmosphere. Hiking in these rugged landscapes would likely be similar to hiking in the Badlands of South Dakota."
Cassini closed to within a bit less than a thousand kilometers of Titan on the T-121 pass, its radar looking through the moon's global haze to produce details of the surface. JPL has produced a video that shows long, linear dunes that scientists believe are made up of grains derived from hydrocarbons settling out of Titan's atmosphere.
We have four Cassini flybys of Titan left before mission's end, and this one marks the last time the spacecraft's radar will image the far southern latitudes. The remaining flybys are to focus on the far north, an area famous for its lakes and seas. Maybe it's just the gradual approach of autumn here in North America, but all of these late flybys have a kind of elegiac quality for me. After all, it will be next spring that the spacecraft begins the series of orbits that take it between Saturn and its rings, to be followed by entry into Saturn's atmosphere on September 15, 2017.
Cassini's fiery end is a move designed to prevent any biological contamination of Titan, Enceladus and any other conceivable habitat, but it's going to be painful to watch given the rich data and imagery the craft has given us since orbital insertion at Saturn in July of 2004.