The latest news from the Chandra X-Ray Observatory is that the spacecraft, 100 times more sensitive to X-ray sources than any previous X-ray telescope, has found that Pluto is emitting X-rays. This marks the first time we've detected X-rays from a Kuiper Belt object. In fact, until now, the previous most distant Solar System body with detected X-rays was Saturn. But four Chandra observing runs from early 2014 through the summer of 2015 have detected X-rays, in work on Pluto done in coordination with the the New Horizons effort.
Carey Lisse (JHU/APL) led the Chandra observing runs, working with New Horizons co-investigator Ralph McNutt (also at JHU/APL). Says Lisse:
"We've just detected, for the first time, X-rays coming from an object in our Kuiper Belt, and learned that Pluto is interacting with the solar wind in an unexpected and energetic fashion. We can expect other large Kuiper Belt objects to be doing the same."
The New Horizons pass by Pluto/Charon in July of last year is a useful background to what Chandra has found. At first glance, Pluto would not seem to be a likely X-ray emitter. The dwarf planet lacks a magnetic field and has no evident mechanism for producing X-rays. But we've learned through studies of comets that the gases associated with Solar System objects can interact with the solar wind, the stream of charged particles flowing from the Sun, to produce X-rays.
Thus a comet, or a planet, can produce the material needed for the solar wind interaction to take place,. We know the mechanism is potent, because back in 1996, comet Hyakutake was shown to be producing X-rays in data from the German ROSAT observatory. It was a natural thought that Pluto, which was known to be venting atmosphere in some ways similar to a comet, could produce the same. At the Chandra site, Lisse and McNutt have written a useful essay on the recent detections. Here's their take on interactions with the solar wind:
The way comets emit X-rays is not because they are hot and highly energetic, like all the other X-ray sources we know of in the sky like stars, black holes, neutron stars, and colliding shock waves. Instead comets are very cold, but they boil off gas from their ices when they approach the Sun — and that's half of what is needed to make X-rays. The other half is the contribution of the biggest and hottest thing in our solar system: the Sun.
The Sun is a potent source indeed, and we've often looked at its solar wind from the perspective of potential spacecraft in various 'magsail' configurations. In terms of X-rays, the solar wind creates complicated effects.
The Sun not only emits its own X-rays as it boils and seethes and twists magnetic fields on its incendiary surface, it also blows out a stream of high energy ionized plasma – a gas composed of free electrons and free atomic nuclei – from the million degree tenuous corona (or atmosphere) surrounding its surface. This stream, called the solar wind, contains highly charged ions of hydrogen, helium, carbon, nitrogen, oxygen, iron, magnesium, neon, and sulfur, to name the most abundant species. If one of these ions ever gets near another atom with all its electrons, it will rip one or two of them off, emitting X-ray photons in the process.
Thus possible interactions were on the minds of New Horizons mission planners from the beginning, which is why the craft carried its Solar Wind Around Pluto (SWAP) instrument, as well as PEPPSI (the Pluto Energetic Particle Spectrometer Investigation), designed to pick up such activity. The ALICE UV spectrometer was also aboard to examine the rate of atmospheric loss into space, which would give a read on the material available for such interactions.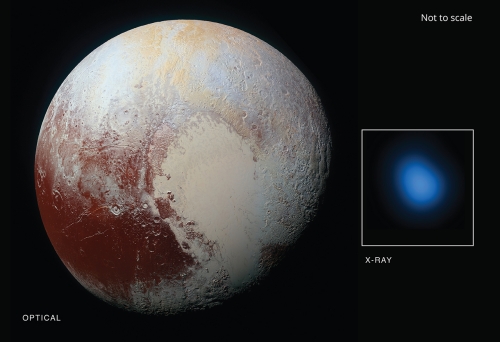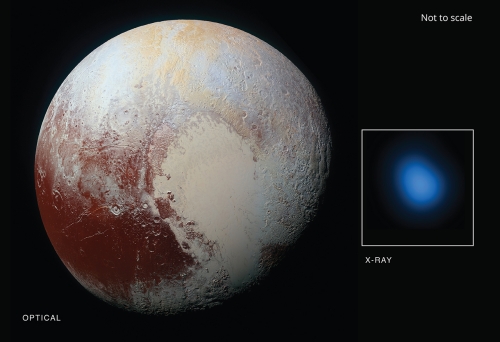 Image: The main panel in this graphic is an optical image taken from New Horizons on its approach to Pluto, while the inset shows an image of Pluto in X-rays from Chandra. There is a significant difference in scale between the optical and X-ray images. New Horizons made a close flyby of Pluto but Chandra is located near the Earth, so the level of detail visible in the two images is very different. The Chandra image is 290,000 kilometers across at the distance of Pluto, but the planet is only 2400 kilometers across. Pluto is detected in the X-ray image as a point source, showing the sharpest level of detail available for Chandra or any other X-ray observatory. This means that details over scales that are smaller than the X-ray source cannot be seen here. Credit: JHU/APL; Chandra X-Ray Observatory.
The surprise in this work is not so much that we have found X-rays in the first place, but that our models for solar wind intensity at Pluto's distance don't work out as neatly as they might. Pluto, New Horizons discovered, is releasing enough atmosphere to produce the X-rays, but they shouldn't be emitted at this level of intensity given the amount of solar wind that actually reaches the dwarf planet. In fact, the New Horizons measurements peg the solar wind flux at too low by a factor of 40 to produce interactions as energetic as those the X-ray observations reveal.
We are left with an assortment of possibilities to explain why the X-ray intensity is as high as it is. Pluto may, for example, produce a larger gas 'tail' than what New Horizons detected with SWAP, a tail that would not necessarily be detected by Chandra at X-ray wavelengths. This is the prime candidate, and the conclusion that Lisse and McNutt favor, describing it thus:
It likely means that Pluto significantly perturbed the solar wind, and causes it to wrap around itself and focus into a long downstream tail, where it mixes with Pluto's escaping atmosphere and makes X-rays. In fact, the New Horizons SWAP instrument has said just that, that they have detected a tail leading away from Pluto that contains ~1024 CH4 (methane) molecules per second getting ionized, which is consistent with what we need to create the X-rays detected by Chandra. They also figure that this tail extends at least 100 times the radius of the planet.
But there are other possibilities, as this Chandra news release makes clear. Interplanetary magnetic fields may be concentrating more solar wind particles than expected into the regions near Pluto. Also in the mix is the possibility that a torus of neutral gas could form, centered on Pluto's orbit, thanks to the low density of the solar wind in the outer system. Chandra can't make the distinction between these alternatives, which points to the need for higher resolution images of Pluto's X-ray emissions to settle the matter.
The paper is Lisse et al., "The puzzling detection of x-rays from Pluto by Chandra," in press at Icarus (abstract). Also pertinent is Bagenal et al., "Pluto's interaction with its space environment: Solar Wind, Energetic Particles & Dust," Science Vol. 351, Issue 6279 (abstract).