We're getting close on New Horizons data, all of which should be downlinked as of this weekend. Although that's a welcome marker, it hardly means the end of news from the doughty spacecraft. For one thing, we have years of analysis ahead of us as we bring the abundant data from the spacecraft's instrument packages into focus. For another, we're still in business out there in the Kuiper Belt, heading for that interesting object 2014 MU69.
Who knows what will turn up at the latter, given our propensity to be surprised at every turn in interplanetary exploration, from Triton's volcanic plains to fabulously fractured Miranda. And, of course, Pluto and Charon themselves, which turned out to be so interesting that Alan Stern, principal investigator for New Horizons, is already talking about future missions there.
But back to 2014 MU69, which has continued to be the subject of Hubble observations even as New Horizons homes in on the object. As this news release from the mission points out, MU69 is the smallest KBO ever to have its color measured, a reddish hue that confirms its identity as part of the 'cold classical' region of the Kuiper Belt. These are objects with low orbital eccentricity and inclination that are not in orbital resonance with Neptune. Reddish-brown tholins formed by solar radiation interacting with simple organic compounds are common here.
"The reddish color tells us the type of Kuiper Belt object 2014 MU69 is," says Amanda Zangari, a New Horizons post-doctoral researcher from Southwest Research Institute. "The data confirms that on New Year's Day 2019, New Horizons will be looking at one of the ancient building blocks of the planets."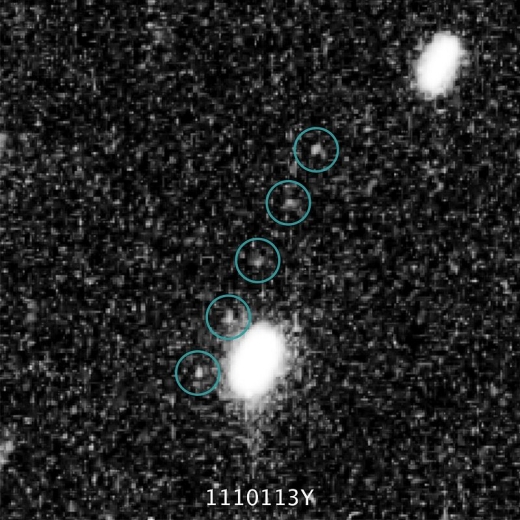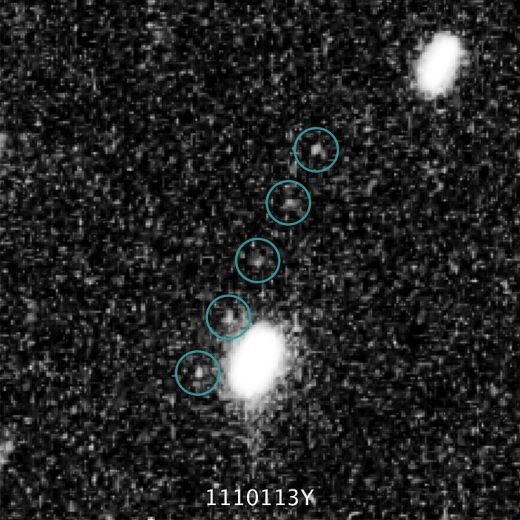 Image: 2014 MU69 travels diagonally across a dense field of stars and noise in the background. Credit: NASA, ESA, SwRI, JHU/APL, and the New Horizons KBO Search Team.
New Horizons has now covered a third of its distance from Pluto to MU69, with the target approximately a billion kilometers away. The analysis of New Horizons data, meanwhile, is turning up interesting things on Charon, where we find landslides, a feature that has not yet been spotted on Pluto's surface, although we've found them on worlds as diverse as Mars and Iapetus. The Charon landslides are the farthest ever observed from the Sun.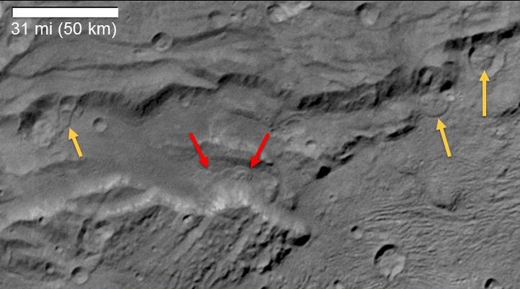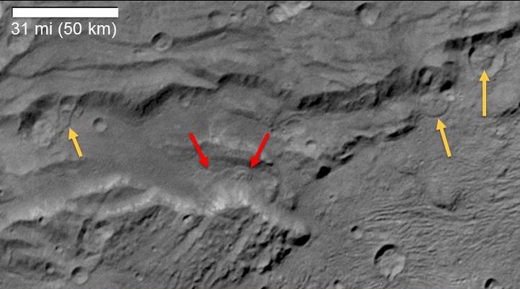 Image: Scientists from NASA's New Horizons mission have spotted signs of long run-out landslides on Pluto's largest moon, Charon. This image of Charon's informally named Serenity Chasma was taken by New Horizons' Long Range Reconnaissance Imager (LORRI) on July 14, 2015, from a distance of 78,717 kilometers. Arrows mark indications of landslide activity. Credit: NASA/Johns Hopkins University Applied Physics Laboratory/Southwest Research Institute.
Likewise, we learn that while Pluto's atmosphere is hazy but largely cloud-free, a handful of possible clouds have turned up in New Horizons imagery. That would point to an atmosphere still more complex than expected. And the variations in surface brightness on Pluto itself are telling. Some of these regions, particularly in Pluto's now famous heart-shaped region, are among the most reflective in the Solar System. This has implications for what may be occurring on another deep space object, says Bonnie Buratti (JPL), a co-investigator on the New Horizons science team:
"That brightness indicates surface activity. Because we see a pattern of high surface reflectivity equating to activity, we can infer that the dwarf planet Eris, which is known to be highly reflective, is also likely to be active."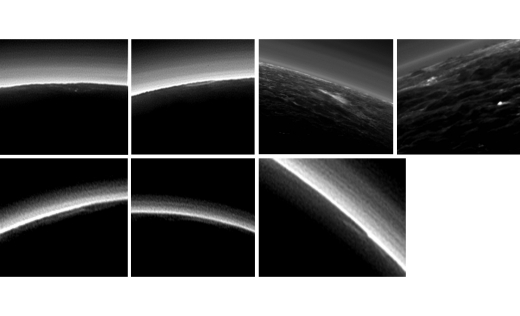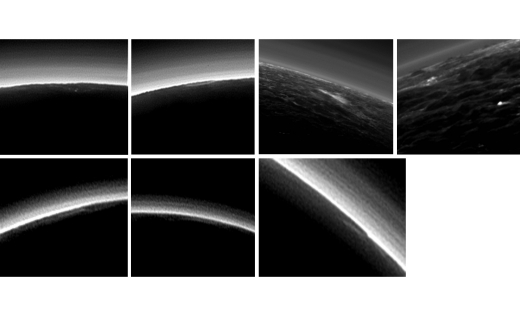 Image: Pluto's present, hazy atmosphere is almost entirely free of clouds, though scientists from NASA's New Horizons mission have identified some cloud candidates after examining images taken by the New Horizons Long Range Reconnaissance Imager and Multispectral Visible Imaging Camera, during the spacecraft's July 2015 flight through the Pluto system. All are low-lying, isolated small features-no broad cloud decks or fields – and while none of the features can be confirmed with stereo imaging, scientists say they are suggestive of possible, rare condensation clouds. Credit: NASA/Johns Hopkins University Applied Physics Laboratory/Southwest Research Institute.
We're a long way from through with New Horizons, which should make its flyby of 2014 MU69 on January 1, 2019 after the series of four course changes that adjusted its trajectory. We may have other outer system news to discuss as the joint meeting of the American Astronomical Society Division for Planetary Sciences and European Planetary Science Congress in Pasadena continues this week. But for now, I particularly like Alan Stern's words:
"We're excited about the exploration ahead for New Horizons, and also about what we are still discovering from Pluto flyby data. Now, with our spacecraft transmitting the last of its data from last summer's flight through the Pluto system, we know that the next great exploration of Pluto will require another mission to be sent there."