Have a look at Jupiter as seen by the Juno spacecraft on its third close pass. A view as complex as the one below reminds us how images can be manipulated to bring out detail. This happens so frequently in astronomical images that it's easy to forget this view is not necessarily what the human eye would see, and we always have to check to find out how a given image was processed. In this case, we're looking at the work of a 'citizen scientist,' one Eric Jorgensen, who enhanced a JunoCam image to highlight the cloud movement.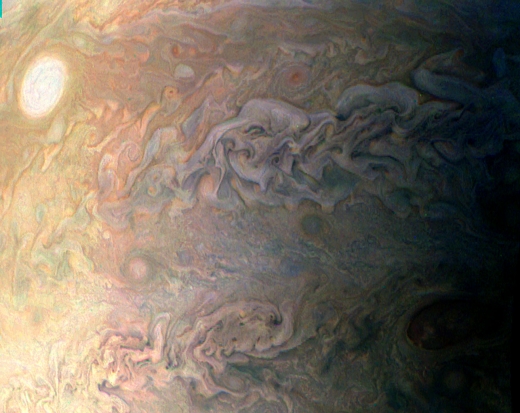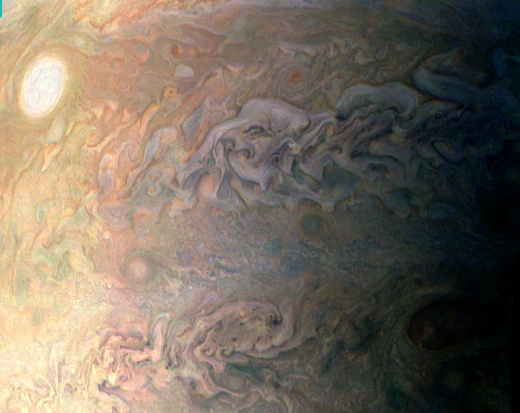 Image: This amateur-processed image was taken on Dec. 11, 2016, at 1227 EST (1727 UTC), as NASA's Juno spacecraft performed its third close flyby of Jupiter. At the time the image was taken, the spacecraft was about 24,400 kilometers from the gas giant planet. Credit: NASA/JPL-Caltech/SwRI/MSSS/Eric Jorgensen.
The image shows a region of Jupiter southeast of what is known as the 'pearl,' one of eight rotating storms at 40 degrees south latitude on the planet, a region of vast and roiling turbulence. Citizen science efforts like Planet Hunters, SETI@Home and Galaxy Zoo have brought private individuals into contact with scientific data and fostered interest in a wide range of sciences, with Planet Hunters rising to particular visibility thanks to its work with Boyajian's Star and the still mysterious light curves observed there.
The Juno mission is delving into this realm with the announcement that on the spacecraft's February 2 pass of Jupiter, the public will have had a voice in the selection of targets for the imaging team. As JPL notes in this news release, JunoCam will begin taking pictures as Juno approaches Jupiter's north pole. Scientists have to keep an eye on onboard storage limitations as they consider which images to collect with JunoCam. Each close pass ('perijove') happens in a 2-hour window as the spacecraft goes from the north pole of the giant planet to the south pole, with JunoCam imaging a circumscribed strip of territory.
The voting for the February 2 flyby is still open, but the process repeats: Each orbit will have a voting page, and each perijove on Juno's 53-day orbit will have space for two polar images within which the public can participate in prioritizing particular points of interest, in accordance with the science goals the mission is trying to meet. Several pages at the voting site will be devoted to unique points of interest that will be within range of JunoCam's field of view during the next close approach. Raw images will then be made available for processing.
"The pictures JunoCam can take depict a narrow swath of territory the spacecraft flies over, so the points of interest imaged can provide a great amount of detail," said Juno co-investigator Candy Hansen, (Planetary Science Institute). "They play a vital role in helping the Juno science team establish what is going on in Jupiter's atmosphere at any moment. We are looking forward to seeing what people from outside the science team think is important."
Bear in mind that JunoCam was included on the mission because, working in color and visible light, it could offer a wide field of view that would, among other things, spur public interest and involvement. So it's not surprising to see this citizen science angle being brought forward, offering engagement not just from amateur scientists but students worldwide. Building public support is also a key component in keeping up the pressure for better space funding.
The February 2 flyby makes its closest approach to Jupiter at 0758 EST (1258 UTC), with the spacecraft about 4300 kilometers above the cloud tops. We'll see Jupiter up close once again through a spacecraft's lens, translated for us into images that mimic what we would see with our own eyes before we get to work processing them. If you're interested in having a say on future JunoCam targets, click here for information on how to get involved.


Image: Jupiter's south pole as seen during perijove 3, in an image processed by Julien Potier (Planetario Silvia Torres Castilleja, Ags, Mexico), rotated, cropped to get rid of yellowish band, processed with RGB levels, brightness, contrast and HDR Toning.