It doesn't stretch credulity to hypothesize that the early Earth benefited from an influx of comet and asteroid material that contributed water and organic compounds to its composition. The surface of a world can clearly be affected by materials from other bodies in the Solar System. Now we're learning that the dwarf planet Ceres may have a surface dusted by material from asteroid impacts. The findings come from a team of astronomers investigating Ceres with SOFIA, the airborne Stratospheric Observatory for Infrared Astronomy. The observatory is a highly modified 747SP aircraft carrying a 2.5m reflecting telescope.
The study shows that not just Ceres but other asteroids and dwarf planets may be coated with asteroid fragments, a result that adjusts our view of Ceres' surface composition. After all, what we're looking at may simply be the result of asteroid impacts in the early days of the Solar System's formation. Three quarters of all asteroids, including Ceres, have been classified as type C (carbonaceous) on the basis of their colors, but the SOFIA infrared data show a substantial difference between the dwarf planet and C-type asteroids in nearby orbits.
Carbonaceous asteroids are dark (albedo in the range of 0.03-0.09, on a scale where a white, perfectly reflecting surface has an albedo of 1.0), with a composition depleted in hydrogen, helium and other volatiles. What SOFIA shows us is that Ceres doesn't fit this model. Pierre Vernazza is a research scientist at the Laboratoire d'Astrophysique de Marseille:
"By analyzing the spectral properties of Ceres we have detected a layer of fine particles of a dry silicate called pyroxene. Models of Ceres based on data collected by NASA's Dawn as well as ground-based telescopes indicated substantial amounts of water-bearing minerals such as clays and carbonates. Only the mid-infrared observations made using SOFIA were able to show that both types of material are present on the surface of Ceres."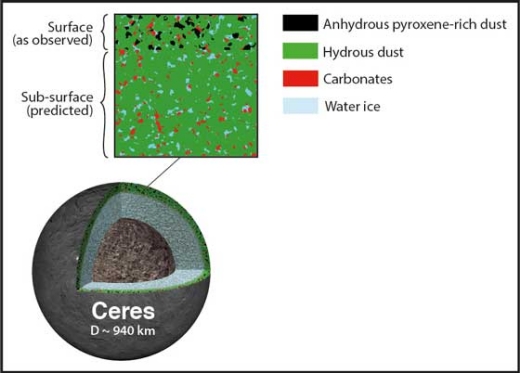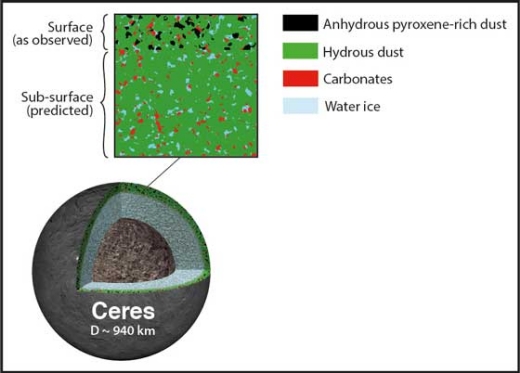 Image: Ceres' surface is contaminated by a significant amount of dry material while the area below the crust contains essentially water-bearing materials. The mid-infrared observations revealed the presence of dry pyroxene on the surface probably coming from interplanetary dust particles. The Internal structure of the Dwarf Planet Ceres was derived from NASA Dawn spacecraft data. Credit: SETI Institute.
Interplanetary dust particles, according to this SETI Institute news release, are the most likely source for the pyroxene, and are also implicated as having accumulated on other asteroid surfaces. Ceres thus takes on the coloration of some of its drier neighbors, while actually housing more substantial resources of water below. The larger picture is that infrared observations may help us better understand an asteroid's true composition. Vernazza even speculates that ammoniated clays mixing with watery clay on Ceres may point to an origin in the outer parts of the Solar System, with migration occurring later in the dwarf planet's life.
"The bottom line is that seeing is not believing when it comes to asteroids," says Franck Marchis, senior planetary astronomer at the SETI Institute, a researcher who collaborated in this project. "We shouldn't judge these objects by their covers, as it were."