The red dwarf known as TRAPPIST-1 could not have produced a more interesting scenario. Today we learn that the star, some 40 light years out in the constellation Aquarius, hosts seven planets, all of which turn out to be comparable to the Earth in terms of size. Moreover, these worlds were discovered through the transit method, meaning we have mass and radius information for all of them. Today's report in Nature tells us that three of the planets lie in the habitable zone, and thus could have liquid water on their surfaces.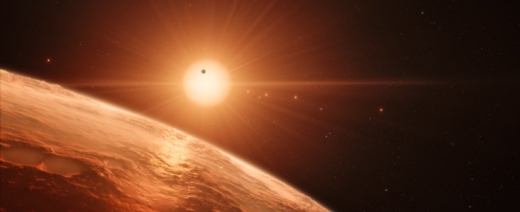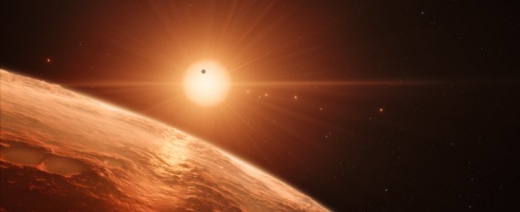 TRAPPIST-1 b, c, d, e, f, g and h are the worlds in question, and all but TRAPPIST-1h appear to be rocky in composition, based on density measurements drawn from the mass and radius information. Drawing on existing climate models, the innermost planets b, c and d are probably too hot to allow liquid water to exist, while h may be too distant and cold. But the European Southern Observatory is reporting that TRAPPIST-1e, f and g orbit within the star's habitable zone, leaving us with the possibility of oceans and the potential for life.
Caution compels me to home in on the word 'potential' in the above sentence, and also to remind readers that we've seen many planets described as being in the habitable zone for which later study made a much less compelling case. Thus I appreciate lead author Michaël Gillon (STAR Institute, University of Liège), whose enthusiasm is evident when he says "This is an amazing planetary system — not only because we have found so many planets, but because they are all surprisingly similar in size to the Earth!" But I also look forward to the close analysis the community gives habitable zone issues and what it will reveal. In particular, let's see what Andrew LePage comes up with in his own Habitable Zone Reality Check.
My own reservation about habitability: The age of TRAPPIST-1, thought to be in the range of 500 million years, points to a young dwarf of the kind given to flare activity. Here I note a paper from Peter Wheatley (University of Warwick), with Michaël Gillon as one of the co-authors. In "Strong XUV irradiation of the Earth-sized exoplanets orbiting the ultracool dwarf TRAPPIST-1," Wheatley and team present XMM-Newton X-ray observations of TRAPPIST-1, finding 'a relatively strong and variable coronal X-ray source with an X-ray luminosity similar to that of the quiet Sun." A snip from the paper:
The TRAPPIST-1 system presents a fabulous opportunity to study the atmospheres of Earth-sized planets as well as the complex and uncertain mechanisms controlling planet habitability. Whatever the mechanisms at play, it is clear that these planets are subject to X-ray and EUV irradiation that is many-times higher than experienced by the present-day Earth and that is sufficient to significantly alter their primary and any secondary atmospheres. The high energy fluxes presented here are vital inputs to atmospheric studies of the TRAPPIST-1 planets.
None of that is to downplay the significance of this discovery, but simply to put it in context (it also should remind us how many factors come into play in the word 'habitability'). Even so, with seven planets in a compact system around this dim red star, we certainly have some interesting real estate to work with. And we'll certainly have plenty to investigate in a system with multiple transits. TRAPPIST-1 has about 8 percent the mass of the Sun. To be in the habitable zone here, a planet needs to be close to the parent star — indeed, the planetary orbits around TRAPPIST-1 are not much larger than what we find among Jupiter's larger moons, and much smaller than the orbit of Mercury in our own system.
That means that transits are deep, as the planets are close to a very small star. Gillon and co-author Amaury Triaud (University of Cambridge) worked with space and ground instruments to make this detection, which follows up their original discovery of three Earth-sized planets there, announced in 2016. The TRAPPIST-South telescope at La Silla produced data complemented by the Very Large Telescope (Paranal) and the Spitzer Space Telescope and several other ground based instruments in the course of these observations.
The news conference on the TRAPPIST-1 findings goes online just as I publish this, and I'm sure we'll have more to say about this fascinating system in short order.