The attitude you bring to a star field changes everything. When I was a kid trying to figure out how to use a small telescope, I scanned the usual suspects — the Moon, Saturn and its rings, the Galilean satellites of Jupiter — all the while planning to branch out into major wonders like M31 or the Ring Nebula in Lyra. But when I turned to deep sky objects, what I discovered was that I could see little more than faint smudges — I was using no more than a 3-inch reflector. It was a disappointment for a while, until I accepted the limitations of my equipment.
And then I became a cataloger of faint smudges, as avidly tracking down celestial objects as any stamp collector sorting through new finds. A patient uncle showed me how to look slightly away from the object I sought, to pick it up in peripheral vision. I began keeping notebooks listing my first glimpses of various nebulae and clusters. So many celestial objects were out of reach, but somehow a field of stars became wondrous not only for what I was seeing but for what I knew I might see with a larger instrument.
The image below recalled those days precisely because of what we cannot see in it. This is actually drawn from a series of images taken by New Horizons' LORRI instrument showing the area toward which the craft is heading. We're looking toward a close approach and flyby of the Kuiper Belt object MU69 at 0200 Eastern US time (0700 UTC) on New Year's Day of 2019. Right now we're still far enough way that the target isn't visible even to LORRI, but to me this image is freighted with the raw excitement of exploration as we push ever deeper into the Solar System.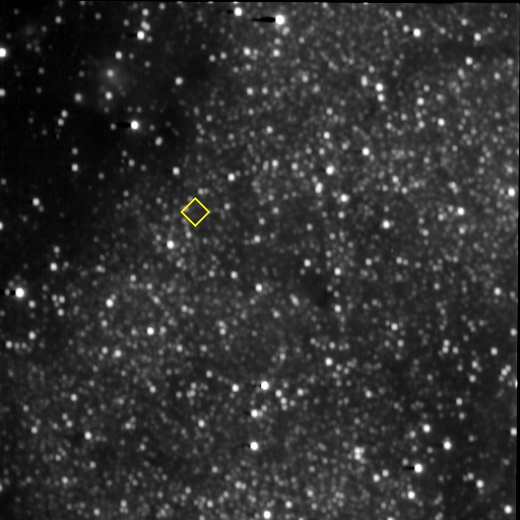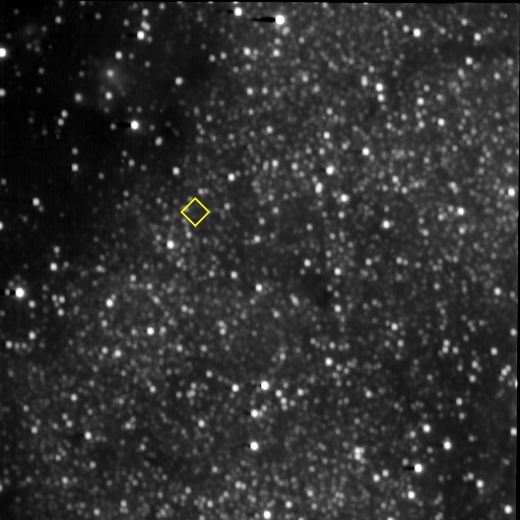 Image: In preparation for the New Horizons flyby of 2014 MU69 on Jan. 1, 2019, the spacecraft's Long Range Reconnaissance Imager (LORRI) took a series of 10-second exposures of the background star field near the location of its target Kuiper Belt object (KBO). This composite image is made from 45 of these 10-second exposures taken on Jan. 28, 2017. The yellow diamond marks the predicted location of MU69 on approach, but the KBO itself was too far from the spacecraft (877 million kilometers) even for LORRI's telescopic "eye" to detect. New Horizons expects to start seeing MU69 with LORRI in September of 2018 – and the team will use these newly acquired images of the background field to help prepare for that search on approach. Credit: NASA/Johns Hopkins University Applied Physics Laboratory/Southwest Research Institute
New Horizons is going into hibernation this week for a 157 day period, and I hadn't realized until getting this JHU/APL update that the craft had been in full operational mode for almost two and a half years now, which of course dates back to the Pluto encounter and the long period of data return (16 months). Along the way New Horizons has continued to study the dust and charged particle environment of the Kuiper Belt as well as hydrogen in the heliosphere.
We're now halfway between Pluto and MU69, having reached this point — a distance of 782.45 million kilometers from Pluto and MU69 — early on April 3 (UTC). The gravitational pull of the Sun continues to slow the craft, so it won't be until tomorrow (April 7) that we reach the halfway point in terms of time between the two close approaches. Remember that New Horizons left Earth orbit traveling faster than any vehicle ever launched, but nine years of climbing out of the gravity well have slowed it to 14 kilometers per second at the Pluto/Charon flyby, significantly below the 17 kilometers per second-plus that Voyager 1 has attained.
The good news is that the mission includes further exploration beyond MU69. Hal Weaver is a New Horizons project scientist from the Applied Physics Laboratory (Laurel, MD):
"The January 2019 MU69 flyby is the next big event for us, but New Horizons is truly a mission to more broadly explore the Kuiper Belt. In addition to MU69, we plan to study more than two-dozen other KBOs in the distance and measure the charged particle and dust environment all the way across the Kuiper Belt."
Looking ahead once we're past MU69, there will be so many things we cannot see in the star field ahead. So much to discover for the deep space missions beyond New Horizons. When will a true interstellar probe — a mission designed from the start to examine the local interstellar medium — be launched? Without an answer, we can only keep pushing for exploration, an innate characteristic of our species, and one unlikely to be limited by our Solar System.