I seem to be reminded every day of how many discoveries are lurking in our archives. On the question of red dwarf stars and the flare activity that could compromise the habitability of planets around them, the ten year dataset from GALEX is proving invaluable. The Galaxy Explorer Evolution spacecraft was launched in 2003 and operated until 2012. Bear in mind that it was designed to study the evolution of galaxies at ultraviolet wavelengths. But now this valuable mission's archives are helping us track the study of nearby habitable planets.
Led by first author Chase Million (Million Concepts, State College PA), a project dubbed gPhoton has set about reprocessing more than 100 terabytes of GALEX data now at the Mikulski Archive for Space Telescopes (MAST), which is maintained at the Space Telescope Science Institute in Baltimore. Million worked with STScI's Clara Brasseur to develop custom software that could tease out the signature of flares for several hundred red dwarf stars. Dozens have been detected so far, with the prospect of far more in the GALEX archive.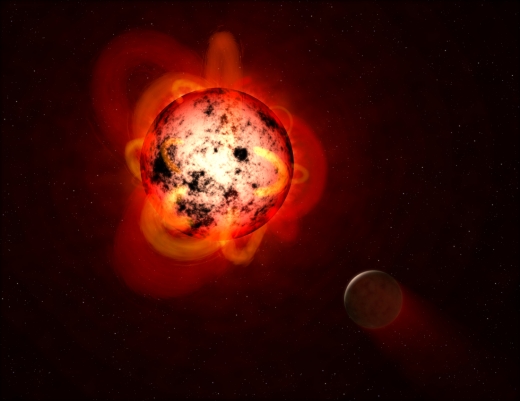 Image: Artist's illustration of a red dwarf star orbited by a hypothetical exoplanet. Red dwarfs tend to be magnetically active, displaying gigantic arcing prominences and a wealth of dark sunspots. Red dwarfs also erupt with intense flares that could strip a nearby planet's atmosphere over time, or make the surface inhospitable to life as we know it. Credit: NASA, ESA, and G. Bacon (STScI).
The software behind this project is significant because it can measure flare events that are much less energetic than previously detected from red dwarfs, reminding us that while major flares get our attention, persistent lower-strength flare activity could have the more dangerous cumulative effect on a closely orbiting planet. A significant amount of a flare's total energy is released in the ultraviolet wavelengths GALEX observed, while the stars themselves are relatively dim at these wavelengths, offering contrast that made these results possible. The team was able to trace stellar variations lasting as little as a few seconds in the data.
"We have found dwarf star flares in the whole range that we expected GALEX to be sensitive to, from itty bitty baby flares that last a few seconds, to monster flares that make a star hundreds of times brighter for a few minutes," said Million.
Many of the flares detected in the GALEX observations are similar to those that occur on our own Sun. But bear in mind that any planet in the habitable zone of a cool, dim red dwarf is going to be much closer to its host, making it subject to more of the flare's energy than the Earth. Flares of large enough energy could play a role in stripping a planet of its atmosphere, while strong ultraviolet light from persistent flaring could damage living organisms.
The work was presented at the 230th meeting of the American Astronomical Society in Austin in early June. But the study is far from over. Clara Brasseur and team member Rachel Osten are now looking at stars that were observed both by GALEX and the Kepler mission, trying to track down similar flare activity. Hundreds of thousands of flares may be hidden in the data.
"These results show the value of a survey mission like GALEX, which was instigated to study the evolution of galaxies across cosmic time and is now having an impact on the study of nearby habitable planets," said Don Neill, research scientist at Caltech in Pasadena, who was part of the GALEX collaboration. "We did not anticipate that GALEX would be used for exoplanets when the mission was designed."
So we keep factors like these in mind as we assess the possible habitability of planets around stars like Proxima Centauri, LHS 1140 and TRAPPIST-1. While we're learning that Earth-sized planets may be plentiful around red dwarfs, and that many may occur in the zone where liquid water could occur on the surface, the question of habitability is far from resolved.