The Jet Propulsion Laboratory has just published details about Cassini's last days and its final plunge into Saturn on September 15. That last act turns the craft into our first planetary probe of Saturn, to use Linda Spilker's memorable phrase. A Cassini project scientist at JPL, Spilker goes on to note that the probe will be "sampling Saturn's atmosphere up until the last second. We'll be sending data in near real time as we rush headlong into the atmosphere — it's truly a first-of-its-kind event at Saturn."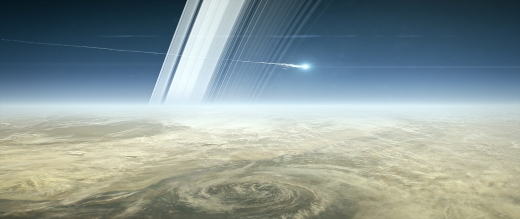 Image: Cassini streaks across Saturn's sky in its final moments. Credit: NASA/JPL-Caltech.
I want to lift the Cassini final calendar out of this JPL news release, as many Centauri Dreams readers have expressed an interest particularly in the mission-ending atmospheric entry. We will likely lose radio contact within, JPL estimates, one to two minutes after the descent into the atmosphere begins. Eight of the twelve science instruments will be operating throughout the plunge, including the ion and neutral mass spectrometer (INMS), which will be sampling Saturn's atmosphere. The imaging camera will be off during the descent.
The predicted time for loss of signal on Earth is 0754 EDT (1154 UTC) on September 15. JPL's End of Mission Timeline is up and running, with a countdown clock and full schedule of events. The schedule below will probably be tweaked as we get closer to the final day, so keep checking the Timeline page as well as @CassiniSaturn on Twitter for updates.
Did you miss today's preview of our #GrandFinale at Saturn? Catch the replay at: https://t.co/5adt2ODbgo pic.twitter.com/hFnqzg6miP

— CassiniSaturn (@CassiniSaturn) August 29, 2017
Here's the schedule as it stands this morning:
Sept. 9 Cassini will make the last of 22 passes between Saturn itself and its rings — closest approach is 1,044 miles (1,680 kilometers) above the clouds tops.
Sept. 11 — Cassini will make a distant flyby of Saturn's largest moon, Titan. Even though the spacecraft will be 73,974 miles (119,049 kilometers) away, the gravitational influence of the moon will slow down the spacecraft slightly as it speeds past. A few days later, instead of passing through the outermost fringes of Saturn's atmosphere, Cassini will dive in too deep to survive the friction and heating.
Sept. 14 — Cassini's imaging cameras take their last look around the Saturn system, sending back pictures of moons Titan and Enceladus, the hexagon-shaped jet stream around the planet's north pole, and features in the rings.
Sept. 14 (5:45 p.m. EDT / 2:45 p.m. PDT) — Cassini turns its antenna to point at Earth, begins a communications link that will continue until end of mission, and sends back its final images and other data collected along the way.
Sept. 15 (4:37 a.m. EDT / 1:37 a.m. PDT) — The "final plunge" begins. The spacecraft starts a 5-minute roll to position INMS for optimal sampling of the atmosphere, transmitting data in near real time from now to end of mission.
Sept. 15 (7:53 a.m. EDT / 4:53 a.m. PDT) — Cassini enters Saturn's atmosphere. Its thrusters fire at 10 percent of their capacity to maintain directional stability, enabling the spacecraft's high-gain antenna to remain pointed at Earth and allowing continued transmission of data.
Sept. 15 (7:54 a.m. EDT / 4:54 a.m. PDT) — Cassini's thrusters are at 100 percent of capacity. Atmospheric forces overwhelm the thrusters' capacity to maintain control of the spacecraft's orientation, and the high-gain antenna loses its lock on Earth. At this moment, expected to occur about 940 miles (1,510 kilometers) above Saturn's cloud tops, communication from the spacecraft will cease, and Cassini's mission of exploration will have concluded. The spacecraft will break up like a meteor moments later.
By the JPL countdown clock, it's just under 16 days to final signal received on Earth as I write this. It's worth quoting Cassini project manager Earl Maize at this point:
"The end of Cassini's mission will be a poignant moment, but a fitting and very necessary completion of an astonishing journey. The Grand Finale represents the culmination of a seven-year plan to use the spacecraft's remaining resources in the most scientifically productive way possible. By safely disposing of the spacecraft in Saturn's atmosphere, we avoid any possibility Cassini could impact one of Saturn's moons somewhere down the road, keeping them pristine for future exploration."
Cassini doesn't have HAL's AI smarts, but I keep thinking about the final burn Arthur C. Clarke's famous computer gave to the Discovery in the film 2010: The Year We Make Contact. 'Poignant' only begins to explore the complex emotions I'm feeling as we prepare to lose this bird.