Chasing New Horizons, by Alan Stern and David Grinspoon. Picador (2018), 320 pp.
Early on in Alan Stern and David Grinspoon's Chasing New Horizons, a basic tension within the space community reveals itself. It's one that would haunt the prospect of a mission to Pluto throughout its lengthy gestation, repeatedly slowing and sometimes stopping the mission in its tracks. The authors call it a 'basic disconnect' between how NASA makes decisions on exploration and how the public tends to see the result.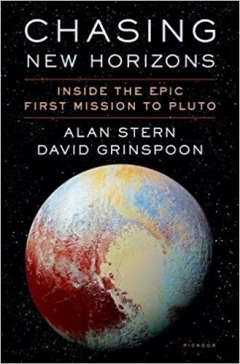 'To boldly go where no one has gone before' is an ideal, but it runs up against scientific reality:
…the committees that assess and rank robotic-mission priorities within NASA's limited available funding are not chartered with seeking the coolest missions to find uncharted places. Rather, they want to know exactly what science is going to be done, what specific high-priority scientific questions are going to be answered, and the gritty details of how each possible mission can advance the field. So, even if the scientific community knows they really do want to go somewhere for the sheer joy and wonder of exploration, the challenge is to define a scientific rationale so compelling that it passes scientific muster.
Thus Alan Stern's job as he began thinking about putting a probe past Pluto: Get the scientific community to see why Pluto/Charon was a significant priority for the advancement of science. And as this hard-driving narrative makes clear, advancing those priorities would not prove easy. But a few things helped, including the spectacular coincidence that Charon was discovered (by Jim Christy in 1978) just before it was about to begin a period of eclipses with Pluto, a period that would not recur for more than a century. When the eclipses began in 1985, Pluto was suddenly highly visible at planetary science conferences and we were learning a lot.
Chasing New Horizons follows Alan Stern's efforts to use ensuing discoveries like the different composition of surface ices on Pluto and Charon and the observations of Pluto's atmosphere to draw attention to mission possibilities. Beginning with a technical session at a American Geophysical Union meeting in 1989, Stern began arguing for what would become New Horizons, brainstorming with key Pluto scientists who would become known as the Pluto Underground on a mission the authors describe as "a subversive and unlikely idea, cooked up by a rebel alliance that seemed ill-equipped to take on an empire."
It would prove to be quite a battle. A letter-writing campaign would develop, leading to an official NASA study of a possible Pluto mission, one led by Stern and fellow Plutophile Fran Bagenal, working with NASA engineer Robert Farquhar (who would die just months after the actual Pluto flyby). From here on it was a matter of keeping the mission visible, from pieces in Planetary Society publications to continuing talks at major conferences, where attendance was growing.
I won't go into the intricacies of such entities as the Solar System Exploration Subcommittee, which would analyze the Farquhar report, or the personnel changes within NASA that affected the work — for that you'll need to read the book, where the action becomes something of a pot-boiler given all the roadblocks that kept emerging, including mission cancellations — but as the New Horizons mission took early form, Pluto was likewise on the mind of engineers at JPL, who began concurrent work on a mission concept. NASA's turn toward Rob Staehle's Pluto Fast Flyby design was just one in a series of course changes for Stern and team. A Pluto Kuiper Express concept followed, then the formation of a NASA Science Definition Team.
Here's a sample of how frustrating the on-again, off-again nature of New Horizons' birth appeared to its proponents. Budget considerations had caught NASA's eye and in the fall of 2000, a 'stop-work order' went out on all Pluto efforts:
Those of us who'd been working on it felt like we had been through a decade of hell running errands, with endless study variations from NASA Headquarters [says Stern]. How many iterations of this, how many committees had we been in front of, how many different planetary directors had we had at NASA, how many different everythings had we put up with? Big missions, little missions, micro-missions, Russian missions, German missions, nonnuclear missions, Pluto-only missions, Pluto-plus-Kuiper-Belt missions, and more…
New Horizons, as it would do repeatedly, came back to life, and we all know the result, but the first half of Chasing New Horizons is a fascinating and cautionary tale about how difficult mission design can be in a charged environment of tight money and competing proposals. Science surely had the last word again, because the need for a mission was now pressing, given that Pluto was moving further from the Sun in its orbit, its atmosphere could conceivably freeze out before a mission got there, and visibility considerations involved Pluto's sharply tilted spin axis (122 degrees) and its effect on lighting across the globe.
As to the actual approach and flyby, you'll find yourself back in those heady days, when the earliest images from New Horizons gradually gave way to more and more detail, and the stakes continued to rise even as the unexpected threatened to stymie the close approach. Exhaustive hazard searches helped Stern's team scout the system, but the critical Core load — the lengthy command script that would get the spacecraft through its scientific observations — had to be uplinked. New Horizons received the Core load and then suddenly went silent.
Quick diagnosis made it likely that the spacecraft would restart using its backup computer, which did occur within a short time, but with the flyby near, timing was critical:
As more telemetry came back from the bird, they learned that all of the command files for the flyby that had been uploaded to the main computer had been erased when the spacecraft rebooted to the backup computer. This meant that the Core flyby sequence sent that morning would have to be reloaded. But worse, numerous supporting files needed to run the Core sequence, some of which had been loaded as far back as December, would also need to be sent again. Alice [Bowman] recalls, "We had never recovered from this kind of anomaly before. The question was, could we do it in time to start the flyby sequence…?"
With three days to do the job, the equivalent of weeks of work had to be done in three days. The task was completed with just three hours to spare. Exciting? Believe it. David Grinspoon's method in Chasing New Horizons was to synthesize the thoughts of Alan Stern and others on the mission within a narrative that captures the drama of the event. Grinspoon is a fine stylist — search the archives here for my thoughts on his exceptional Earth in Human Hands (2016), and I've also written about his earlier book Lonely Planets (2003). Here he goes for clarity and narrative punch, presenting Stern's insights inside an almost novelistic frame. This is a book you'll want to read as we approach MU69.