When I was a boy, I used to scan shortwave frequencies with an old Lafayette receiver in search of distant stations. When I learned that Jupiter was a radio source, my passion for radio DXing took a new turn, merging with my interest in astronomy. When I tried to log the planet's violent outbursts, I learned with a little digging in the library that Jupiter could be detected from about 15 MHz up to 40 MHz, with the best window somewhere between 18 MHz and 28 MHz.
Called 'decametric noise storms,' the Jovian bursts sometimes sounded like ocean waves hitting a shore, but there were also short bursts that could be confused with local lightning, and to this day I'm not really sure whether I really heard Jupiter or not. When you're listening for something that sounds like the ocean in the shortwave bands, it's all too easy to think you're hearing it in the background noise, and a little imagination makes you think you've found your target.
These days we can listen to just about anything on the Internet, so I'll point you to the Io B storm of November 27, 2001, on a page that offers charts, links and an anecdotal account of a reception. Jupiter seems to have acquired a fan base among amateur radio astronomers.
But enough of Jupiter. This morning we need to talk about Saturn and the plasma waves Cassini detected moving from the planet to its rings and the moon Enceladus. These produce the distinctive sound you can hear in the YouTube video below. (If you get Centauri Dreams through email, the video isn't going to show, but go to this link to see it). Here the recording time was compressed from 16 minutes to 28.5 seconds.
Image: New research from the up-close Grand Finale orbits of NASA's Cassini mission shows a surprisingly powerful interaction of plasma waves moving from Saturn to its moon Enceladus. Researchers converted the recording of plasma waves into a "whooshing" audio file that we can hear — in the same way a radio translates electromagnetic waves into music. Much like air or water, plasma (the fourth state of matter) generates waves to carry energy. The recording was captured by the Radio Plasma Wave Science (RPWS) instrument Sept. 2, 2017, two weeks before Cassini was deliberately plunged into the atmosphere of Saturn. Credit: NASA/JPL-Caltech/University of Iowa.
The plasma wave interactions are the subject of a recent paper from lead author Ali Sulaiman (University of Iowa), who is a member of the Radio Plasma Wave Science team, RPWS being the instrument on Cassini that recorded these waves traveling on magnetic field lines.
"Enceladus is this little generator going around Saturn, and we know it is a continuous source of energy," says Sulaiman. "Now we find that Saturn responds by launching signals in the form of plasma waves, through the circuit of magnetic field lines connecting it to Enceladus hundreds of thousands of miles away."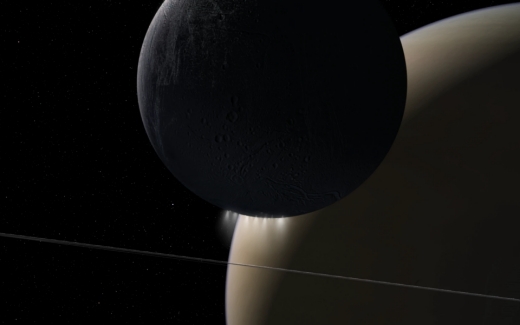 Image: NASA's Cassini spacecraft's Grand Finale orbits found a powerful interaction of plasma waves moving from Saturn to its rings and its moon Enceladus. Credit: NASA/JPL-Caltech.
Enveloped by Saturn's magnetic field, Enceladus is a geologically active place, emitting the famous geysers we've so often examined in Cassini imagery. The plumes of water vapor from what appears to be an inner ocean become ionized, accounting for the strong interaction between Enceladus and the planet; similar interactions occur between Saturn and its rings.
We get this information thanks to Cassini's high-inclination Grand Finale orbits, which brought the spacecraft both to its closest approach to the cloud tops and to the inner edge of the D ring. The recording itself was captured on September 2, 2017, just two weeks before Cassini's final plunge. Measurements of the top of the ionosphere as well as the environment around the rings showed the plasma wave interactions and underline the dynamic nature of the Saturn system.
The paper is Sulaiman et al., "Enceladus auroral hiss emissions during Cassini's Grand Finale," published online by Geophysical Research Letters 7 June 2018 (abstract).