This morning we have an image of MU69, the Kuiper Belt object to which New Horizons is heading, with arrival and flyby scheduled for January 1, 2019. This just after the first glimpse of the asteroid Bennu by the spacecraft now heading there for observation and sample return, OSIRIS-REx. By way of comparison, the first glimpse New Horizons had of Pluto/Charon came during an optical navigation test using the Long Range Reconnaissance Imager (LORRI), which occurred in September of 2006 when Pluto was still 4.2 billion kilometers away.
We knew in the year of its launch, in other words, that New Horizons could find and track targets at extremely long range, but MU69, otherwise known as Ultima Thule, is a tiny target indeed. Moreover, it's one that raises a host of obstacles particularly in terms of the background stars. We are trying to pluck it out of field objects from a distance of 172 million kilometers.
"The image field is extremely rich with background stars, which makes it difficult to detect faint objects," said Hal Weaver, New Horizons project scientist and LORRI principal investigator from the Johns Hopkins Applied Physics Laboratory in Laurel, Maryland. "It really is like finding a needle in a haystack. In these first images, Ultima appears only as a bump on the side of a background star that's roughly 17 times brighter, but Ultima will be getting brighter – and easier to see – as the spacecraft gets closer."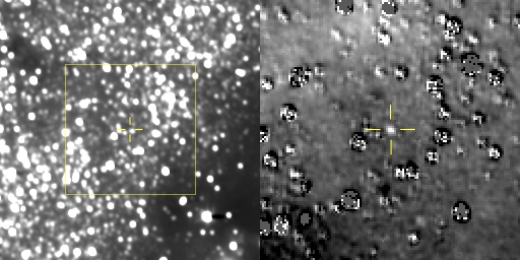 Image: The figure on the left is a composite image produced by adding 48 different exposures from the News Horizons Long Range Reconnaissance Imager (LORRI), each with an exposure time of 29.967 seconds, taken on Aug. 16, 2018. The predicted position of the Kuiper Belt object nicknamed Ultima Thule is at the center of the yellow box, and is indicated by the yellow crosshairs, just above and left of a nearby star that is approximately 17 times brighter than Ultima.
At right is a magnified view of the region in the yellow box, after subtraction of a background star field "template" taken by LORRI in September 2017 before it could detect the object itself. Ultima is clearly detected in this star-subtracted image and is very close to where scientists predicted, indicating to the team that New Horizons is being targeted in the right direction. The many artifacts in the star-subtracted image are caused either by small mis-registrations between the new LORRI images and the template, or by intrinsic brightness variations of the stars. At the time of these observations, Ultima Thule was 172 million kilometers (107 million miles) from the New Horizons spacecraft and 6.5 billion kilometers (4 billion miles) from the Sun. Credit: NASA/Johns Hopkins University Applied Physics Laboratory/Southwest Research Institute.
We are now in the process of continually setting records. These images are the most distant ever taken from the Sun, an honor that was once held by Voyager 1 in its famous 'Pale Blue Dot' image of the Earth, taken in 1990. New Horizons likewise snagged the award for most distant image from Earth in December of 2017. The images above were taken on August 16, a series of 48 that succeeded at the spacecraft's first attempt to find MU69 with its own cameras. Now we can spend the next four months updating the record and watching MU69 grow.
And since 'first glimpse' images seem to define this week, here's that first New Horizons image of Pluto.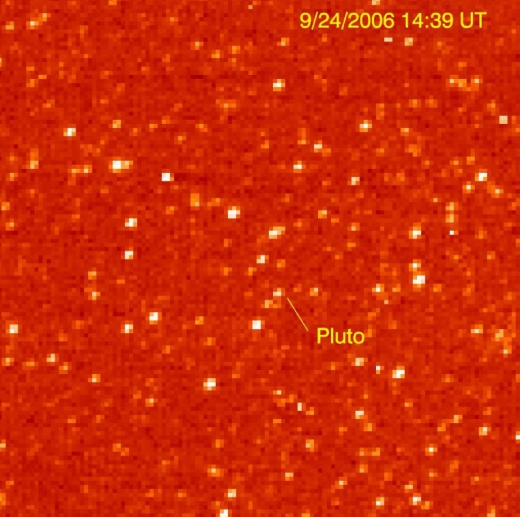 Image: The Long Range Reconnaissance Imager (LORRI) on New Horizons acquired images of the Pluto field three days apart in late September 2006, in order to see Pluto's motion against a dense background of stars. LORRI took three frames at 1-second exposures on both Sept. 21 and Sept. 24. Because it moved along its predicted path, Pluto was detected in all six images. The images appear pixelated because they were obtained in a mode that compensates for the drift in spacecraft pointing over long exposure times. Credit: NASA/Johns Hopkins University Applied Physics Laboratory/Southwest Research Institute.
This far away from home, it seems fitting to quote from the one Edgar Allen Poe verse, 'Dreamland,' that mentions Ultima Thule in its incarnation as a literary figure for the most distant of Earthly places:
By a route obscure and lonely,
Haunted by ill angels only,
Where an Eidolon, named Night,
On a black throne reigns upright,
I have reached these lands but newly
From an ultimate dim Thule –
From a wild weird clime, that lieth, sublime,
Out of Space – out of Time.