Extended operations at multiple targets, as Dawn showed us, are possible with ion propulsion. But we still learn much from flybys, something New Horizons reminded us with its spectacular success at Pluto/Charon, and again reminds us as it closes on MU69. Likewise, a mission called Lucy will visit multiple objects, using traditional chemical propulsion with gravity assist to achieve flybys of seven different targets. The destination: Jupiter's trojan asteroids. With launch scheduled for 2021, Lucy's will study six Jupiter trojans and one asteroid in the Main Belt.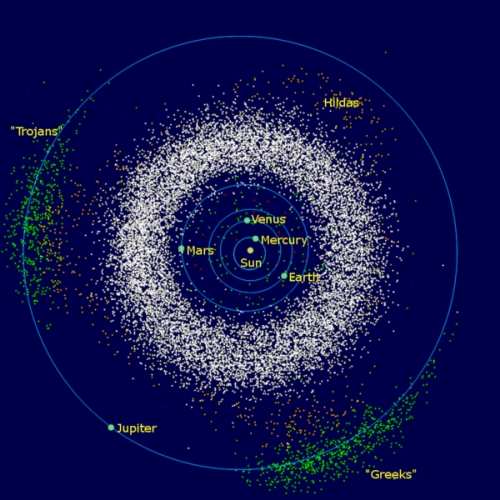 Image: Jupiter's extensive trojan asteroids, divided into 'Trojans' and 'Greeks' in a nod to Homer, but all trojans nonetheless. Credit: "InnerSolarSystem-en" by Mdf at English Wikipedia – Transferred from en.wikipedia to Commons. Licensed under Public Domain via Commons.
The trojans are interesting bodies orbiting at the L4 and L5 Lagrange points 60° ahead and behind the gas giant. Jupiter's trojans are the best known but the term is generic — Neptune has trojans, as does Mars, Uranus and even the Earth (2010 TK7). In fact, some Solar System moons themselves have trojans, as we saw recently when discussing Saturn's moon Dione, which has the trojans Helene and Polydeuces. Saturn's moon Tethys also has two trojans.
But as befits Jupiter's massive size, it's associated with over 6000 trojans already identified, and a larger population perhaps reaching as high as one million objects over a kilometer in diameter. 617 Patroclus is a particularly intriguing object, a D-type asteroid thought to have water ice in its interior. This object is actually a binary, with a moon named Menoetius slightly smaller than the primary. But we have C- and P- type asteroids in these Lagrange points as well, and Lucy will give us a view of each type as it makes its way into both clusters of Trojans.
The assumption is that the Jupiter trojans are remnants of primordial planet-building material, with clues to the Solar System's formation and possibly the origins of organic material on Earth. While C-type asteroids are primarily found in the outer regions of the Main Belt, the darker P- and D-type objects have similarities to Kuiper Belt objects beyond the orbit of Neptune. Evidently abundant in dark carbon compounds, all are thought to be rich in volatiles.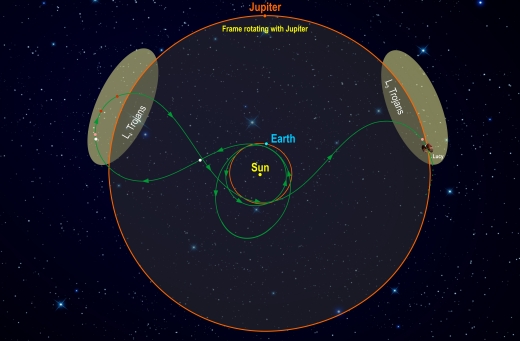 Image: This diagram illustrates Lucy's orbital path. The spacecraft's path (green) is shown in a frame of reference where Jupiter remains stationary, giving the trajectory its pretzel-like shape. After launch in October 2021, Lucy has two close Earth flybys before encountering its Trojan targets. In the L4 cloud Lucy will fly by (3548) Eurybates (white), (15094) Polymele (pink), (11351) Leucus (red), and (21900) Orus (red) from 2027-2028. After diving past Earth again Lucy will visit the L5 cloud and encounter the (617) Patroclus-Menoetius binary (pink) in 2033. As a bonus, in 2025 on the way to the L4, Lucy flies by a small Main Belt asteroid, (52246) Donaldjohanson (white), named for the discoverer of the Lucy fossil. After flying by the Patroclus-Menoetius binary in 2033, Lucy will continue cycling between the two Trojan clouds every six years. Credits: Southwest Research Institute.
The Lucy mission has just passed the milestone known as Key Decision Point C, a confirmation review that authorizes continuation of the project into its development phase and sets its cost and schedule. This means as well that the confirmation review panel has approved the instrument suite, budget and risk factor analysis for the overall mission. Up next comes the Critical Design Review, which thoroughly vets all aspects of the system design.
Lucy, in other words, is well on its way, says principal investigator Hal Levison (SwRI):
"Up until now this mission has entirely been on paper. Now we have the go ahead to actually cut metal and start putting this spacecraft together."
Emphasizing the connection with the origins of the Solar System and the possible delivery of organics to Earth, PI Levison named the mission after Lucy, the fossil remains of a three million year old hominid. But he's enough of a Beatles fan to see a connection there as well, as noted in an older quote on the mission:
"These asteroids really are like diamonds in the sky in terms of their scientific value for understanding how the giant planets formed and the solar system evolved."
Including imaging and mapping instruments — a color imaging and infrared mapping spectrometer, a high-resolution visible imager, and a thermal infrared spectrometer — the science instrument package is similar to what flew on New Horizons and OSIRIS-REx. Lucy should reach its first targets, the L4 trojans, in 2025, followed by a return to Earth and gravity assist there to move on to the L5 trojan cluster in 2033, The craft will also make a flyby of Main Belt asteroid 52246 Donaldjohanson, which was named for the discoverer of the Lucy fossil.