While compiling materials for a book on Apollo 11, Neil McAleer accumulated a number of historical items that he passed along to me (thanks, Neil!), and I'm thinking that with the 50th anniversary of the first landing on the Moon approaching, now is the right time to publish several of these. Centauri Dreams has always focused on deep space and interstellar issues, but Apollo still carries the fire, representative of all human exploration into territories unknown. In the piece that follows, Neil talked to Al Jackson, a well known figure on this site, who as astronaut trainer on the Lunar Module Simulator (LMS) worked with Neil Armstrong and Buzz Aldrin before Apollo 11 launched, along with other Apollo crews. McAleer finalized and synthesized the text, which I'll follow with a piece Al wrote for Centauri Dreams back in 2012, as it fits with his reminiscences related to McAleer. I've also folded in some new material that Al sent me this morning.
by Al Jackson and Neil McAleer
In the fall of 2018, this writer began a correspondence with Al Jackson, a NASA Simulator Engineer and instructor for Neil Armstrong and Buzz Aldrin for the Apollo 11 mission.
"We instructors spent two and a half years with Neil and Buzz—almost every day for the first 6 months of 1969 [before the historic launch in July]. In those years we instructors spent almost that much time with the Apollo 9,10,12,13 crews and backup crews.
"When we were working with Neil and Buzz … Neil was indeed a very quiet man but he was not all that taciturn. He was easy going and approachable. The film First Man seemed to imply Neil was quite glum in private, but I never got that impression; even if there were times when he was, I never saw it. The movie even made it seem Neil was a bit morose in private, another aspect that I never detected from seeing him at work almost every day.
"It's odd that we instructors on the Lunar Module Simulator worked with Neil and Buzz almost every day for those two and a half years, but we never socialized with them. We even traveled with them to MIT and TRW and only saw them at the technical briefings."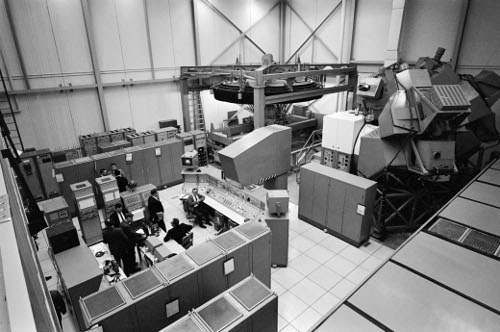 Image: Al Jackson (facing the camera at the main console of the Lunar Module Simulator) performing a checkout of LMS systems with his colleagues. Credit: A. A. Jackson.
"One thing— we really saw more of Buzz than Neil. Buzz was, and still is, a Space Cadet! He put in extra time on manual rendezvous training; he was responsible for the neutral buoyancy facility; and he practiced EVA for Gemini so he had zero problems on Gemini 12. Buzz was more into spaceflight than any of the other astronauts."
A Working Team
In one of my emails to Al Jackson, I asked his opinion on how Neil and Buzz worked together during the simulator training years:
"My observation is that during training both Neil and Buzz got along fine. Funny thing, Buzz would definitely express himself more than Neil, but those two were the quietest we ever had in the cockpit during Lunar Module simulations.
"One time they were in at 8 am and did not say a word to us or each other by 11 am. I remember someone suggested we go up to the cockpit and check to see if they had passed out!
"I know an odd story about Neil," Al continued. "One day he was in the simulator, came out, and smoked a cigarette, looked at us and said, 'That was my one cigarette for the year.' He smiled and went back to the cockpit."
In a reply to Al, I gave him my opinion that this comment was similar to Neil's well-known quote about every living human on our planet having a finite number of heartbeats in their lives, and Neil didn't want to waste any of them on basic exercise when he loved to fly so much. This writer considers these two comments as Neil's personal nods to human mortality.
Another story came in another e-mail from Al Jackson in early 2019: "I was talking recently to the main Primary Guidance and Navigation System instructor on the Lunar Module Simulator, Bob Force (Force and I spent a lot of time together); he noted that the day after the LLTV [Lunar Landing Training Vehicle] crash [May 6, 1968], Armstrong came to the simulator.
"We asked how he was, and he said, 'Oh just some stiffness'—That was all."
Armstrong had cheated death by about 2 seconds because his parachute opened just before he landed.
"I talked to another instructor who I met early that day, and he said something like 'have a hard time yesterday?' Neil, who had bitten his tongue during ejection gave that guy a very hard look."

Image: Astronaut Neil Armstrong flying LLRV-1 at Ellington AFB shortly before the crash (left) and ejecting from the vehicle just seconds before it crashed (right). Credit: NASA.
Buzz Aldrin's Exit from Eagle to Join Neil on the Moon's Surface
As I was researching information about Apollo 11's EVA and walk on the moon, one of my major sources was to read portions of the official transcript of their EVA activities. Here something unusual emerged. Aldrin's real exit from the Eagle needed his crewmate's specific directions on orientation of his body as he went through the hatch—just like Aldrin assisted Neil exiting the Eagle from inside its cockpit.
ARMSTRONG: "Okay. Your PLSS [Portable Life Support System] is—looks like it's clearing. The shoes are about to come over the sill. Okay, now drop your PLSS down. There you go . . . About an inch clearance on top of your PLSS. . . .
Okay, you're right at the edge of the porch. . . . Looks good.
ALDRIN: Now I want to back up and partially close the hatch, making sure not to lock it on my way out. [My italics for emphasis!]
ARMSTRONG: "A particularly good thought."
Neil was probably thinking about the time of their EVA simulation "dress rehearsal," when the mock LM's hatch turned out to be locked when Neil unsuccessfully tried to re-enter their mock Lunar Module during rehearsal. He had to file a report. The lesson was learned.
So the answer is that they were both very aware of the possible problem on the "real EVA" for Apollo 11, and the lockout experience in training was avoided.
[PG: Al also adds this note in a morning email about the 'locked hatch' situation.]
"That was probably the egress – ingress simulator, which was a full sized mock-up of the LM (though there was more than 1 of those). It was a pretty faithful mock-up. I remember the very first day I worked at the Manned Space Center in Houston, the day I mustered in, which was the first Monday of the last week in January 1966… after work I climbed up in that simulator looked out the windows and thought of Wernher von Braun and Robert Heinlein, the men who , with their writings, had gotten me there! I felt like a space cadet!"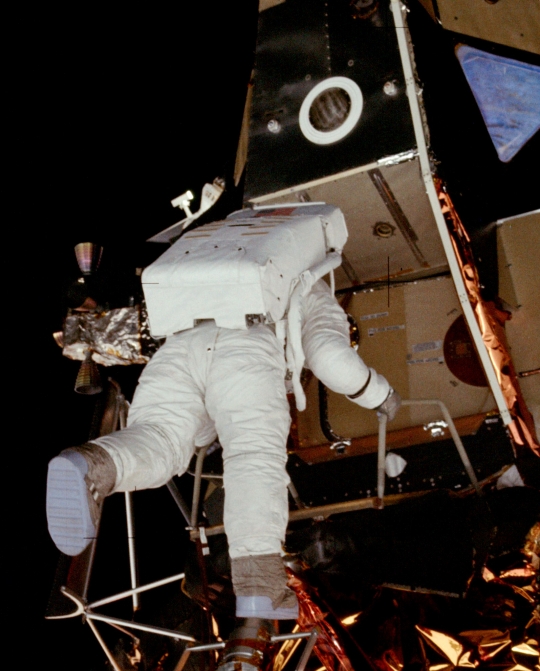 Image: "When it was my turn to back out, I remember the check list said to reach back and carefully close the hatch, being careful not to lock it," said Buzz Aldrin, Apollo 11's lunar module pilot. He climbed down the ladder, looked around and described the sparse lunar landscape as "magnificent desolation." Credit: NASA/Neil Armstrong.
On Apollos 11 and 12
And this is Al Jackson's article from 2012, one I reproduce here for its insights into the Apollo program.
I spent almost 4 years in the presence of Neil Armstrong and Buzz Aldrin. I came to the Manned Spacecraft Center (MSC) in 1966, where I was placed as a crew training instructor. I had degrees in math and physics at that time. Seems engineers were pressed into real engineering work or had been siphoned off into the DOD. Spaceflight attracted a lot of physicists who could be put to work on all kinds of stuff.
I met Buzz first, I think as early as 1966. At MSC in those days I used to be in Bldg. 4 (my office) or Bldg. 5 (the simulation facility) in the evenings. Sometimes we worked a lot of second shift and I was unmarried at the time with a lot of time on my hands. Anyway Buzz would come to Bldg. 5 to practice in a 'part task' trainer doing manual rendezvous, something he had pioneered. So I kind of got to know Buzz, but I can't remember much but small talk and later talk about the Abort Guidance System which was my subsystem.
When the Lunar Module Simulator (LMS) got into operation I started seeing Neil, but never talked to him much. Of all the Apollo crews Neil and Buzz were the most quiet. I do remember Neil from the trips to MIT and TRW, to go to briefings on the Primary Guidance and Navigation and the Abort Guidance System.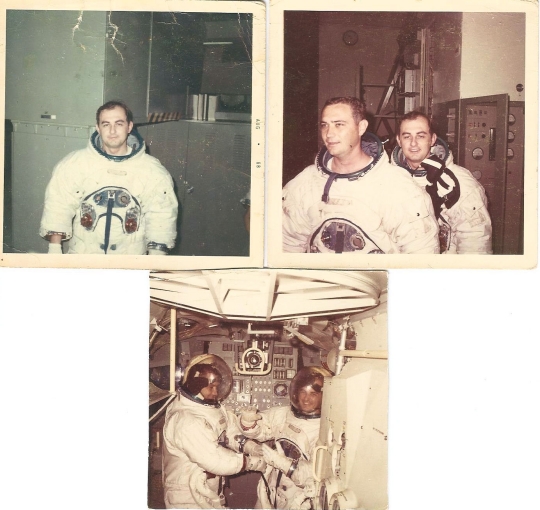 Image: Al Jackson (top left) and a NASA colleague testing the environmental system of the Lunar Module in 1968. Credit: Al Jackson.
I had seen Buzz do a little 'chalk talking' about technical stuff, but on the TRW trip Neil got up and gave a short seminar about rendezvous in orbit, some math stuff and all. He really knew his stuff. I remember being kind of surprised because I knew about Buzz's doctorate in astronautics, but did not know Neil knew that much engineering physics.
The Apollo 11 crew were the backup crew for Apollo 8, except for Fred Haise — that crew too could have been first on the moon. I puzzle these days whether Deke Slayton and higher ups arranged that it would be Neil and Buzz or not. All the astronauts I worked with were very unusual and able men… but Neil and Buzz had more than the Right Stuff, they were kind of magicians of confidence. It would be years before the astronaut corps had anyone quite like them.
You know working Apollo, nearly 24 – 7 for five years, in those days we had our heads down in the trenches, so it is strange to think back, a lot of odd things and lore escaped my attention. I was never a diary keeper, but wish I had been. I do remember how seat-of-the-pants everything was. Everything became much more formalized in the Shuttle Era and I was glad I did not stay in crew training for all but 5 years of my tenure at JSC.
It was the Apollo 12 crew who were the most fun. Pete Conrad was the most free spirited man I ever met. He bubbled with enthusiasm and humor, a thinking man's Evel Knievel. He was an ace pilot who kept us in stitches all the time. Conrad and Bean spent a lot of time in the LMS (I think Neil and Buzz spent the most) and we instructors really got tired of wearing our headsets , so when crews were in the LMS we would turn on the speakers we had on the console since the crew spent most of their time talking between themselves. When Conrad was in the cockpit we had to turn the speakers off, since we would unexpectedly have visitors come by.
The reason why: Conrad, an old Navy man, could string together some of the most creative blue language you would ever want to hear. The main guidance computer aboard both the Command Module and Lunar Module was called the Primary Guidance, Navigation and Control System (PGNCS), but the crews called it the PINGS. Conrad never called it that. I can't repeat what he called it, but he never, in the simulator called it that. The instructors remembered the trouble Stafford and Cernan caused on Apollo 10 with their language, and we thought lord! Conrad is gonna make even Walter Cronkite explode in an oily cloud! Yet on Apollo 12 he never slipped once, that's how bright a man he was.
A month or two before Apollo 11 Conrad and Bean were in the cockpit of the LMS and John Young was taking a turn at being the pilot in the CMS (Command Module Simulator). We were running an integrated sim. Young had learned that the CM would be named Columbia and the LM Eagle. Conrad being his usual individualistic self said that must have pleased Headquarters. (Of course Mission Control needed those names when the two vehicles were apart for comm reasons).
So Conrad could not resist. He told Bean and Young right then and there that they were going to name the CM and LM two names that I also can't repeat. Bean and Young had a ball the rest of the sim giving those call signs, but that only lasted one day. Conrad, as you might suspect, never used the language in an insulting way or even to curse something — he was a very friendly and funny man. But it's so second nature in the military to use language like that, and those Navy men, well, they never said "pardon my French!" Later the three Navy men (Conrad, Bean and Gordon) gave their spacecraft proper Navy names! Remember them?
[PG: I had to rack my brains on that one, but finally dredged up the command module's name — Yankee Clipper. The LEM was Intrepid.]
Science Fiction and Apollo
[PG: Finally, this snip from another email Al sent me this morning, of interest to those of us who follow science fiction and its influence.]
"I have given interviews, by phone, to a few authors of recent Apollo 11 authors, I don't know if it was Neil McAleer who asked me this question: 'Did you meet any science fiction fans when you started at MSC in 1966.' Somehow someone knew I had been in and still was (no longer in a strong way) in science fiction fandom. I said no. I did not meet any true blue fans in NASA till years later.
"About half the guys I worked with were avid SF readers, no surprise, but none had been in SF fandom.
"I did have one experience that Alan Andres, one of the authors of the new book Chasing The Moon, checked. In April of 1968 2001: A Space Odyssey had (I think) its 3rd USA premiere in Houston. I desperately wanted to see it opening night but was not able to wangle a ticket.
"I did see it the next night. The next week around the coffee pot in building 5 Buzz was there talking to the Apollo 11 backup crew Lovell, Anders, and Haise. They were asking him about the ending, I distinctly heard Aldrin telling them to read Clarke's Childhood End. I was not surprised that Buzz was an SF reader. (Alan Andres told me that Buzz said he was tired from training that day and that he slept through most of the movie… still I think Buzz caught enough to know a good answer. I swear I heard this conversation in April of 1968. I am sure Buzz does not remember it)."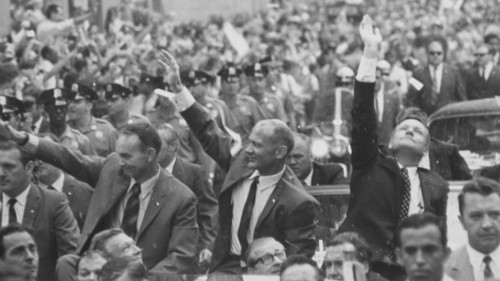 Image: A time like no other: Collins, Aldrin, Armstrong amidst an exultant crowd in August of 1969.