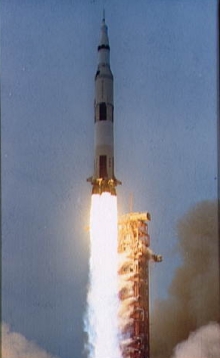 Remembering how I felt 50 years ago when Apollo 11 launched, I fully understand those whose sense of let-down at the abrupt end of the moon landings has never gone away. And yes, I was one of those who assumed we would be on Mars by 1990 or earlier, with missions to the Jovian moons gearing up about now. Events in the interim have proven these expectations unrealistic, but last night as I was reminiscing I also thought about what we had done in those 50 years.
50 years ago, for example, the idea of Europa as an ocean world was still a few years out, only entering into serious speculation after Voyager 1 showed us what Jupiter's immense tidal forces, aided by the gravitational effects of Europa and Ganymede, could do to Io. That flyby was in March of 1979, and if Io's volcanoes told a tale, they also implicated Europa's abundant ice. The Galileo mission, despite its problems, then showed us a Europan surface wracked by movement, with 'chaos' features, raft-like ice blocks evidently once afloat, frozen into a geologically young terrain. Europa was becoming very interesting indeed.
In 1969 we knew none of this, nor did we have much of an idea what was beneath Titan's clouds, not to mention what was being flung into space out of bright, frozen Enceladus' south pole. We hadn't seen Pluto and its big moon Charon, or viewed a Kuiper Belt Object up close. We were a few years away from Viking (and those landings are another special memory), Mars rovers were only a hope for the future, and no comet had ever been explored.
Exoplanets? Forget it. Who dreamed we had the ability to find them?
The list could go on, but there is no need to recount every robotic mission discovery. While astronauts remained in low Earth orbit, we did indeed perform the initial reconnaissance of the Solar System, and if a mission like Cassini or Kepler doesn't hold you spellbound, nothing will. You can see that I'm trying to cheer myself up as I look at those unfulfilled expectations of July 16, 1969, but I do think it's sensible to take stock and appreciate what robotic instrumentation can do amidst the revolution in digital technologies that have transformed our world.
Operations on an Asteroid
So we keep doing what we can with the resources that have been allocated, knowing how much more could be done. Today we look at an asteroid. What follows is imagery from Japan's Hayabusa 2 mission, which touched down just a few days ago on the asteroid Ryugu, a second landing after the one performed in February. Here we're seeing views from the spacecraft's small monitor camera (CAM-H), which operated throughout touchdown, with a field of view looking downwards toward the sampler horn. I'll just run these in sequence.
Image: Taken 4 seconds before touchdown with CAM-H (Credit: JAXA).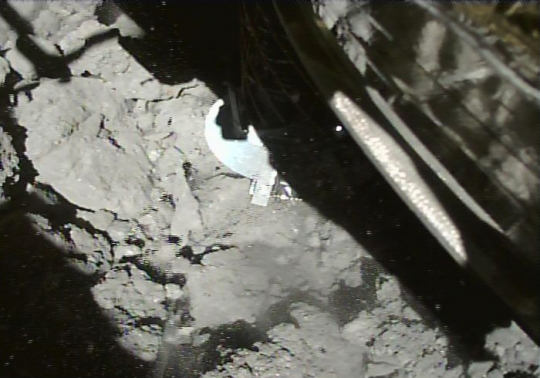 Image: The moment of touchdown captured with CAM-H(Credit:JAXA).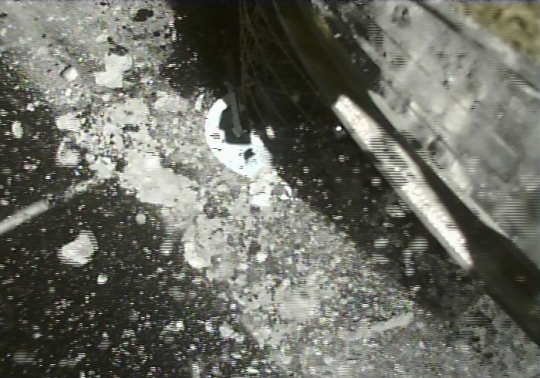 Image: Taken 4 seconds after touchdown with CAM-H (Credit: JAXA).
Nice work indeed, and congratulations to the team that pulled it off. Following events on Twitter at https://twitter.com/haya2e_jaxa was a great way to track the landing minute by minute. The point here is to do a sample return, and you'll recall that previous Hayabusa2 operations have included the use of a projectile to create a crater whose exposed material could then be sampled before the craft once again ascended. Time on the surface was brief, with Hayabusa2 swiftly returning to a safe position near the asteroid. The departure for Earth is now contemplated for some time late in the year. Have a look at this mission calendar to get a sense of how much has been done, and to keep up with changes to the schedule going forward.
[PPTD] Thank you for your support from all over the world! Everyone in the control room is making a cheerful V-sign for the second touchdown! pic.twitter.com/YUz7sVmQPb

— HAYABUSA2@JAXA (@haya2e_jaxa) July 11, 2019
We also have OSIRIS-REx at asteroid Bennu, another carbon-rich asteroid from which we will be returning samples, though the Bennu material won't be delivered until 2023. The comparison between samples of the two asteroids should be productive indeed as we add to the first Hayabusa's asteroid particles from 25143 Itokawa and delve into the composition of C-type asteroids (Itokawa is an S-type asteroid, the second most common after C-type objects).
What We Cannot Know
This paragraph from an editorial about Hayabusa2 in The Japan Times is a reminder of how much the space exploration effort has changed since the Apollo days, especially in terms of commercial activity:
Another important shift is taking place in thinking about space exploration: The private sector is moving into the lead. In the U.S., companies like SpaceX and Blue Origin are setting the pace. Japan has Ispace, which is developing robotic spacecraft technologies to discover, map and use the natural resources on the moon. More than 300 private companies collaborated to create Hayabusa2. Japan must ensure the probe returns safely, and then encourage cooperation among the public and private sectors so there are more successes in the future.
The explosive growth of computer and network resources in the past 50 years occurred in ways unforeseen by science fiction authors, who proved to be more prescient when it came to space exploration being influenced by private individuals and corporations. So as I ponder this point, I have to wonder what developments unknown to us now will shape the future of human and robotic spaceflight in the next 50 years. Miniaturized payloads and artificial intelligence are clearly in the mix, but is it possible to predict any more accurately now than it was then?
I remain an optimist. We keep slogging ahead despite frustrations with the overall pace, celebrating the missions that fly and planning their successors. Nothing affirms a life as much as persistent effort toward a seemingly impossible goal. "Knowing is not enough; we must apply," said Goethe. "Willing is not enough; we must do." 50 years after Apollo, keep working.