As a poignant and unexpected coda to the celebrations of the Apollo 11 anniversary we learn of the death of Chris Kraft, the man who created NASA's Mission Control from scratch in the early days of the manned space program and was head of Flight Operations during that critical period. Death came at age 95 to a man who worked at ground zero in the fraught days of Mercury and Gemini, serving as flight director for all the Mercury missions and seven of the Gemini flights. Neil Armstrong would say of Kraft that he was "the 'Control' in Mission Control."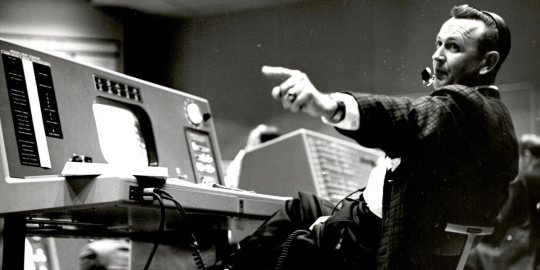 Image: Christopher Kraft, flight director during Project Mercury, works at his console inside the Flight Control area at Mercury Mission Control in Houston. Kraft, the founder of NASA's Mission Control, died Monday, July 22, 2019, just two days after the 50th anniversary of the Apollo 11 moon landing. He was 95. Credit: NASA via AP.
After his work with Gemini, Kraft moved up NASA management ranks and became a senior planner for the Apollo program. He went on to lead the Johnson Space Center in Houston and was deeply involved in the Space Shuttle program, though for many of us, he will always be the voice we heard in TV coverage of missions dating back to Alan Shepard's suborbital shot in 1961, a mission during which he later admitted he was 'shaking like a leaf' (it certainly never showed, and Kraft added that his nerves steadied considerably after the Shepard flight).
The challenge presented to Kraft was immense, coordinating the inputs from the dozens of controllers who tracked spacecraft operations while balancing teams of researchers and engineers in an environment that could demand quick, decisive action to save a mission. Go to Houston today and you'll see that Mission Control Center at JSC is named after Kraft, whose legacy is not just a room of controllers but the very concept of flight management still in use.
Al Jackson, who knew Kraft through his work on the Lunar Module Simulator, wrote this morning with his own recollection of the man, calling Kraft 'the best technical manager I ever met,' and adding:
The training simulator group rarely had to meet with him, but every now and then the crews would want some kind of modification to the simulators, so we would go to his office. I always liked those meeting because they were short! The problem would be presented and Kraft, once it was clear to him, would make the decision on what to do. There was no extra talk; he just said "you will do this and this and this"… and the meeting was over usually in less than 30 minutes. I have never met another technical manager like him. He was an exceptional man.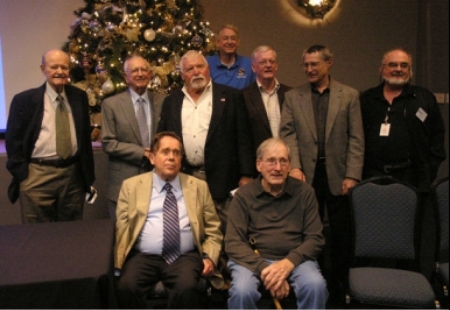 Image: A 40th anniversary panel on Apollo 8 organized by Al Jackson in 2008. Left to right: Marty Jenness, Dr. Christopher Kraft, John Llewellyn, Dr. Glynn Lunney (with Ken Young behind him), Emil Shiesser, Al Jackson. Front row: Hal Beck, Rod Rose. Credit: Al Jackson.
Retiring in 1982, Kraft maintained an active interest in the space program as he pursued consulting options. This NPR article quotes him as he reflected on his career:
"I flew on every flight — vicariously. I didn't have to go. I mean that. I used to tell people back then when we're flying, I have this feeling that's what we're doing all the time. And then when we stop flying, I don't believe we did it. That was a strange feeling. … I was in my revelry when we were flying. My people were the same way. It was such a tremendous pleasure out of making things happen well and safely and knowing that they were contributing to that part of the program. I think it was extremely important to all of us and that was our payoff. We didn't make any money working for the government. But we sure got a hell of a lot of enjoyment out of it."
This has been a summer of memories as we recalled the events leading to the Apollo landings. Playing through all of that history has been the steady and disciplined guidance provided by people like Chris Kraft, who were tasked with a job — going to the Moon! — that seemed insurmountable at a time when America's experience in space was limited to a single 15-minute suborbital flight. There were truly giants in those days, and Chris Kraft was one of them.