Another win for amateur astronomers. Have a look at a Juno image showing the familiar Great Red Spot (upper left) and a new, bright spot just emerging in the center of the image, an oval-shaped feature that was not present in images taken not long before by astronomers in Australia. We're looking at a plume erupting into the upper layers of the atmosphere, a convective outbreak in a region known as the South Temperate Belt, a latitude where outbreaks are not uncommon.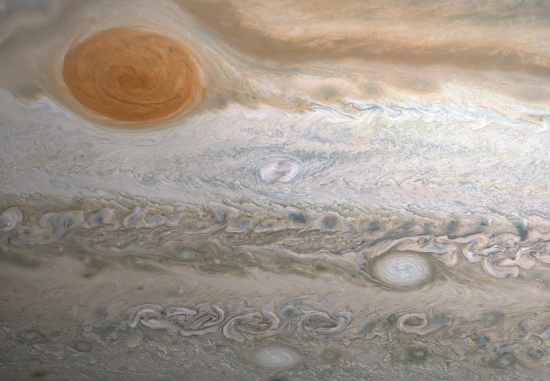 Image: Juno's view of the swath of Jupiter visible from its recent flyby. Credit: NASA/JPL-Caltech/SwRI/MSSS. Image processing by Kevin M. Gill.
The Juno image, taken on June 2, 2020, is fortuitous, because it was just two days before that South African amateur Clyde Foster (who is director of the Shallow Sky section of the Astronomical Society of Southern Africa) discovered the new spot while working with a filter sensitive to wavelengths where there is strong methane absorption in Jupiter's atmosphere. Juno happened to be in the midst of its 27th close flyby of the giant planet, and while the craft would not pass directly over the outbreak, the science team realized it was close enough to view the young feature.
Credit goes to another amateur, Kevin M. Gill, for work on the Juno image using data from the spacecraft's JunoCam. The view is a map projection combining five JunoCam images, taken when the spacecraft was between 45,000 kilometers and 95,000 kilometers from the cloud tops, moving over latitudes between 48 degrees and 67 degrees. For those of you with a yen to manipulate such imagery, the JunoCam raw images can be accessed here.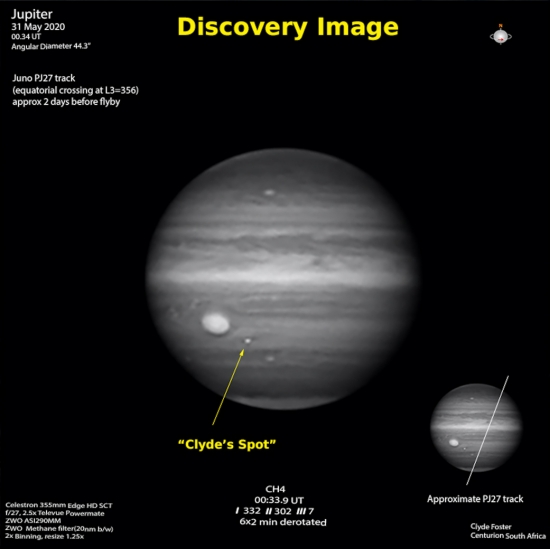 Image: The discovery image, with Juno's north-to-south trajectory superimposed at bottom right. Nice work with Foster's Celestron!