Have a look at Ganymede as seen by the Juno spacecraft on December 26, 2019, the day after Christmas (and a day and time that now seems impossibly distant given all that has been going on closer to home). Jupiter's largest moon is also the largest satellite in the Solar System, bigger even than Titan, and 26% larger than the planet Mercury, though far less massive. Our view comes courtesy of Juno's Jovian Infrared Auroral Mapper (JIRAM) instrument.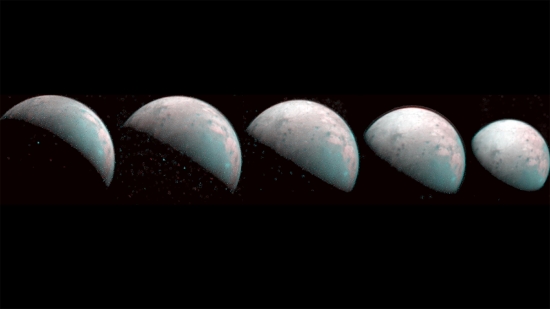 Image: These images were taken by the JIRAM instrument aboard NASA's Juno spacecraft on Dec. 26, 2019, providing the first infrared mapping of Ganymede's northern frontier. Frozen water molecules detected at both poles have no appreciable order to their arrangement and a different infrared signature than ice at the equator. Credit: NASA/JPL-Caltech/SwRI/ASI/INAF/JIRAM.
Three-quarters the size of Mars, Ganymede began turning up in science fiction early in that genre's development, as in Stanley Weinbaum's "Tidal Moon," which ran in the December, 1938 issue of Thrilling Wonder Stories. Begun by Weinbaum and finished by his sister after his death, the tale depicts a surreal, warm Ganymede, a world of large oceans with massive tidal effects causing global flooding. These days we put a lot of emphasis on Jupiter's tidal squeeze as we consider energy sources for maintaining Europa's ocean. Ganymede, too, is thought to contain an internal ocean, with terrain features showing disruption by tidal heating.
Robert Heinlein's 1953 novel Farmer in the Sky involves a terraformed and colonized Ganymede, and my personal favorite is Poul Anderson's The Snows of Ganymede (1954), mostly because it triggers memories of a battered Ace Double, though it's an otherwise negligible fragment of a great writer's work. But I'd better stop there — references to the moon in fiction could go on for some time.
Image: Originally published in Startling Stories in 1955, Poul Anderson's novella appeared as one half of an Ace Double in 1958.
Although the place is less hospitable than depicted in early stories, Ganymede has lost none of its scientific interest. This is the only moon in the Solar System with its own magnetic field, which produces interesting effects at the poles, bombarded as they are by plasma from Jupiter's vast magnetosphere.
Alessandro Mura is a Juno co-investigator at the National Institute for Astrophysics in Rome:
"The JIRAM data show the ice at and surrounding Ganymede's north pole has been modified by the precipitation of plasma. It is a phenomenon that we have been able to learn about for the first time with Juno because we are able to see the north pole in its entirety."
What's happening here is that Ganymede's magnetic field lines draw charged particles along them to the poles, disrupting the crystalline structure of the ice. The phenomenon can be tracked because such 'amorphous ice' shows a different infrared signature than the crystalline ice found at the moon's equator. Although designed for infrared studies below Jupiter's cloud tops, JIRAM has proven effective for studying the Galilean moons whenever JUNO makes a fortuitous pass. The instrument collected 300 infrared images on this flyby, with a closest approach of roughly 100,000 kilometers. The spatial resolution is 23 kilometers per pixel.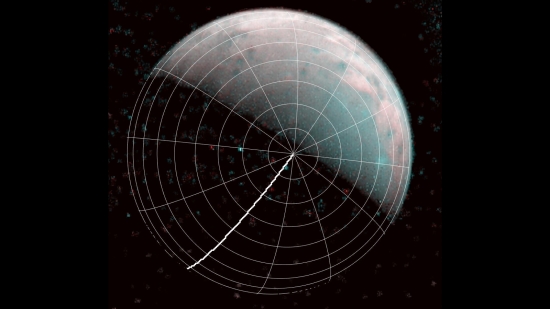 Image: The north pole of Ganymede can be seen in the center of this annotated image taken by the JIRAM infrared imager aboard NASA's Juno spacecraft on Dec. 26, 2019. The thick line is 0-degrees longitude. Credit: NASA/JPL-Caltech/SwRI/ASI/INAF/JIRAM.
Our knowledge of Ganymede is going to skyrocket in 2030, when the European Space Agency's JUpiter ICy moons Explorer mission begins its observations. After flybys of Callisto and Europa, JUICE will enter an elliptical orbit around Ganymede. Launch is scheduled for 2022.