The boundary between planet and star is hard enough to pin down without thinking of some recently discovered brown dwarfs that are cool enough to approach Earth temperatures. Yet worlds/stars like these are among the haul assembled by volunteers working data for Backyard Worlds: Planet 9, a citizen science project whose latest findings include 95 cool brown dwarfs in the Sun's neighborhood, as reported in the Astrophysical Journal.
Despite a determined search, we've yet to find such an object closer than the nearest stars at Alpha Centauri. But 23 light years out — the distance of the closest of these brown dwarfs — is definitely close in galactic terms, and most of the brown dwarfs tracked in the new work are between 30 and 60 light years from Earth. That makes sense, for objects like these are faint enough that identifying them at greater range is all but impossible.
The data used in the brown dwarf collection come from a range of observatories including W. M. Keck, Mont Mégantic, Las Campanas, Kitt Peak and Cerro Tololo. Space-based data from WISE (Wide-field Infrared Survey Explorer) were also valuable, as were follow-up observations from the Spitzer Space Telescope providing photometric confirmation. Low temperature brown dwarfs like these build our catalog while also clarifying gaps in the low-temperature population.
Jackie Faherty (American Museum of Natural History) is a co-author of the paper, whose lead author is Aaron Meisner (NSF NOIRLab). Faherty places the work in context, while giving a nod to the Backyard Worlds participants:
"This paper is evidence that the solar neighborhood is still uncharted territory and citizen scientists are excellent astronomical cartographers. Mapping the coldest brown dwarfs down to the lowest masses gives us key insights into the low-mass star formation process while providing a target list for detailed studies of the atmospheres of Jupiter analogs."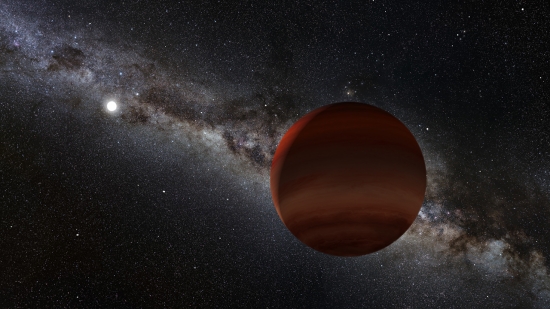 Image: Artist's impression of one of this study's superlative discoveries, the oldest known wide-separation white dwarf plus cold brown dwarf pair. The small white orb represents the white dwarf (the remnant of a long-dead Sun-like star), while the brown/orange foreground object is the newly discovered brown dwarf companion. This faint brown dwarf was previously overlooked until it was spotted by citizen scientists, because it lies right within the plane of the Milky Way. Credit: NOIRLab/NSF/AURA/P. Marenfeld. Acknowledgement: William Pendrill.
We can also thank NOIRlab's Community Science and Data Center (CSDC), which made the large survey sets available through its Astro Data Lab science platform. The web portal makes matching data sets from a variety of observatories available to citizen scientists. Meisner adds:
"The technical burden of downloading billion-object astronomical catalogs is typically insurmountable for individual investigators—including most professional astronomers. Thankfully, the Astro Data Lab's open and accessible web portal allowed Backyard Worlds citizen scientists to easily query massive catalogs for brown dwarf candidates."
The authors make the point that some of the objects in this study will be potential targets for follow-up spectroscopy by the James Webb Space Telescope:
Among our most exciting discoveries are new candidate members of the 10 pc sample, two objects moving faster than 200"/yr, three T type subdwarf candidates, five Y dwarf candidates, and a new T8 plus white dwarf co-moving system. Our Y dwarf candidates begin bridging the gap between the bulk of the Y dwarf population and the coldest known brown dwarf, making them potential targets for JWST spectroscopy. Backyard Worlds is actively pursuing additional ground-based follow-up of the discoveries presented in this study, especially spectroscopy where feasible. While this work's new brown dwarf candidates already demonstrate the power of citizen science for mapping the solar neighborhood, these objects make up only a small fraction of Backyard Worlds moving object discoveries to date. As NEOWISE continues scanning the sky, Backyard Worlds will endeavor to search all of its newly delivered data for yet more cold and close neighbors to the Sun.
Backyard Worlds volunteers have discovered more than 1,500 stars and brown dwarfs near the Sun. The current batch represents some of the coldest brown dwarfs in that collection. More than 100,000 citizen scientists are involved in the project, a network that examines telescope images to identify the movements of nearby dwarfs and planets. Putting human eyes on large data sets is integral to the search for rare objects, an approach astronomers will exploit with data gathered by the Vera C. Rubin Observatory (VRO). Now under construction in the Chilean Andes, the instrument will survey the southern hemisphere sky every three nights over a ten year period.
The paper is Meisner et al., "Spitzer Follow-up of Extremely Cold Brown Dwarfs Discovered by the Backyard Worlds: Planet 9 Citizen Science Project," accepted at the Astrophysical Journal (preprint).