You wouldn't think that a place 100 times drier than the Sahara desert would have a lot to offer, but when that place is the sunlit surface of the Moon, the import of the new discovery from the SOFIA airborne observatory is clear. H2O in Clavius Crater, in concentrations of 100 to 412 parts per million, is said by NASA to be equivalent to a 12-ounce bottle of water trapped in a cubic meter of soil spread across the lunar surface. The results in Nature Astronomy point to interesting possibilities for future missions if the water is accessible.
Exactly what would be involved in extracting such a resource? While we try to figure that out, where the water comes from is an interesting question. Thus Casey Honniball (NASA GSFC), lead author on the SOFIA paper:
"Without a thick atmosphere, water on the sunlit lunar surface should just be lost to space. Yet somehow we're seeing it. Something is generating the water, and something must be trapping it there."
We also have Paul Hayne and team's work using the Lunar Reconnaissance Orbiter to map shadowed regions, the 'cold traps' once thought restricted to deep craters. But micro-traps also seem to be in play, meters across and even less. The Hayne estimate is that cold traps may occupy 40,000 square kilometers, about 0.1 per cent of the moon's surface. Between the two studies, we have reason to be energized about future human operations on the Moon.

Image: These three images of the lunar surface show shadows at all scales, from several kilometers to less than a centimeter. (A) Lunar Reconnaissance Orbiter oblique view over the rim of the Cabeus crater near the Moon's south pole (NASA/GSFC/ASU). (B) Chang'e-3 close-up surface image taken by the Yutu rover some distance from the landing site (CNSA/CLEP). (C) Apollo 14 close-up camera image of undisturbed regolith. Some of these shadows are permanent and could remain cold enough to harbor ice. Credit: NASA.
Oded Aharonson (PSI) is a co-author on the Hayne paper:
"I think the way this changes our perspective of water on the Moon is that until now, our efforts were focused on the largest reservoirs situated within the broadest and deepest craters at high latitudes. But we now understand that we expect a large number of much smaller reservoirs of water. The smaller deposits should be more accessible for at least two reasons: the distance to the nearest one from a hypothetical landing site might be shorter; and the deposit would not be surrounded by imposing tall crater rims, but rather much gentler slopes."
The papers in play here are Honnibal et al., "Molecular Water Detected on the Sunlit Moon by SOFIA," Nature Astronomy 26 October 2020 (abstract); and Hayne et al., "Micro Cold Traps on the Moon," Nature Astronomy 26 October 2020 (abstract).
The more lunar water we can use in future missions, the less we have to take with us. And speaking of taking things with us, let's look again at OSIRIS-REx and the disposition of its sample from asteroid Bennu. In a day of quick follow-ups, I also want to take a look at Jupiter's upper atmosphere and a recent find uncovered in a study of four years of Juno data.
What OSIRIS-REx Does Next
An 'early stow' is what NASA calls the operation that will protect the precious sample of surface material from asteroid Bennu that was collected just recently by the OSIRIS-REx spacecraft. The goal was to collect about 60 grams and the spacecraft managed more than that, enough so that the collector head was found to be overflowing with Bennu's regolith. The problem: Some of the particles, as seen in images from the spacecraft, have been escaping from the collector (properly speaking, the Touch-And-Go Sample Acquisition Mechanism, or TAGSAM).
As you would imagine, TAGSAM is supposed to seal back up once the surface material is inside, with a mylar flap safely containing the material, but it became clear that some rocks had wedged the flap open, which explains the leakage. Given the size of the sample despite minor losses, the stowage was re-scheduled, moving it up from November 2, with the materials to be moved to the OSIRIS-REx Sample Return Capsule (SRC). Multiple days are involved in all this, including new imaging and a careful check of the collector head's placement in the SRC.
The OSIRIS-REx team is working with a light delay of 18.5 minutes each way, all the while trying to monitor the wrist alignment on TAGSAM to manage proper placement of the collector head. Says Dante Lauretta, OSIRIS-REx principal investigator at the University of Arizona, Tucson:
"The abundance of material we collected from Bennu made it possible to expedite our decision to stow. The team is now working around the clock to accelerate the stowage timeline, so that we can protect as much of this material as possible for return to Earth."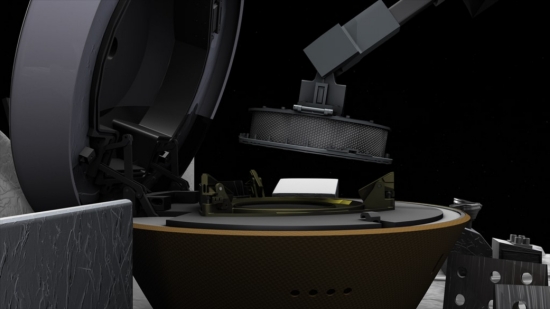 Image; This illustration shows NASA's OSIRIS-REx spacecraft stowing the sample it collected from asteroid Bennu on Oct. 20, 2020. The spacecraft will use its Touch-And-Go Sample Acquisition Mechanism (TAGSAM) arm to place the TAGSAM collector head into the Sample Return Capsule (SRC).
Credits: NASA/University of Arizona, Tucson
'Sprites' in Jupiter's Upper Atmosphere
A lot is going on in 'local' space (meaning in this site's parlance, within the Solar System), and I haven't even mentioned the competing papers on Venusian phosphine today. I can also throw in the Mars 2020 Perseverance rover, which has just reached the halfway point on its journey to Mars, at this writing about 235 million kilometers out, with arrival on February 18, 2021. Now we get word from Juno, NASA's ongoing Jupiter mission, involving the detection of transient events in the huge world's upper atmosphere, which the space agency is referring to as 'sprites.'
We can also call them 'transient luminous events,' or TLE's in the acronym-rich milieu of aerospace, and they come in several forms, including 'elves' (Emission of Light and Very Low Frequency perturbations due to Electromagnetic Pulse Sources) and 'sprite halos.' The data come from Juno's ultraviolet spectrograph instrument (UVS), which detected in 2019 the narrow streak of ultraviolet in question. UVS is primarily used to image Jupiter's northern and southern auroras. Rohini S. Giles (SwRI) is lead author of the paper describing the flashes, which is in process at the Journal of Geophysical Research: Planets:
"UVS was designed to characterize Jupiter's beautiful northern and southern lights. But we discovered UVS images that not only showed Jovian aurora, but also a bright flash of UV light over in the corner where it wasn't supposed to be. The more our team looked into it, the more we realized Juno may have detected a TLE on Jupiter."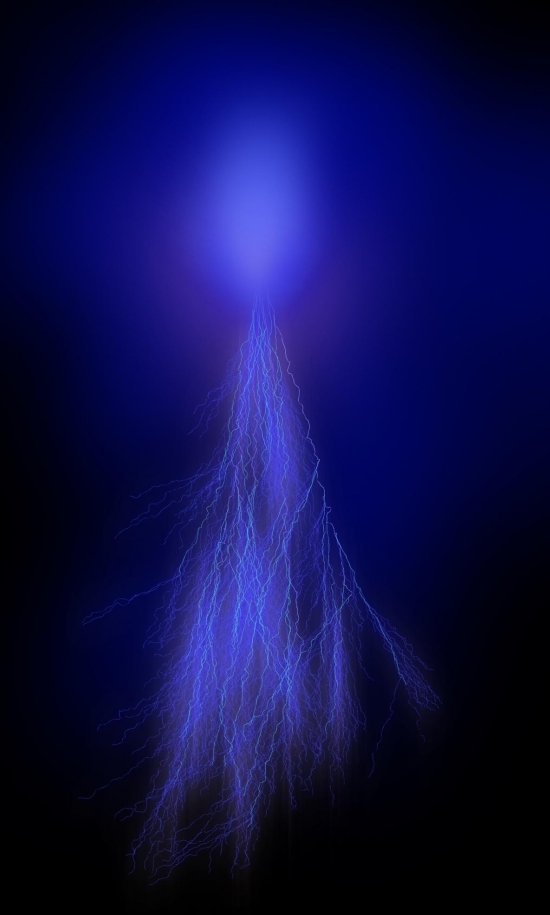 Image: This illustration shows what a sprite could look like in Jupiter's atmosphere. Named after a mischievous, quick-witted character in English folklore, sprites last for only a few milliseconds. They feature a central blob of light with long tendrils of light extending down toward the ground and upward. In Earth's upper atmosphere, their interaction with nitrogen give sprites a reddish hue. At Jupiter, where the predominance of hydrogen in the upper atmosphere would likely give them a blue hue. Credit: NASA/JPL-Caltech/SwRI.
Eleven bright events of this nature have now been found in the Juno data, occurring in a region where lightning from storms is common, but located some 300 kilometers above the water-cloud area where most of Jupiter's lightning forms. The spectra recorded by the UVS is dominated by hydrogen emissions. As the paper notes, the three types of TLE occur on Earth:
…in response to tropospheric lightning strikes. This is supported by visible light imaging, which shows cloud features typical of lightning source regions at the locations of several of the bright flashes. TLEs have previously only been observed on Earth, although theoretical and experimental work has predicted that they should also be present on Jupiter.
With a second source of TLEs off our planet, we'll have a new tool for investigating electrical activity in planetary atmospheres.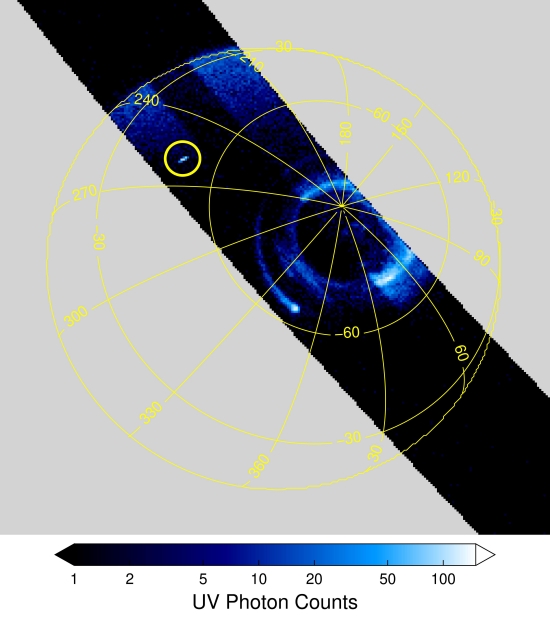 Image: The south pole of Jupiter is seen in this annotated image of data from the ultraviolet spectrograph (UVS) instrument aboard NASA's Juno spacecraft. Bands of bright white and blue near the south pole are Jupiter's southern aurora. But researchers also noticed an unusual bright flash of light well away from the auroral region, highlighted here by the yellow circle at about the 10 o'clock position (between longitudinal lines 270 and 240). Juno scientists believe it could be an indication of a bright, unpredictable, and extremely brief flash of light — known as a transient luminous event — that was triggered by lightning discharges from thunderstorms far below. The data for this UVS image was acquired on April 10, 2020. Credit: NASA/JPL-Caltech/SwRI.
The paper is Giles et al., "Possible Transient Luminous Events observed in Jupiter's upper atmosphere," accepted at the Journal of Geophysical Research: Planets 27 October 2020 (abstract).