Two missions with interstellar implications have occupied us in recent days. The first, Interstellar Probe, has significance in being the first dedicated mission into the local interstellar medium. Here the science return would be immense, as we would have the opportunity to view the heliosphere from the outside. Culturally, Interstellar Probe is the kind of mission that can force resets in how we view exploration, a thought I want to expand on in the next post.
The other mission — multiple mission options, actually — involves interstellar objects like the odd 1I/'Oumuamua and 2I/Borisov, the latter clearly a comet, the former still hard to categorize. In fact, between the two, what I think we can just call Comet Borisov seems almost pedestrian, with a composition so like comets in our own system as to suggest such objects are commonplace among the stars. Whereas to explain 'Oumuamua as a comet, we have to stretch our definitions into bizarre objects of pure hydrogen (a theory that seems to have lost traction) or consider it a shard of a Pluto-like world made of nitrogen ice. We may never know exactly what it was.
The point of Andreas Hein and team was to show not just what might be capable with an all-out effort to catch 'Oumuamua, but more important, to offer mission options for the next interstellar wanderer that makes its way through our system. Thus the implication for future interstellar activities is that we have the opportunity to study materials from another star long before we have the capability of putting human technologies near one. These objects become nearby, fast-moving destinations that form part of the morphology of our interstellar effort.
I use the term 'morphology' deliberately because of its dexterity. In linguistics, the study of a language's morphology takes us deep into its internal structure and the process of word formation. In biology, the word refers to biological form and the arrangement of size, structure and constituent parts. Here I'm using it in a philosophical sense, to argue that we continually shape cultural expectations of exploration that govern what we are willing to attempt, and that doing this is an ongoing process that will decide whether or not we choose to move beyond Sol.
Going interstellar is a decision. It comes with no guarantees of success, but we know beyond doubt that only by learning what is possible and attempting it can we ever succeed.
It seems a good time to revisit an image of 2I/Borisov from the Hubble Space Telescope as we ponder strategies for future missions amidst these reflections. The instrument had been observing the comet since October of 2019, following its discovery by Crimean amateur astronomer Gennady Borisov in August of that year. The Hubble work revealed among other things the surprising fact that the comet turned out to be no more than about 975 meters across. This was unexpected, as David Jewitt (UCLA) explained at the time:
"Hubble gives us the best upper limit of the size of comet Borisov's nucleus, which is the really important part of the comet. Surprisingly, our Hubble images show that its nucleus is more than 15 times smaller than earlier investigations suggested it might be. Our Hubble images show that the radius is smaller than half a kilometer. Knowing the size is potentially useful for beginning to estimate how common such objects may be in the solar system and our galaxy. Borisov is the first known interstellar comet, and we would like to learn how many others there are."
All fodder for crafting mission concepts. The image below was taken in November of 2019. Here we have an interstellar interloper in our own system, framed along with the distant background spiral galaxy 2MASX J10500165-0152029. Notice the smearing of the galaxy image, a result of Hubble tracking the comet, which was at the time of image acquisition about 327 million kilometers from Earth. The blue color is artificial, used to draw out detail in the comet's coma surrounding the nucleus (Credit: NASA, ESA and D. Jewitt (UCLA).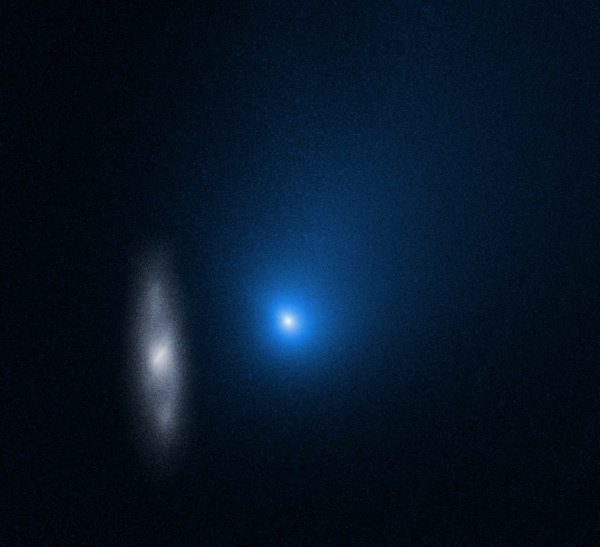 The immensity of the cosmos taunts us with our limitations, but in considering them, we choose directions for our thinking, our aspirations and our science. This image is emblematic. Out of the darkness comes something interstellar that we now believe is just one of many such objects open to investigation, and reachable by near-term technologies. A galaxy lies behind it. How far into our own galaxy can we push as our technologies morph into new capabilities?
Exploration is a decision. How far will we choose to go?