Topping the list of priorities for the Decadal Survey on Astronomy and Astrophysics 2020 (Astro2020), just released by the National Academy of Sciences, Engineering and Medicine, is the search for extraterrestrial life. Entitled Pathways to Discovery in Astronomy and Astrophysics for the 2020s, the report can be downloaded as a free PDF here. At 614 pages, this is not light reading, but it does represent an overview in which to place continuing work on exoplanet discovery and characterization.
In the language of the report:
"Life on Earth may be the result of a common process, or it may require such an unusual set of circumstances that we are the only living beings within our part of the galaxy, or even in the universe. Either answer is profound. The coming decades will set humanity down a path to determine whether we are alone."
A ~6 meter diameter space telescope capable of spotting exoplanets 10 billion times fainter than their host stars, thought to be feasible by the 2040s, leads the observatory priorities. As forwarded to me by Centauri Dreams regular John Walker, the survey recommends an instrument covering infrared, optical and ultraviolet wavelengths with high-contrast imaging and spectroscopy. Its goal: Searching for biosignatures in the habitable zone. Cost is estimated at an optimistic $11 billion.
I say 'optimistic' because of the cost overruns we've seen in past missions, particularly JWST. But perhaps we're learning how to rein in such problems, according to Joel Bregman (University of Michigan), chair of the AAS Committee on Astronomy and Public Policy. Says Bregman:
"The Astro2020 report recommends a 'technology development first' approach in the construction of large missions and projects, both in space and on the ground. This will have a profound effect in the timely development of projects and should help avoid budgets getting out of control."
Time will tell. It should be noted that a number of powerful telescopes, both ground- and space-based, have been built following the recommendations of earlier decadal surveys, of which this is the seventh.
Suborbital Building Blocks
We're a long way from the envisioned instrument in terms of both technology and time, but the building blocks are emerging and the characterization of habitable planets is ongoing. What a difference between a flagship level space telescope like the one described by Astro2020 and the small, suborbital instrument slated for launch from the White Sands Missile Range in New Mexico on Nov. 8. SISTINE (Suborbital Imaging Spectrograph for Transition region Irradiance from Nearby Exoplanet host stars) is the second of a series of missions homing in on how the light of a star affects biosignatures on its planets.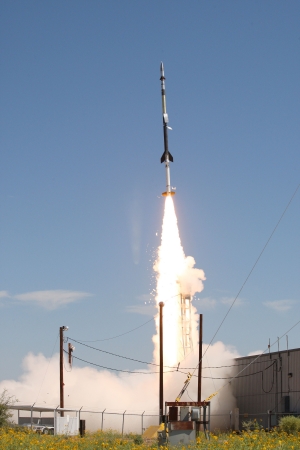 False positives will likely bedevil biosignature searches as our technology improves. Principal investigator Kevin France (University of Colorado Boulder) points particularly to ultraviolet levels and their role in breaking down carbon dioxide, which frees oxygen atoms to form molecular oxygen, made of two oxygen atoms, or ozone, made of three. These oxygen levels can easily be mistaken for possible biosignatures. Says France: "If we think we understand a planet's atmosphere but don't understand the star it orbits, we're probably going to get things wrong."
Image: A sounding rocket launches from the White Sands Missile Range, New Mexico. Credit: NASA/White Sands Missile Range.
It's a good point considering that early targets for atmospheric biosignatures will be M-dwarf stars. Now consider the early Earth, laden with perhaps 200 times more carbon dioxide than today, its atmosphere likewise augmented with methane and sulfur from volcanic activity in the era not long after its formation. It took molecular oxygen a billion and a half years to emerge as nothing more than a waste product produced during photosynthesis, eventually leading to the Great Oxygenation Event.
Oxygen becomes a biomarker on Earth, but it's an entirely different question around other stars. M-dwarf stars like Proxima Centauri generate extreme levels of ultraviolet light, making France's point that simple photochemistry can produce oxygen in the absence of living organisms. Bearing in mind that M-dwarfs make up as many as 80 percent of the stars in the galaxy, we may find ourselves with a number of putative biosignatures that turn out to be a reflection of these abiotic reactions. Aboard the spacecraft is a telescope and a spectrograph that will home in on ultraviolet light from 100 to 160 nanometers, which includes the range known to produce false positive biomarkers. The UV output in this range varies with the mass of the star; thus the need to sample widely.
SISTINE-2's target is Procyon A. The craft will have a brief window of about five minutes from its estimated altitude of 280 kilometers to observe the star, with the instrument returning by parachute for recovery.
An F-class star larger and hotter than the Sun, Procyon A has no known planets, but what is at stake here is accurate determination of its ultraviolet spectrum. A reference spectrum for F-stars growing out of these observations of Procyon A and incorporating existing data on other F-class stars at X-ray, extreme ultraviolet and visible light is the goal. France says the next SISTINE target will be Alpha Centauri A and B.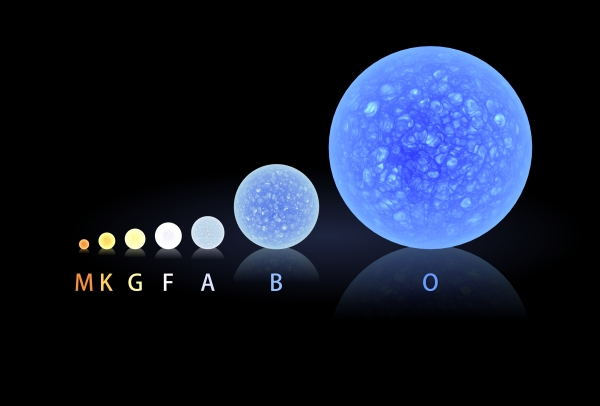 Image: A size comparison of main sequence Morgan–Keenan classifications. Main sequence stars are those that fuse hydrogen into helium in their cores. The Morgan–Keenan system shown here classifies stars based on their spectral characteristics. Our Sun is a G-type star. SISTINE-2's target is Procyon A, an F-type star. Credit: NASA GSFC.
Launch is to be aboard a Black Brant IX sounding rocket. And although it sounds like a small mission, SISTINE-2 will be working at wavelengths the Hubble Space Telescope cannot observe. Likewise, the James Webb Space Telescope will work at visible to mid-infrared wavelengths, making the SISTINE observations useful for frequencies that Webb cannot see. The mission also experiments with new optical coatings and what NASA describes as 'novel UV detector plates' for better reflection of extreme UV.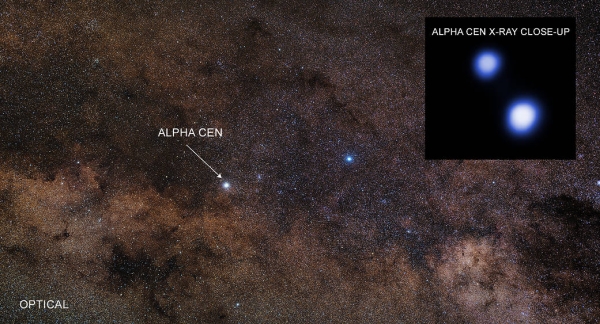 Image: SISTINE's third mission, to be launched in 2022, will target Alpha Centauri A and B. Here we see the system in optical (main) and X-ray (inset) light. Only the two largest stars, Alpha Cen A and B, are visible. These two stars will be the targets of SISTINE's third flight. Credit: Zdenek Bardon/NASA/CXC/Univ. of Colorado/T. Ayres et al.