Early exoplanet detections always startled my friends outside the astronomical community. Anxious for a planet something like the Earth, they found themselves looking at a 'hot Jupiter' like 51 Pegasi b, which at the time seemed like little more than a weird curiosity. A Jupiter-like planet hugging a star? More hot Jupiters followed, which led to the need to explain how exoplanet detection worked with radial velocity methods, and why big planets close to their star should turn up early in the hunt.
Earlier, there were the pulsar planets, as found by Aleksander Wolszczan and Dale Frail around the pulsar PSR B1 257+12 in the constellation Virgo. These were interestingly small, but obviously accumulating a sleet of radiation from their primary. Detected a year later, PSR B1620-26 b was found to orbit a white dwarf/pulsar binary system. But these odd detections some 30 years ago actually made the case for the age of exoplanet discovery that was about to open, a truly golden era of deep space research.
Aleksander Wolszczan himself put it best: "If you can find planets around a neutron star, planets have to be basically everywhere. The planet production process has to be very robust."
Indeed. With NASA announcing another 65 exoplanets added to its Exoplanet Archive, we now take the tally of confirmed planets up past 5000, their presence firmed up by multiple detection methods or by analytical techniques. These days, of course, the quickly growing catalog is made up of all kinds of worlds, from those gas giants near their stars to the super-Earths that seem to be rocky worlds larger than our Earth, and the intriguing 'mini-Neptunes, which seem to slot into a category of their own. And let's not forget those interesting planets on circumbinary orbits in multiple star systems.
Wolszczan is quoted in a NASA news release as saying that life is an all but certain find – "most likely of some primitive kind" – for future instrumentation like ESA's ARIEL mission (launching in 2029), the James Webb Space Telescope, or the Nancy Grace Roman Space Telescope, which will launch at the end of the decade. These instruments should be able to take us into exoplanet atmospheres, where we can start taking apart their composition in search of biosignatures. This, in turn, will open up whole new areas of ambiguity, and I predict a great deal of controversy over early results.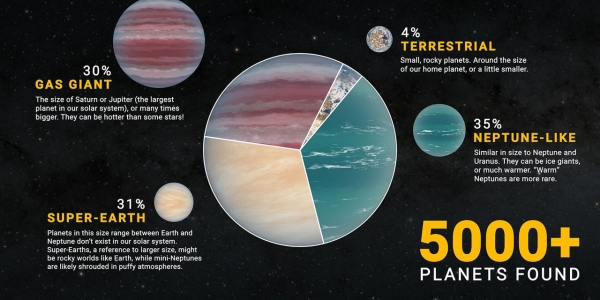 Image: The more than 5,000 exoplanets confirmed in our galaxy so far include a variety of types – some that are similar to planets in our Solar System, others vastly different. Among these are a mysterious variety known as "super-Earths" because they are larger than our world and possibly rocky. Credit: NASA/JPL-Caltech.
But what about life beyond the primitive? I noticed a short essay by Seth Shostak recently published by the SETI Institute which delves into why we humans seem fixated on finding not just exo-biology but exo-intelligence. Shostak digs into the act of exploration itself as a justification for this quest, pointing out that experiments to find life around other stars are not science experiments as much as searches. After all, there is no way to demonstrate that life does not exist, so the idea of a profoundly biologically-infused universe is not something that any astronomer can falsify.
So is exploration, rather than science, a justification for SETI? Surely the answer is yes. Exploration usually mixes with commercial activity – Shostak's example is the voyages of James Cook, who served the British admiralty by looking for trade routes and mapping hitherto uncharted areas of the southern ocean. Was there a new continent to be found somewhere in this immensity, a Terra Australis, as some cartographers had been placing on maps to balance between the land-heavy northern hemisphere and the south? The idea was ancient but still had life in Cook's time.
In our parlous modern world, we make much of the downside of enterprises once considered heroic, noting their depredations in the name of commerce and empire. But we shouldn't overlook the scope of their accomplishment. Says Shostak:
Exploration has always been important, and its practical spin-offs are often the least of it. None of the objectives set by the English Admiralty for Cook's voyages was met. And yes, the exploration of the Pacific often left behind death, disease and disruption. But two-and-a-half centuries later, Cook's reconnaissance still has the power to stir our imagination. We thrill to the possibility of learning something marvelous, something that no previous generation knew.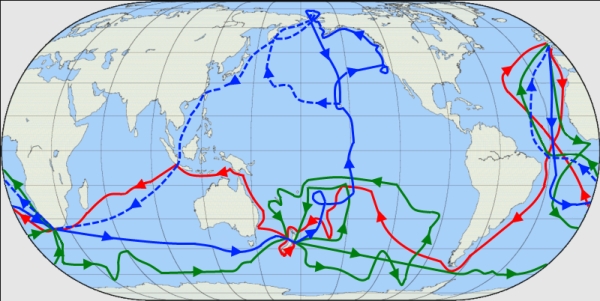 Image: The routes of Captain James Cook's voyages. The first voyage is shown in red, second voyage in green, and third voyage in blue. The route of Cook's crew following his death is shown as a dashed blue line. Credit: Wikimedia Commons / Jon Platek. CC BY-SA 3.0.
Shostak's mention of Cook reminds me of the Conference on Interstellar Migration, held way back in 1983 at Los Alamos, where anthropologist Ben Finney and astrophysicist Eric Jones, who had organized the interdisciplinary meeting, discussed humans as what they called "The Exploring Animal." Like Konrad Lorenz, Finney and Jones saw the exploratory urge as an outcome of evolution that inevitably pushed people into new places out of innate curiosity. The classic example, discussed by the duo in a separate paper, was the peopling of the Pacific in waves of settlement, as these intrepid sailors set off, navigating by the stars, the wind, the ocean swells, and the flight of birds.
The outstanding achievement of the Stone Age? Finney and Jones thought so. In my 2004 book Centauri Dreams, I reflected on how often the exploratory imperative came up as I talked with interstellar-minded writers, physicists and engineers:
The maddening thing about the future is that while we can extrapolate based on present trends, we cannot imagine the changes that will make our every prediction obsolete. It is no surprise to me that in addition to their precision and, yes, caution, there is a sense of palpable excitement among many of the scientists and engineers with whom I talked. Their curiosity, their sense of quest, is the ultimate driver for interstellar flight. A voyage of a thousand years seems unthinkable, but it is also within the span of human history. A fifty-year mission is within the lifetime of a scientist. Somewhere between these poles our first interstellar probe will fly, probably not in our lifetimes, perhaps not in this century. But if there was a time before history when the Marquesas seemed as remote a target as Alpha Centauri does today, we have the example of a people who found a way to get there.
I've argued before that exploration is not an urge that can be tamped down, nor is it one that needs to be exercised by a large percentage of the population to shape outcomes that can be profound. To return to the Cook era, most people involved in the voyages that took Europeans to the Pacific islands, Australia and New Zealand in those days were exceptions, the few who left what they knew behind (some, of course, were forced to go due to the legal apparatus of the time). The point is: It doesn't take mass human colonization to be the driver for our eventual spread off-planet. It does take inspired and determined individuals, and history yields up no shortage of these.
The 1983 conference in Los Alamos is captured in the book Interstellar Migration and the Human Experience, edited by Ben R. Finney and Eric M. Jones (Berkeley: University of California Press, 1985), an essential title in our field.