If we're going to get to the stars, the path along the way has to go through an effort like Breakthrough Starshot. This is not to say that Breakthrough will achieve an interstellar mission, though its aspirational goal of reaching a nearby star like Proxima Centauri with a flight time of 20 years is one that takes the breath away. But aspirations are just that, and the point is, we need them no matter how far-fetched they seem to drive our ambition, sharpen our perspective and widen our analysis. Whether we achieve them in their initial formulation cannot be known until we try.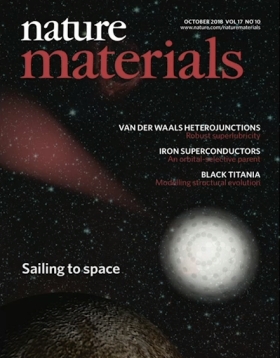 So let's talk for a minute about what Starshot is and isn't. It is not an attempt to use existing technologies to begin building a starship today. Yes, metal is being bent, but in laboratory experiments and simulated environments. No, rather than a construction project, Starshot is about clarifying where we are now, and projecting where we can expect to be within a reasonable time frame. In its early stages, it is about identifying the science issues that would enable us to use laser beaming to light up a sail and push it toward another star with prospects of a solid data return. Starshot's Harry Atwater (Caltech) told the Interstellar Research Group in Montreal that it is about development and definition. Develop the physics, define and grow the design concepts, and nurture a scientific community. These are the necessary and current preliminaries.
Image: The cover image of a Starshot paper illustrating Harry Atwater's "Materials Challenges for the Starshot Lightsail," Nature Materials 17 (2018), 861-867.
We're talking about what could be a decades-long effort here, one that has already achieved a singular advance in interstellar studies. I don't have the current count on how many papers have been spawned by this effort, but we can contrast the ongoing work of Starshot's technical teams with where interstellar studies was just 25 years ago, when few scientific conferences dealt with interstellar ideas and exoplanets were still a field in their infancy. In terms of bringing focus to the issue, Starshot is sui generis.
It is also an organic effort. Starshot will assess its development as it goes, and the more feasible its answers, the more it will grow. I think that learning more about sail possibilities will spawn renewed effort in other areas, and I see the recent growth of fusion rocketry concepts as a demonstration that our field is attaining critical mass not only in the research labs and academy but in commercial space ventures as well.
So let's add to Atwater's statement that Starshot is also a cultural phenomenon. Although its technical meetings are anything but media fodder, their quiet work keeps the idea of an interstellar crossing in the public mind as a kind of background musical riff. Yes, we're thinking about this. We've got ideas and lab experiments that point to new directions. We're learning things about lightsails and beaming we didn't know before. And yes, it's a big universe, with approximately one planet per star on average, and we've got one outstanding example of a habitable zone planet right next door.
So might Starshot's proponents say to themselves, although I have no idea how many of those participating in the effort back out sometimes to see that broader picture (I suspect quite a few, based on those I know, but I can't speak for everyone). But because Starshot has not sought the kind of publicity that our media-crazed age demands, I want to send you to Atwater's video presentation at Montreal to get caught up on where things stand. I doubt we're ever going to fly the mission Starshot originally conceived because of cost and sheer scale, but I'm only an outsider looking in. I do think that when the first interstellar mission flies, it will draw heavily on Starshot's work. And this will be true no matter what final choices emerge as to propulsion.
This is a highly technical talk compressed into an all too short 40 minutes, but let's just go deep on one aspect of it, the discussion of the lightsail that would be accelerated to 20 percent of lightspeed for the interstellar crossing. Atwater's charts are worth seeing, especially the background on what the sail team's meetings have produced in terms of their work on sail materials and, especially, sail shape and stability. The sail is a structure approximately 4 meters in diameter, with a communications aperture 1 meter in size, as seen in the center of the image (2 on the figure). Surrounding it on the circular surface are image sensors (6) and thin-film radioisotope power cells (5).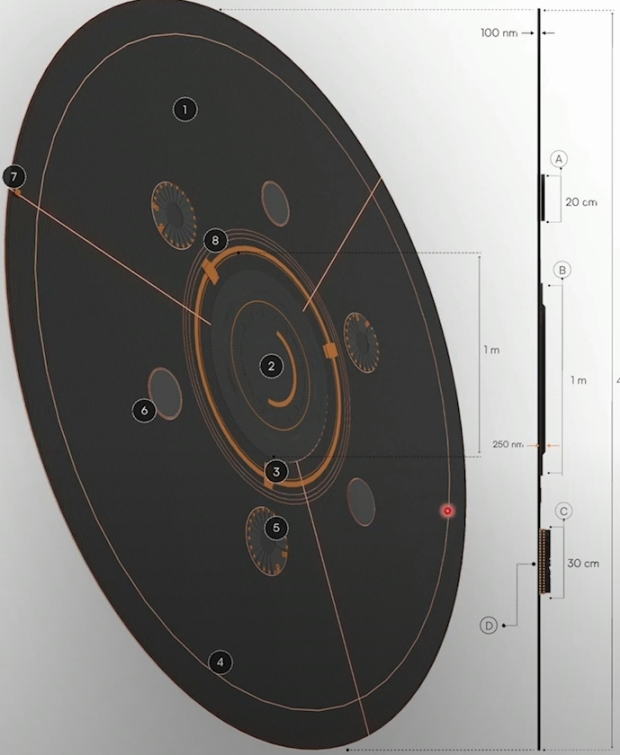 Maneuvering LEDs (4) provide attitude control, and thin-film magnetometers (7) are in the central disk, with power and data buses (8) also illustrated. A key component: A laser reflector layer positioned between the instruments that are located on the lightsail and the lightsail itself, which is formed as a silicon nitride metagrating. As Atwater covers early in his presentation, the metagrating is crucial for attitude control and beam-riding, keeping the sail from slipping off the beam even though it is flat. The layering is crucial in protecting the sailcraft instrumentation during the acceleration stage, when it is fully illuminated by the laser from the ground.
How to design lensless transmitters and imaging apertures? Atwater said that lensless color camera and steerable phased array communication apertures are being prototyped in the laboratory now using phased arrays with electrooptic materials. Working one-dimensional devices have emerged in this early work for beam steering and electronic focusing of beams. The laser reflector layer offers the requisite high reflectivity at the laser wavelength being considered, using a hybrid design with silicon nitride and molybdenum disulfide to minimize absorption that would heat the sail.
I won't walk us through all of the Starshot design concepts at this kind of detail, but rather send you to Atwater's presentation, which shows the beam-riding lightsail structure and its current laboratory iterations. The discussion of power sources is particularly interesting given the thin-film lightweight structures involved, and as shown in the image below, it involves radioisotope thermoelectric generators actually integrated into the sail surface. Thin film batteries and fuel cells were considered by Breakthrough's power working group but rejected in favor of this RTG design.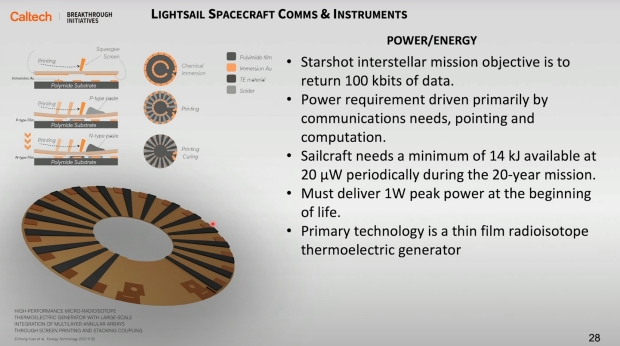 So much is going on here in terms of the selection of sail materials and the analysis of its shape, but I'll also send you to Atwater's presentation with a recommendation to linger over his discussion of the photon engine, that vast installation needed to produce the beam that would make the interstellar mission happen. The concept in its entirety is breathtaking. The photon engine is currently envisioned as an array of 1,767,146 panels consisting of 706,858,400 individual tiles (Atwater dryly described this as "a large number of tiles"), producing the 200 gW output and covering 3 kilometers on the ground. The communications problem for data return is managed by scalable large-area ground receiver arrays, another area where Breakthrough is examining cost trends that within the decades contemplated for the project will drive component expenses sharply down. The project depends upon these economic outcomes.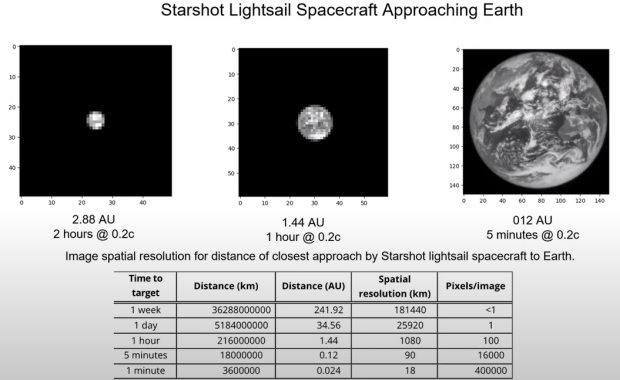 Image: What we would see if we had a Starshot-class sailcraft approaching the Earth, from the image at two hours away to within five minutes of its approach. Credit for this and the two earlier images: Harry Atwater/Breakthrough Starshot.
Using a laser-beamed sail technology to reach the nearest stars may be the fastest way to get images like those above. The prospect of studying a planet like Proxima b at this level of detail is enticing, but how far can we count on economic projections to bring costs down to the even remotely foreseeable range? We also have to factor in the possibility of getting still better images from a mission to the solar gravitational lens (much closer) of the kind currently being developed at the Jet Propulsion Laboratory.
Economic feasibility is inescapably part of the Starshot project, and is clearly one of the fundamental issues it was designed to address. I return to my initial point. Identifying the principles involved and defining the best concepts to drive design both now and in the future is the work of a growing scientific community, which the Starshot effort continues to energize. That in itself is no small achievement.
It is, in fact, a key building block in the scientific edifice that will define the best options for achieving the interstellar dream. And while this is not the place to go into the complexities of scientific funding, suffice it to say that putting out the cash to enable these continuing studies is a catalytic gift to a field that has always struggled for traction both financial and philosophical. The Starshot initiative has a foundational role in defining the best technologies for interstellar flight that will lead one day to its realization.