What on Earth (or off it) is an Optical Delay Line (ODL)? It turns out to be, according to the European Space Agency, "…a sophisticated opto-mechanical device that can introduce well-defined variations, or delays, in the optical path of a light beam…" And it's a key player in the technique known as nulling interferometry, which ESA's Darwin mission will use to dampen the glare of distant stars while exposing the light of their planets. Darwin will be a multi-satellite mission using multiple orbiting telescopes working together to produce a much larger effective aperture than any one of them can muster.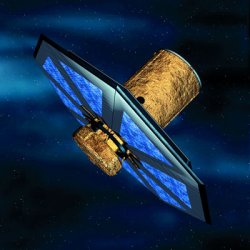 As to that ODL, the optical delay it introduces has to be able to adjust the path of a beam of light with an accuracy measured in just a few nanometers (billionths of a meter). To achieve this, the agency is testing a design using magnetic levitation to control its mirror, a contactless and frictionless method ESA likens to the touch of a feather (a video clip is available). What's more, the device has been tested at -233 Celsius, a cryogenic temperature demanded by the need to reduce interference from the satellites' own thermal radiation. This is crucial because Darwin will operate at infrared wavelengths.
Image: One of Darwin's telescopes, due to be part of a flotilla of four or five free-flying spacecraft. Credit: ESA 2002
Why infrared? Because the difference in brightness between star and planet is minimized at mid-infrared wavelengths. Assuming the ODL design (or its successor) functions as planned, Darwin will recombine the light from its separate telescopes aboard a hub spacecraft, and we may eventually be examining exoplanets and their atmospheres for signs of oxygen, carbon dioxide and other potential life-markers.
The target: Some 1000 of the closest stars and the small, rocky planets assumed to circle at least some of them. Orbiting from the L2 point 1.5 million kilometers from Earth, Darwin's spectrometers could give us some of the most exciting data ever received in the exoplanet hunt, though just when it will launch is still a matter for conjecture.