Remember Arthur C. Clarke's "The Wind from the Sun"? The short story, telling of a race from the Earth to the Moon via solar sail, appeared in 1964, portraying the vessel Diana and its 50 million square foot sail, all linked to its command capsule by a hundred miles of cable. In those days, the sail idea was newly minted and more or less the domain of science fiction buffs, who had first encountered it in Carl Wiley's "Clipper Ships of Space," a non-fiction article written under a nom de plume for Astounding Science Fiction in 1951. The 1960s would see tales like Poul Anderson's "Sunjammer" and Cordwainer Smith's haunting "The Lady Who Sailed the Soul."
Addendum: When I say the idea was 'newly minted' (above), I'm referring to the engineering ideas that could go into an actual mission. The idea of solar sailing itself goes back much further — see my Centauri Dreams book for the whole backstory.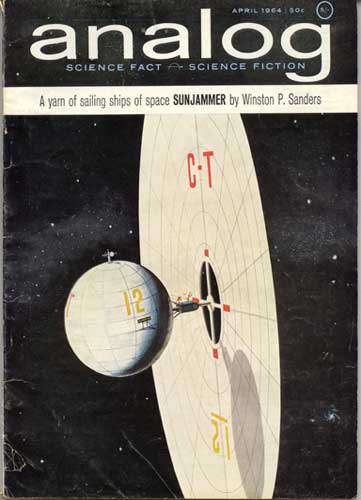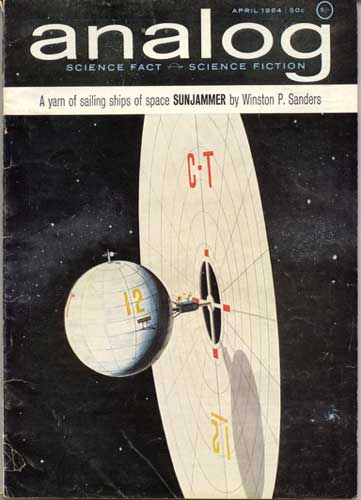 Wiley's sail concept was startlingly ambitious for its time, an 80-kilometer design that preceded the first scientific paper on solar sails by seven years. But science fiction would go on to bring even larger sails to spectacular imaginative life. Thus Clarke:
All the canvas of all the tea clippers that had once raced like clouds across the China seas, sewn into one gigantic sheet, could not match the single sail that Diana had spread beneath the Sun. Yet it was little more substantial than a soap bubble; that two square miles of aluminized plastic was only a few millionths of an inch thick."
Image: Poul Anderson, writing as Winston P. Sanders, published "Sunjammer" in Analog's April, 1964 issue.
Cordwainer Smith (Paul Linebarger) wrote of the "tissue-metal wings with which the bodies of people finally fluttered out among the stars." That story, from the April, 1960 issue of Galaxy, described 'the age of sailors':
The thousands of photo-reconnaissance and measuring missiles had begun to come back with their harvest from the stars. Planet after planet swam into the ken of mankind. The new worlds became known as the interstellar search missiles brought back photographs, samples of atmosphere, measurements of gravity, cloud coverage, chemical make-up and the like. Of the very numerous missiles which returned from their two? or three-hundred-year voyages, three brought back reports of New Earth, an earth so much like Terra itself that it could be settled.

The first sailors had gone out almost a hundred years before. They had started with small sails not over two thousand miles square. Gradually the size of the sails increased…
Entering the Age of Sail
We're a long way from the era of giant sails of the sort that these writers, and soon scientists like Robert Forward, would depict in their work. But reading through a recent article on solar sails in Nature brought these memories back because solar sails and their beamed-propulsion cousins, so-called 'lightsails,' have been at the forefront of interstellar research ever since those days. Today's IKAROS and NanoSail-D experiments, soon to be joined, we hope, by LightSail-1, are the beginning. However long it has taken — and there was serious consideration about a NASA sail to Halley's Comet well over thirty years ago — we're at least getting sails into space.
Japan's IKAROS sail has just seen its mission extended until March of 2012. The first sail to make it into interplanetary space, IKAROS was a payload that would have reached Venus for its flyby with or without sail power, but that's not the point. The idea was to shake out new technologies, and IKAROS did demonstrate acceleration from solar photons on its way to Venus, as well as giving controllers the chance to put its attitude control system to the test. The key result was to bulk up our data about sail technology so that engineers can build better ones in the future.
And while NanoSail-D continues its flight, an attractive catch for space-minded photographers when conditions are right, its low-Earth orbit will soon cause atmospheric drag to bring it down, a fiery re-entry that will tell us about using such technologies to de-orbit decommissioned satellites. While IKAROS is a 200 square-meter sail, NanoSail-D is much smaller, but principal investigator Dean Alhorn is now designing FeatherSail, an attempt to go beyond low-Earth orbit with a sail that will measure 870 square meters. And as we've discussed in these pages before, JAXA aims to build a much larger sail for a Jupiter mission launched at the end of the decade.
A Toast to Old Ideas
Sometimes I like to look through abandoned mission concepts, out of curiosity and the frisson that comes from watching new and speculative ideas encounter the combative world of engineering and politics. I've already mentioned the NASA sail studies for Halley's Comet, which were led by one of today's leading sail proponents, Louis Friedman. Then there was the TAU (Thousand Astronomical Unit) mission, designed to push deep into the Kuiper Belt as a platform for astrophysics and astronomy. First conceived around nuclear-electric propulsion systems, TAU was also examined in terms of solar sailing, using a close solar pass to achieve the needed acceleration. No final choices were made for this mission that never flew.
The Nature article referenced above notes one other abandoned sail concept, a solar sail satellite situated over the Moon's south pole for use as a communications relay to a lunar base. The Constellation program, designed around future missions to the Moon, was considering such a sail before the program was canceled in February of 2010.
But stay optimistic, because with IKAROS and NanoSail-D already in space, we're only getting started. "There's a niche for solar sails and it's there for the taking," JPL's John West says in the article, and the advantages of leaving the propellant behind should soon become apparent as we unfurl still more sails in space. Sometimes abandoned missions are harbingers of the more realistic attempts that succeed.