An abrupt change: I'm holding today's post (about halfway done, on a stellar flyby that may have produced Sedna and other such objects long in our system's past) to turn to New Horizons' latest imagery, which is provocative indeed. We'll cover the Sedna story tomorrow.
What we have from New Horizons is the work of the spacecraft's Long Range Reconnaissance Imager (LORRI) in a series of images that show Pluto and its largest moon Charon as they more than double in size between May 29 and June 19. There's plenty here to marvel at, but what stands out for me is the mysterious dark region that NASA's latest release refers to as 'a kind of anti-polar cap' on Charon. Have a look: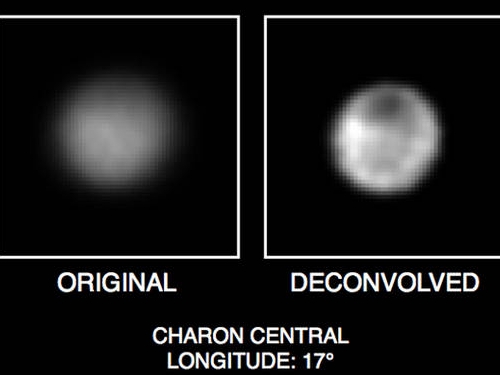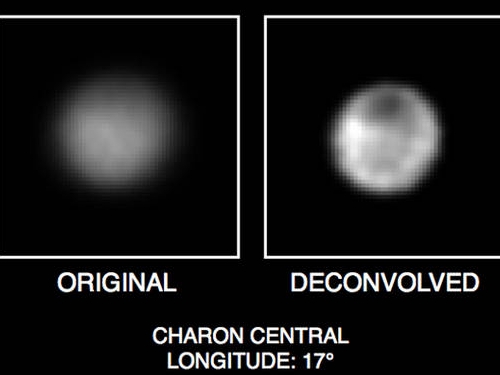 Image: These recent images show the discovery of significant surface details on Pluto's largest moon, Charon. They were taken by the New Horizons Long Range Reconnaissance Imager (LORRI) on June 18, 2015. The image on the left is the original image, displayed at four times the native LORRI image size. After applying a technique that sharpens an image called deconvolution, details become visible on Charon, including a distinct dark pole. Deconvolution can occasionally introduce "false" details, so the finest details in these pictures will need to be confirmed by images taken from closer range in the next few weeks. Credit: NASA/Johns Hopkins University Applied Physics Laboratory/Southwest Research Institute.
No wonder principal investigator Alan Stern is beside himself:
"This system is just amazing. The science team is just ecstatic with what we see on Pluto's close approach hemisphere: Every terrain type we see on the planet—including both the brightest and darkest surface areas — is represented there, it's a wonderland! And about Charon—wow—I don't think anyone expected Charon to reveal a mystery like dark terrains at its pole. Who ordered that?"
Moreover, we have these images of Pluto itself, with the encouraging news that the hemisphere over which New Horizons will make its closest approach is also the one with the greatest variety of terrain types we've yet seen on the dwarf planet. Here's the Pluto imagery: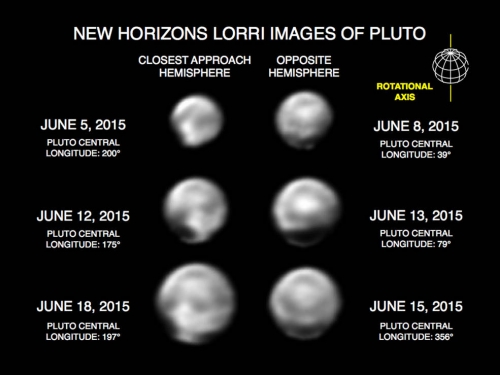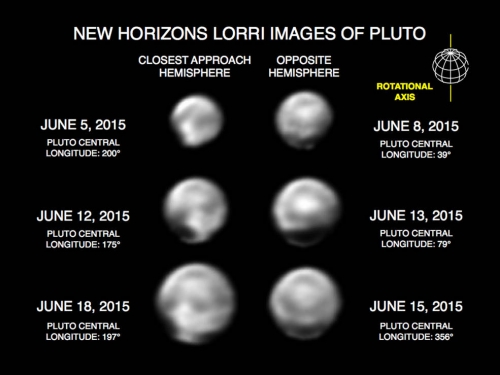 Image: These images, taken by New Horizons' Long Range Reconnaissance Imager (LORRI), show numerous large-scale features on Pluto's surface. When various large, dark and bright regions appear near limbs, they give Pluto a distinct, but false, non-spherical appearance. Pluto is known to be almost perfectly spherical from previous data. These images are displayed at four times the native LORRI image size, and have been processed using a method called deconvolution, which sharpens the original images to enhance features on Pluto. Credit: NASA/Johns Hopkins University Applied Physics Laboratory/Southwest Research Institute.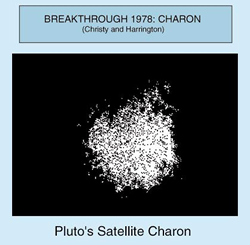 At left is Pluto/Charon as viewed in 1978 when USNO astronomer James Christy noticed the 'bump' that seemed to emerge from Pluto. This was how Charon was discovered, through imagery that, like Pluto itself in 1930, was studied on photographic plates taken in Flagstaff, AZ. Weighing only twelve percent as much as Pluto, Charon may be as much as half ice, while Pluto seems to be about 70 percent rock by mass. As this JHU//APL news release notes, an astronaut standing on Pluto's surface would see Charon always in the same part of the sky, but it would appear seven times larger than the Earth's moon, spanning 3.5 degrees. Now we have imagery like that above to bring both Pluto and Charon into ever tighter focus. Will we find ice volcanoes on Charon, and perhaps a trace of atmosphere?