We're beginning to probe the atmospheres of planets other than gas giants, a step forward that the next generation of space- and ground-based instruments will only accelerate. This morning we have word that the habitable zone 'super-Earth' eight times as massive as Earth orbiting the star K2-18 has been found to have water vapor in its atmosphere, making it the only exoplanet known to have water as well as temperatures that could sustain that water as a liquid on the surface. This is also our first atmospheric detection of any kind for a planet orbiting in the habitable zone of its star.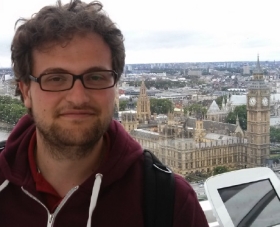 Angelos Tsiaras (University College London Centre for Space Exochemistry Data) is lead author on this work, which appears today in Nature Astronomy:
"Finding water in a potentially habitable world other than Earth is incredibly exciting. K2-18b is not 'Earth 2.0' as it is significantly heavier and has a different atmospheric composition. However, it brings us closer to answering the fundamental question: Is the Earth unique?"
Image: UCL's Angelos Tsiaras. Credit: University College London.
If Dr. Tsiaras' name seems familiar, it's because you're recalling his work on the super-Earth 55 Cancri e, reported in these pages back in 2016 [see Light, Dry Atmosphere of a 'Super-Earth']. Tsiaras and team used a methodology they developed to detect significant amounts of hydrogen and helium in this world, working with transmission spectroscopy data from the Hubble telescope. Now, collaborating with UCL colleagues, Tsiaras again uses Hubble, to analyze starlight filtering through the atmosphere of K2-18b as it crosses the face of the star as seen from Earth.
The molecular signature of water vapor is clear, as is the evidence for both hydrogen and helium, while such molecules as nitrogen and methane, if present, are undetectable at these levels. It will be fascinating to see whether we can move on from these observations to estimate the planet's cloud cover and percentage of atmospheric water. The star is a cool red dwarf 110 light years away in the constellation Leo. And it presages the kind of work that the study of such nearby stars will generate, as co-author Ingo Waldmann (UCL) notes:
"With so many new super-Earths expected to be found over the next couple of decades, it is likely that this is the first discovery of many potentially habitable planets. This is not only because super-Earths like K2-18b are the most common planets in our Galaxy, but also because red dwarfs — stars smaller than our Sun — are the most common stars."
Thus we move on to the next generation, which includes the James Webb Space Telescope as well as the interesting ARIEL (Atmospheric Remote-sensing Infrared Exoplanet Large-survey), slated for a 2028 launch by the European Space Agency. ARIEL's charter will be to observe at least 1,000 known transiting exoplanets, going to work on their atmospheric composition, chemistry and thermal properties. K2-18b will obviously be one of its targets as we dig further into conditions on its surface. Meanwhile, we can expect TESS (the Transiting Exoplanet Survey Satellite) to detect hundreds more super-Earths as it continues its mission. No shortage of targets!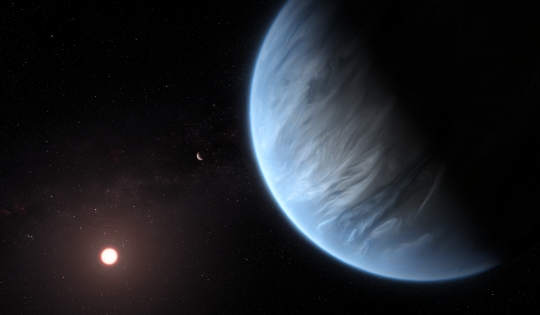 Image: Exoplanet K2-18b. This artist's impression shows the planet K2-18b, its host star and an accompanying planet in this system. K2-18b is now the only super-Earth exoplanet known to host both water and temperatures that could support life. UCL researchers used archive data from 2016 and 2017 captured by the NASA/ESA Hubble Space Telescope and developed open-source algorithms to analyse the starlight filtered through K2-18b's atmosphere. The results revealed the molecular signature of water vapour, also indicating the presence of hydrogen and helium in the planet's atmosphere. Credit: ESA/Hubble, M. Kornmesser.
K2-18b was detected in 2015 through light curve analysis made possible by Kepler in its reconfigured K2 phase, its mass later constrained by radial velocity data from HARPS, leaving researchers to believe it is either a large, rocky planet or a water planet with an ice crust. The latter work, led by Ryan Cloutier (University of Toronto), also discovered a second, non-transiting super-Earth in the system, moving on an orbit interior to K2-18b.
The paper is Tsiaras et al., "Water Vapour in the Atmosphere of the Habitable-Zone Eight Earth-Mass Planet K2-18 b," Nature Astronomy 11 September 2019 (abstract). Also see Benneke et al, "Water vapor on the habitable-zone exoplanet K2-18b," submitted to Astronomical Journal (preprint). Björn Benneke (Université de Montréal) is a co-author on the Tsiaras paper. [My mistake, looking at the wrong abstract].
The Cloutier paper referenced above is "Characterization of the K2-18 multi-planetary system with HARPS: A habitable zone super-Earth and discovery of a second, warm super-Earth on a non-coplanar orbit," Astronomy & Astrophysics Vol. 608, A35 (5 December 2017). Abstract.