What would it take to energize the public about interstellar flight? The answer seems obvious: Discover an Earth-type planet around another star. As happened with Gliese 581 c, once thought to be potentially habitable, the media would quickly focus on the question of how to get there. Interviewed by the BBC on that topic, I found myself explaining that a star over twenty light years away was an impossible target at our current level of technology, but the discussion quickly opened up into what we could do about that, and what methods might evolve to allow star travel.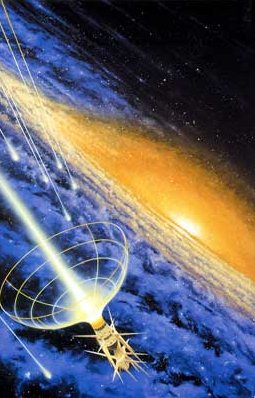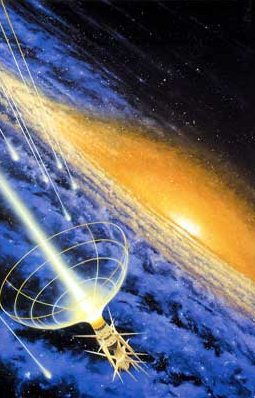 The point is to get people thinking not only about distances but methods. Right now we're still in the 'build a better rocket' mindset, one that doesn't comprehend the realities of adding more fuel just to push still more additional fuel. The equations are inexorable: Rockets can't do the job when we're talking about crossing light years, so we look for ways to leave the propellant at home. And because even fast solar sails are numbingly slow at Centauri distances, we consider beamed propulsion via lasers, microwaves and particle beams, and look into the possibilities of antimatter through near-term technologies like Steve Howe's antimatter catalyzed sail. And, of course, we hope for breakthroughs beyond.
Image: Or maybe an interstellar ramjet? Like other interstellar technologies, the idea has severe problems and may not be workable. But getting the public energized about these issues is one way to ensure that research continues and new ideas emerge. Credit: Manchu/ITSF.
Now comes the news that a planet discovered through microlensing — MOA-2007-BLG-192-L b — orbits not a brown dwarf, as originally believed, but an M-class dwarf, a larger star whose mass in turn suggests that the planet is smaller than first thought. MOA-2007-BLG-192-L b, in fact, could weigh in at about 1.4 Earths, and that, as this New Scientist story explains, would make it unusually interesting (but see the addendum below). The magazine quotes Scott Gaudi (Ohio State):
"The result is important because this is the lowest-mass planet yet detected, and is extremely close to the mass of the Earth," he says. "Obviously, finding a true Earth-mass planet is one of the biggest goals of searches for exoplanets. We are very close to that goal now."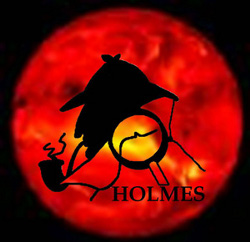 Gaudi is not himself a member of this team, which is led by Jean-Philippe Beaulieu (Paris Astrophysical Institute); Beaulieu recently reported on the new findings at a meeting of the Royal Astronomical Society in London. Following up that story led me to the microlensing team Beaulieu heads. Called HOLMES (Hunting fOr Low Mass Extrasolar planetS), its stated goal is "…the discovery of low mass planets (1 – 15 Earth masses) within 1 – 5 AU of the most common stars in our Galaxy by microlensing effects in order to measure their frequency."
Surely Scott Gaudi is right that we are close to finding an Earth-mass planet, and one day after that, a team like Beaulieu's may turn up one in the habitable zone of its star. An intense round of media interest will inevitably follow.
The question: Will the discovery of an Earth-analog elsewhere in the galaxy be a one-day event, to be eclipsed by still more 'breaking news' in the perpetually overheated reporting cycle? Chances are it will, but my hope is that each intriguing exoplanet discovery will give us a brief window to work on public awareness of Earth's place in the cosmos. If we choose to become a star-faring species, it will be because on the broadest possible level we will have placed ourselves in the context of a galaxy that may well be aswarm with living worlds. The key is to get people thinking, one story, one idea, one planet at a time.
Addendum: Re the mass of MOA-2007-BLG-192-L b, be sure to read David Blank's message below. New Scientist's story was in error — the true mass seems to be 3.3 (+4.9 / – 1.8) Earth masses.